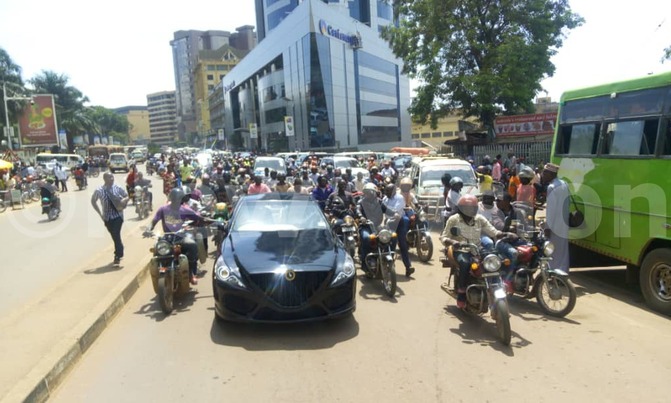 The Kiira Electric Vehicle Project was commissioned to build Uganda's first car the, Kiira EV, completed and launched in November 2011
KIIRA INNOVATION MAKERERE
As the Uganda made Kiira EV vehicle went for test drive around the city on Friday morning, New Vision has learnt that so far, two people have made orders for the vehicle.
Richard Matanda. video and photos by Osbert Mwijukye
The director for product development, Richard Madanda, says Gen. Elly Tumwine, the security minister and Uganda Communications Commission boss Godfrey Mutabazi, have so far made orders.
He says they iare in advanced stages of honouring their orders and will meet them to agree on the specific things they want included on the vehicle.
He says the luxury car costs sh92m and will be on the market soon.
Popular journalist Andrew Mwenda and artiste Bebe Cool took a test drive through the city centre in Kiira EV, the newest model of the electric Sedan Kiira EV series by Kiira motors, a brainchild of Makerere University.
The drive route started at Forest Mall Lugogo through Lugogo bypass, Kamwokya (Kira road) Wandegeya into the city with Mwenda in the driving seat, and Bebe Cool as the navigator.

The Kiira Electric Vehicle Project was commissioned to build Uganda's first car the, Kiira EV, completed and launched in November 2011 by the President Yoweri Museveni. It was completed with support from the government of Uganda for Innovation projects at Makerere University.


The Kiira Motors initiative dates back to 2007 when a team of students and staff at Makerere University were invited to be part of an international consortium, the Vehicle Design Summit 2.0 (VDS 2.0).

Inspired by the key challenges perceived as opportunities in the 21st Century, a group of motivated researchers at Massachusetts Institute of Technology (MIT) founded VDS with the ultimate aim of developing environmentally friendly commuter transport solutions.


The goal of the VDS 2.0 global consortium was to design, build and bring to market, the Vision 200; a hyper efficient five passenger vehicle, earmarked as a production vehicle for the developing countries starting with India.


Makerere University, the only participant from Africa was responsible for the design and integration of the Low Power Electronics and Data Networking Systems. The Vision 200 was completed and displayed at the Dream Exposition, at the Museo Nazionale dell'Automobile, Turin, from 22nd September until 24th November, 2008.
Government of Uganda, acting through Uganda Investment Authority, allocated 100 acres of land at the Jinja Industrial and Business Park for the establishment of the Kiira Vehicle Plant.

The plant shall operate in partnership with seasoned global auto manufacturers, going to market as a bus builder and progressively expand the product portfolio to include; Pick-Ups, Light and Medium Duty Trucks and Passenger Vehicles.