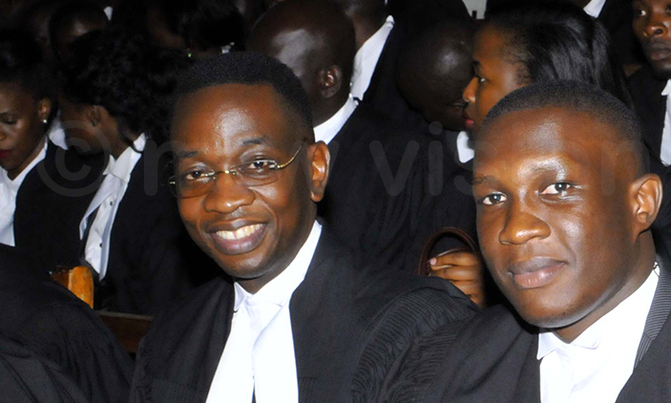 After the bar course at the Law Development Centre, law students enrol as advocates in order to address court on behalf of their clients
The Chief Registrar of the Courts of Judicature, Esta Nambayo, on Wednesday enrolled 141 law graduates as advocates.
The enrolment process which took place at the High Court in Kampala entailed registering their names in a book of advocates in order to be issued practicing certificates.
A person who possesses a degree in law cannot represent people before court unless he/she has been enrolled as an advocate.
After the bar course at the Law Development Centre, law students enrol as advocates in order to address court on behalf of their clients.
Advocates enrolled included former minister of education Kabakumba Matsiko and prominent gospel singer, Sylver Kyagulanyi.
In her remarks, Nambayo implored the newly enrolled advocates to be courteous to their clients if they want to benefit from the legal profession.
"I urge you to desist from unethical conduct like cheating clients and any other form of fraudulent dealings if you want to benefit from the legal profession because it is about having a reputation," Nambayo said.
Nambayo asked the newly enrolled advocates to help the courts of law in administering justice.
"You have been enrolled as advocates but I implore you to help us administer justice because most of the practicing advocates have not helped us to reach justice but only to frustrate it," she said.
Peter Simon Kinobe, the Uganda Law Society president advised the advocates to desist from fraudulent dealings if they are to enjoy the profession.
"Learn how to make money without stealing. If you have a record of misconduct you will never earn the money because nobody will trust you and your image become tainted," Kinobe warned.
He added; "the moment you become an advocate you are capable of making money and if not, it is your fault but it should not be through dubious dealings."
Kinobe also tasked advocates to be compassionate to the less privileged members of the community, noting that life is not only about money.
However, the newly enrolled advocates can only appear in the Chief Magistrate's Court for the time being because the law requires them to appear before the High Court after nine months from the time of enrolment.
New public service member sworn in
Meanwhile, the newly appointed member of the Public Service Commission, Agnes Kaboggozza was sworn in by Chief Justice Bart Katureebe.
Kaboggozza was recently re-appointed as a member of Public service commission by President Yoweri Museveni.
The Commission's core role is to provide government with competent human resources for effective and efficient public service delivery.
In his remarks, the Chief Justice implored the appointment authority to focus much on the candidate's integrity if the public service is to thrive.
"The public service was at one time second to none in East Africa and now it is your duty to make it recover by ensuring that the people you put in are right beyond academic qualifications," he said.
He added; "If we just go for academic qualifications only, we might not get what we want."
He also urged the public service to defend public servants who are maliciously accused.
"I saw a minister on television attacking the entire judiciary over the Lusanja land eviction handled by the Nabweru Chief Magistrate. Surely I cannot know whatever each judicial officer has done," he said.
Catherine Bitarakwate, the permanent secretary of the public service ministry asked Katureebe to continue supporting them.
The Commission chairman, Justice Ralph Ochan sympathised with the Chief Justice over what he described as misrepresentation of judicial officers by some members of the public.