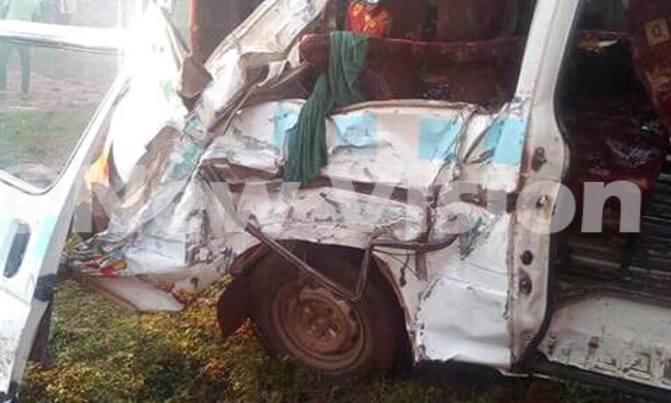 Katonga region police spokesperson, Phillip Mukasa cited mist, as the cause of the accident, stressing that it distorted the lorry driver's vision.
ACCIDENT | ROAD CARNAGE
MPIGI - Two people have been confirmed dead and 30 others injured in a fatal accident involving five vehicles at Nakirebe, Kiringente sub-county, along Kampala-Masaka highway in Mpigi district.
The Katonga region police spokesperson, Philip Mukasa, said at around 8:00am, a lorry, registration number UBA 410Z, loaded with general merchandise heading to Kampala, knocked a taxi registration number UAV 397P which was coming from Busega heading to Nakirebe.
He further reveals that the lorry driver was trying to overtake other vehicles coming from Masaka, when he knocked the rare side of another taxi registration number UAZ 485P, which also knocked another taxi coming from Kibibi, Butambala district, registration number UAY 100Y.
A super custom, registration number UBB 713K was also involved in the accident that saw the four vehicles swerve off the road into a trench.
Mukasa however cited mist, as the cause of the accident, stressing that it distorted the lorry driver's vision.
One of the deceased has been identified as Olivia Kiyimba, a resident of Kigwanya zone in Busega, a Kampala suburb. The other, also a toddler has not yet been identified.
The deceased were rushed to Mulago hospital mortuary for postmortem report while the injured were first taken to nearby clinics for first aid and later rushed to Mulago hospital for further treatment.
The wreckages of the vehicles involved the accident were towed to Mpigi central police station where they are currently being kept.
Mukasa urged all motorists to always be mindful of their lives on the road and also have respect for other road users. He added that Police is searching for the lorry driver who took off immediately after causing the accident, to record a statement.
Two others killed on Butambala road
In a related development, two people were knocked dead by a speeding taxi registration number UBD 993N at Gombe town council in Butambala district.
According to Philip Mukasa, the Katonga region police spokesman, the taxi driver took off immediately after knocking the two people.
By press time, the deceased were not yet identified.
The bodies of the deceased were taken to Gombe hospital mortuary for postmortem while the wreckage of the taxi involved the accident was towed to Kibibi police station as police continue with investigations.