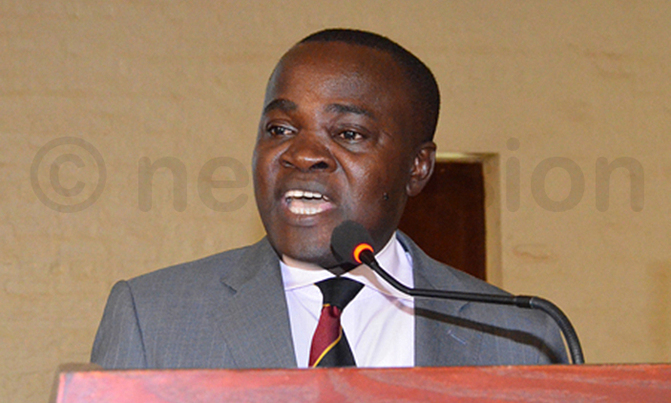 The University Vice Chancellor however says the suspension has nothing to do with MUASA and thus the suspension of its chairman is individual
The Makerere University Academic Staff Association (MUASA) leadership has called on the University leadership to lift the suspension of their chairperson Deus Kamunyu and engage in dialogue.
Kamunyu was on January 17, suspended by the Makerere University vice chancellor Prof. Barnabas Nawangwe on allegations of inciting his colleagues, with intention to cause disobedience, strike to undermine the university administration, intimidation of university officials, using abusive language and making false statements.
The MUASA vice chairman, Assoc. Prof. Edward Nector Mwavu, noted that they condemn circumstances under which their chairperson was suspended and want it rescinded.
"We condemn the suspension of our chairman because he was suspended for reasons stemming from MUASA and not for an individual. We call for lifting of the suspension so that we can dialogue on how to handle these issues," Mwavu said.
He however noted that the issue will be handled in the most professional way and did not give a timeline when they want the suspension lifted.
"We have written to management and we expect them to respond," Mwavu said.
However, when New Vision contacted Nawangwe, he revealed that the suspension has nothing to do with MUASA and thus the suspension affects Kamunyu as an individual.
"He was suspended as an individual and not as a chairperson MUASA. As a University, we don't have any problem with MUASA," Nawangwe said.
Following his suspension, Kamunyu was asked to immediately handover office and all office property to his supervisor and, ordered not to set foot on the University Campus.
"If he forces himself to access office it will be trespass and he will be arrested," Nawangwe said.
Kamunyu has however vowed not to handover office and has termed the suspension illegal.
"I cannot handover office because this is an illegal suspension. The letter suspending me was in very bad faith and against all laws of this country. It even undermines my rights as a citizen to have access to my official home, public buildings, and related services," Kamunyu says.
He wondered why the University is treating him like a criminal to the extent of blocking him from accessing his office.
"The letter unfairly portrays me like a criminal, but you know me better than that. The VC has no powers to banish me from the University," Kamunyu says.
He revealed that the allegations that led to his suspension are fabrications designed to silence him from speaking the truth about the mismanagement of Makerere University.
"I'm not undisciplined as it is being portrayed. My problems started when I started talking about land problems, corruption and the undermining of our employment systems by the chairman of the Appointments Board at Makerere University," Kamunyu said.
Over 45 other staff members have recently been suspended over various allegations.
During the University's 69th graduation ceremony on Tuesday, President Yoweri Museveni lauded the Nawangwe for dealing with errant staff.