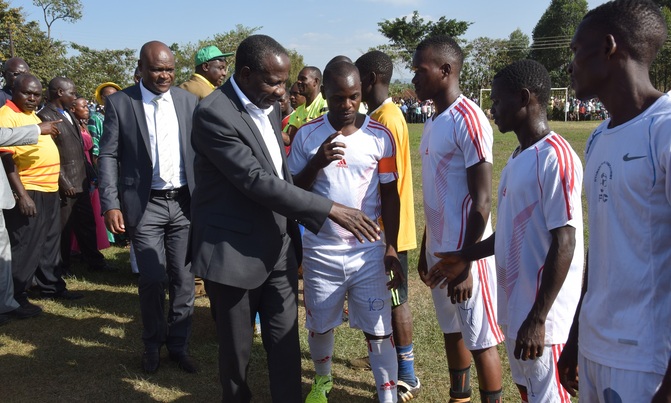 He said people should not only search for jobs from offices, but also use all the available opportunities in and out the country to earn a living.
Matia Kasaija greeting players before the kick-off of the finals at Kibeedi playground in Kibaale district. Photo by Ismael Kasooha
SPORTS KASAIJA STADIUM
The minister for Finance, Planning and Economic Development, Matia Kasaija, has asked Ugandans to engage in sports as a business to earn a living instead of tagging sports to leisure only.
He promised to allocate more funds in constructions of stadiums countrywide.

"People outside Uganda are earning a lot of money from sports. That is why we want to develop your talents and promote them both nationally and internationally," said Kasaija.

He said that people should not only search for jobs from offices, but should use all the available opportunities in and out the country to earn a living.

He said the Government will invest more money in constructing stadiums in different parts of the country to develop people's talents.

Kasaija said that football players are earning billions of shillings from the premier league in England, yet the youth here can also tap into such opportunities if they can be given an enabling environment.

He promised to work with the education and sports ministry to ensure that more stadiums are constructed across the country to further develop talent.

Kasaija was Sunday presiding over the finals of Kasaija cup tournament played at Kibedi play ground in Nyamarunda sub-county in Kibaale.
Kasimbi sub-county beat Nyamarunda sub-county 3-2 goals in a fascinating final football.

The netball competitions were won by Nyamarunda sub-county, who walloped Kasimbi netball team 27-20 goals at the same venue.

Kasaija said that the tournament is not for political reasons but aimed at promoting unity among the people of Kibaale district.

Kasaija noted that football and netball are uniting factors for the people and even promoting friendship and understanding among people in different spheres and sub counties.

"This tournament was organised basing on sub counties so that you can know one another thereby promoting unity and cooperation," said Kasaija.

Kasaija said he wants his people to remain physically fit by engaging in football and netball instead of spending time taking alcohol and playing pool table games, which are not productive at all.

"Instead of wasting time playing pool and taking alcohol, let us keep ourselves busy in football and netball to remain fit and avoid lifestyle diseases such as diabetes and others," said Kasaija.

Kasaija gave both winning teams trophies, medals, a bull each and sports jerseys while Noeline Kisembo, the Woman Member of Parliament for Kibaale also gave both teams balls, calling on them to to carry on with talent search and development.

Emily Kugonza, the chairman of the Uganda Investment Authority, commended the participating teams and also gave them cash prizes amounting sh2m as an encouragement.

All 11 sub-counties and town councils in Kibaale district participated in the tournament that climaxed on Sunday.