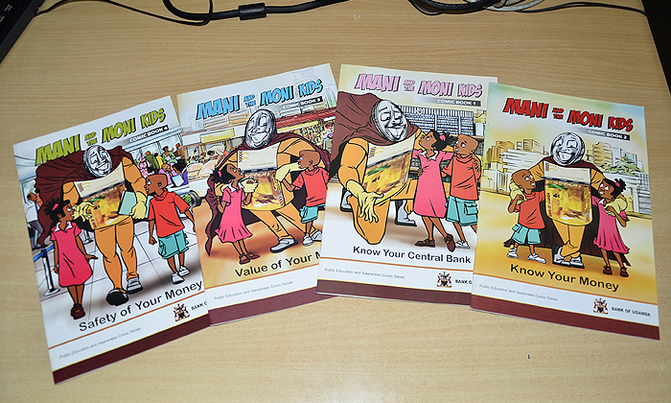 The four comic books are named 'Mani and the Moni Kids'.
FINANCIAL LITERACY

A picture is worth a thousand words it's said.

As the Bank of Uganda soldiers on through intense scrutiny at the parliaments Committee on Commissions, Statutory Authorities and State Enterprises (COSASE), the Central Bank has unleashed a series of comic books to teach the public about its role and about financial literacy.

The four comic books are named 'Mani and the Moni Kids'.

The first comic book introduces the main characters Mani, the coin faced, currency clad superhero with an enormous brown cape on his back and the Moni kids, namely; Penny and Junior.

It then delves into what the Central Bank actually does.

The first book takes the readers on a virtual guided tour of the Central Bank alongside Mani, the Moni kids and their classmates.

Unlike most superhero's, Mani's entrance is not dramatic. He doesn't dash in to arrest a felon and deliver Justice. Rather, he is a very knowledgeable Central Banker with all the right answers. Mani delivers enlightenment.

In the first comic book, Mani teaches the children about inflation, the exchange rate, payment methods, monetary policy, the functions of the Central Bank and securities before flying away. He then returns in the second comic book titled 'Know your Money'.

The second book is a lot easier to comprehend since it deals on the simple subject of how to identify counterfeit money and how to handle legal tender.

The Central Bank devoted an entire comic book to the subject of handling money; this shows just how serious the Central Bank is about the rampant mishandling of money by writing on it, and disfiguring coins.

The third comic book titled 'Value your Money' introduces the reader to the first concepts of financial literacy, such as, understanding the difference between inflation and the time value of money using daily situations.

The fourth and final comic book in the series titled "Safety of your money" teaches the reader about contemporary banking and how banks make money by lending.

The fourth book does a good job at simplifying the process of banking and lending as well as the safeguards in place for customers of commercial banks.

The comic books are one of the ways that the Central Bank is cultivating better financial literacy and financial consumer protection.