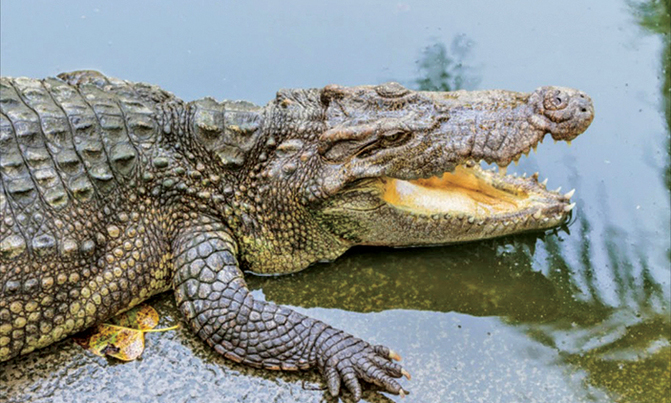 Residents tried to rescue the woman by throwing metals at the reptile, but all was in vain, a witness said.
TRAGEDY

NAMAYINGO - Tragedy befell residents of Lolwe islands, Lolwe subcounty Namayingo district when a 35-year-old pregnant woman was eaten by a crocodile as she went to fetch water along the shores of lake Victoria on Saturday, at around 6:30pm.

Ruth Nyanzira was seven months pregnant.
One of the residents, Sande Kaabale, said residents tried to rescue her by throwing metals at the reptile, but all was in vain.

He further revealed that when all efforts to rescue Nyanzira failed, the helpless residents watched on as the huge crocodile swallowed body parts of the deceased in the deeper side of the lake.

The LC1 chairman of Lolwe Upper Village, Mohamed Kibirige, said they have on several occasions requested relevant authorities to intervene by capturing the reptiles.

Locals says the reptiles have terrorized them especially, women who fetch water or bathing children on the shores of the lake.

Kibirige said their requests have fallen on deaf ears.

"They just keep on promising us that things will be okay, but up to now nothing is being done," he said.

The chairman said most of the residents prefer fetching water from the lake, claiming that water from boreholes on the island is salty.

Meanwhile, the LC5 chairman of Namayingo, Ronald Sanya, cautioned locals against moving to the lake shores unaccompanied.

Heurged locals to remain calm since the district had already notified the Uganda Wildlife Authourity (UWA) about the dangerous crocodiles.

Early last year, a team of UWA officers in charge of problematic animals pitched camp in the area and captured three crocodiles believed to have mauled over 30 people in the previous two years.

The officer in charge of Lolwe Police Post, Denis Okello, said remains of Nyanzira were recovered by fishermen Sunday morning, along the shores of Lake Victoria.

The MP of Bukooli islands constituency, Abbot Ouma, said 26 people were mauled by crocodiles on the islands in 2018, adding that 23 others who survived are currently living without hands, legs and other body parts.

Ouma said he is to draft a motion before Parliament that will compel Government to compensate families of crocodile attack victims.

Residents have appealed to Government to rescue them from such attacks.

One of the residents, Jafferi Kibwika, said some of the crocodiles make their way to the mainland to attack the residents. He said they are living in fear because there is no freedom of movement especially during the night.