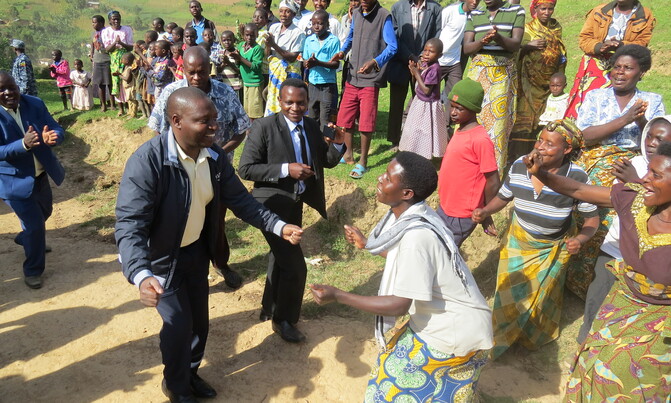 "We have put sh40b in the Microfinance Support centre in the next financial year to support locally based SACCOs that have registered with it." Bahati said.
Finance Minister David Bahati joins locals in a cultural dance. Photo by Job Namanya.
BUSINESS | SACCOS
KABALE - The State Minister for Finance and Planning, David Bahati has asked Ugandans to embrace the SACCO savings culture to boost their income.
Bahati says, If Ugandans started savings and Credit associations at a village level, they would collectively invest in developmental projects that can help them meet day to day expenses.
Bahati was presiding over the launch of Mugandu Abaryakamwe Group, a local Savings and Credit Association located in Rukore ward, Ryakarimira Town council, Kabale district on Saturday.
He stressed that government is encouraging efforts aimed at Saving right from the villages and it will empower local SACCOs through the Microfinance support centre.
"We have put sh40b in the Microfinance Support centre in the next financial year to support locally based SACCOs that have registered with it. This money can enable you give loans to your members to prosper themselves," said Bahati.
He said that the country's banks do not have enough money to offer credit to locals because most of them depend on loans from external bodies and thus people need to save in order to have enough money for credit.
Bahati further appealed to locals to put the loans acquired to proper use so that they can recover them in due time.
"Avoid a tendency of acquiring loans and you start drinking alcohol. Every time you misuse a loan, just know that you are affecting your own ability to recover it successfully," said Bahati.
He donated sh10m towards Mugando Abaryakamwe Group to enable its operation.
Bahati also donated 150 iron sheets to Kirwa Primary School to aid the roofing of its structures.
He asked parents in the area to embrace education of their children if the latter are to prosper in life.
"It does not matter which school you have gone to but as long as you are able to get an opportunity to study, God can uplift you anytime. Some of us studied from unrecognized schools but we have been able to achieve a few things," said Bahati.
Speaking at the same function, Darius Nandinda, the Kabale Resident District Commissioner warned residents against engaging in early politicking.
"We shall not hesitate to arrest whoever tries to confuse our people at this time with political rallies. This is not time for politics. Let our people work for their own development," said Nandinda.
Epaphras Byamukama, the chairperson for Mugandu Abaryakamwe group said the SACCO that started in 2013 aims at helping locals solve their day to day challenges.
"We have been able to save up to a tune of sh73m and if any member gets a challenge that requires some financial support, they have a chance to approach us for some help. This is what we saw possible to help us overcome our challenge of low earning," he said.