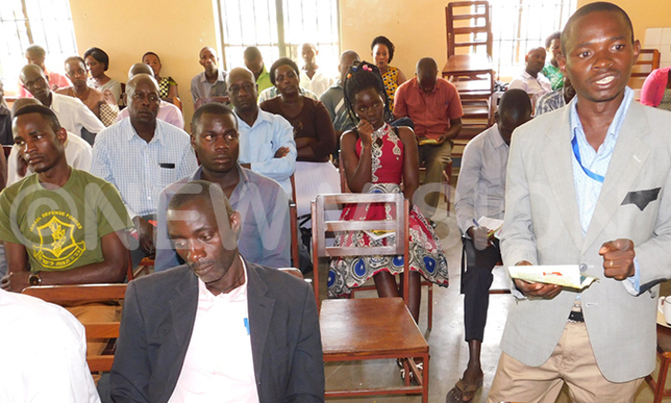 On many occasions, residents have complained that Uganda Wildlife Authority (UWA) officials arrest them for trapping and killing stray hippos and other stray animals that destroy their crops.
Robert Benon Mugabi, the Rakai District Chairperson addressing farmers. Photos by Davis Buyondo
WILDLIFE FARMERS
More than 500 farmers in Rakai are demanding flexible wildlife policies that will favour their agricultural activities.

Mostly last year, the farmers decried what they called unrealistic policies that left most of them counting losses in the name of wildlife conservation.

On many occasions, residents have complained that Uganda Wildlife Authority (UWA) officials arrest them for trapping and killing stray hippos and other stray animals that destroy their crops.

Affected farmers are those mainly in communities around the shores of Lake Kijjanebarola, L. Kacheera and L. Mburo National Park.

They include Kanagisa, Kanoni and Baiale (Kagamba sub-county) plus Kamengo-Nsonso, Buyamba, Byembogo, Kyebumba and Kitwekyanjovu (Dwaniro sub-county). Others are Katanjovu, Katoogo, Mukokote, Lwebiriba, Katatenga, Lwanga and Lyakisana (Kacheera sub-county).

It is reportedly said by farmers that over 100 acres of maize, beans, ground nuts, cassava, sweet potato and banana have been ravaged by stray hippos since 2017 without compensation for the loses.

However, this year, they want government to commit itself to compensate farmers whose crops are destroyed by wild animals that stray from their gazetted reserves.
Area Member of Parliament- Amos Mandela (Buyamba County) told New Vision that the farmers are not ready to lose their crops at the expense of wildlife protection without compensation.
Buyamba County MP Amos Mandela addressing farmers

Mandela said that hippo invasions are common and have sparked off food scarcity in these communities hence propelling poverty among the residents.

"When the hippos invade communities and destroy crops or kill people, UWA doesn't compensate them. Instead they will arrest residents for killing them in a bid to protect their gardens. This is unfair," he argued.

He added appealed to government to plan for a well streamlined compensation policy for people affected by wild animals. "I am not taking about compensating encroachers, no. I mean those who are outside the reserves," he said

Farmers
Ronald Byakatonda, a sweet potato farmer in Byembogo village, Dwaniro sub-county, said the hippos usually ravage his potato garden but there's nowhere to run for help.
He complained that UWA has never compensated him for the losses yet he acquires bank loans to invest in agriculture.

Meeme Nabyonga, another farmer, noted that UWA authorities failed to fence the reserves to restrain the hippos and other wild animals from crossing to people's communities.

Although UWA authorities blame it on farmers for encroaching the 100 meter-reserves from the lake shores, Nabyonga argued that majority of the affected farmers stay within 500mtrs, half or one kilometer distance from the reserves.

She added that hippos can smell sweet potatoes from a distance of one kilometer. And by all means, they will find their way to the garden.

"I even failed to pay school fees for my children last year. Instead I pleaded with the headmaster to allow them write exams," she recounted.

A local conservationist explained that a hippo weighing over

150kilograms can consume over 70 kilograms of vegetation in a single night.
Some of the farmers in a meeting
Area councillors
Kagamba Woman Councilor Afsa Namiiro said the hippos usually move at night in pairs or group of 3 adding that residents have raised the matter for the last 5 years but none has ever been compensated.

Chris Rujumba, Kagamba sub-county councilor, further attributed the hippo invasion to encroachment of reserves.

He explained that they have always carried out awareness campaigns about the importance wildlife conservation but people have consistently killed the hippos in reserves.

"Especially those whose plantations are in far away from the reserves should be compensated but not the encroachers," he argued.

In Kacheera Sub-county, local authorities said the hippo population increased in the past 9 years.

Julius Byabikyengire, the area Councilor, explained that most of the habitats are now over crowed forcing hippos to stray into communities.

According to Byabikyengire, the hippo invasion has compelled farmers to sleep outside protecting their fields from destruction.

"Compensation would be appropriate for only those farmers who are not in the reserves and not the encroachers. Still encroachers who kill hippos should be arrested because they are putting the country at a loss," he maintained.

According to Robert Benon Mugabi, the Rakai LC5 Chairperson, the hippo-human struggle for space has lasted for over a decade.

He advised that awareness campaigns on people-wildlife coexistence be strengthened and affected farmers compensated. Mugabi said that apart from destroying crops, hippos kill and wound people and domestic animals but nothing is done to compensate them.

"Lack of compensation kills the morale and responsibility to protect the wild. In a bid to protect wild animals, people must be confident in the policy and assured that they will be compensated," he said.

UWA
Bashir Hangi, the UWA spokesperson, said it is absurd the wildlife law does not provide for compensation apparently yet it would be very important to recompense for the crops destroyed and people either killed or wounded by wild animals.

But in the amendment bill which is before parliament, he said, there is a provision for compensation.

"We are just trying to revise the law to ensure that people get compensated because it is not something we want to see happening when people lose their crops however small they may be or lives and we just look on," he said.


He explained that even when the law is passed, compensation will be done on damages occasioned by specific wild animals and not all of them.

Hangi added that they are very concerned about people's outcry urging the public to always notify them about the problem animals in time.

"Our problem animal capture team will be on standby to respond to the concerns. We have provided a toll free line-0800100960 to handle such emerging concerns about stray animals. Therefore people should use it," he noted.
Rakai Natural Resources Officer- Sylvia Mirembe argued that the stray hippo invasion had been suppressed six months back and she had not received any new complaints.

Mirembe urged to the farmers to always engage district and UWA officials for solution. "UWA officers usually intervene and track stray wild animals back into their reserves. We will see what to do about it," she said.

Similar attacks
I1n 2013, hippos killed five people in Lyantonde district. The deceased included three children and two adults of Rwamawungu village in Kabula County but their families were compensated. Also several residents of Kitindo, Kinuuka were injured and admitted in critical condition.

Tourism in Uganda is a major driver of employment, investment and foreign exchange while agriculture is the backbone of country's economy.

According to the 2014, Uganda Bureau of Statics (UBOS) report, there are more than 5,838 in Uganda.