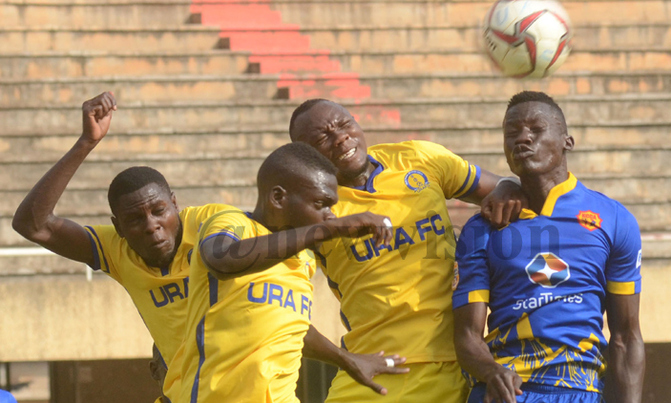 Captain Timothy Awany's a second half strike, which earned him the Pilsner Man of the Match Award.
Uganda Premier League

URA 0 KCCA 1

Vipers 3 Onduparaka 0

Police 2 SC Villa 2

URA coach Sam Ssimbwa continued to bemoan the lack of a clinical striker as KCCA FC ended their unbeaten run after winning a 1-0 win at Namboole, to extend their Uganda Premier League lead to seven points.

Captain Timothy Awany's a second half strike, which earned him the Pilsner Man of the Match Award propelled the Lugogo side to 36 points, seven ahead of Vipers who were 3-0 winners over Onduparaka at the St. Mary's Stadium, Kitende.

Godfrey Wasswa, Dan Sserunkuma and Livingstone Mulondo ensured Vipers keep their title ambitions alive with the win. Elsewhere, Police held Villa to a 2-2 draw at the StarTimes stadium.

"We played well against a good side, but got a little bit disorganised after we conceded. We wanted to keep our unbeaten run and I'm disappointed that we lost it at home. We still lack a clinical finisher but hopefully we shall get one," URA Coach Sam Ssimbwa said.
URA FC coach Sam Ssimbwa (left) chats with KCCA FC assistant coach Morley Byekwaso before a Uganda Premier League match between the two sides at Namboole. PHOTO: Michael Nsubuga
His counterpart Mike Mutebi described the game as one the biggest challenges they have faced this season, but was happy with the character of his youngsters in what he described as an impressive win.

"We played against an organised team that used the ball very well but this is the turning point because we are going to ensure we stay on the top, we only need to step up a bit and play at sixty percent in the second round because currently we are playing at fifty percent," Mutebi stated.

He was also had praises for goal scorer Awany whom he described as an inspiration who leads by example.

"Today's win was very vital for us and we are happy that we have maintained top spot. It was a tight game but this encourages us to remain at the top going into the second round. I got a half chance and made it count," Awany stated.

He said the match had given his side a clear picture of what to expect in their next continental match against Congelese side AS Otoho.

At Namboole, despite the loss, URA FC were the better side on the day, dominating play, but were unfortunate missing many scoring chances. KCCA were on the receiving end for longer spells of the match, though they looked dangerous on the break, but their main strikers Allan Okello and Patrick Kaddu were neutralised by the Benjamin Nyakoojo marshaled URA's defence.

Until the goal, scored after a goal mouth melee, off a Julius Poloto corner URA had the upper hand but their strikers Charles Sempa, Peter Lwasa and Shafik Kagimu squandered easy chances that should have given their side at least a point.