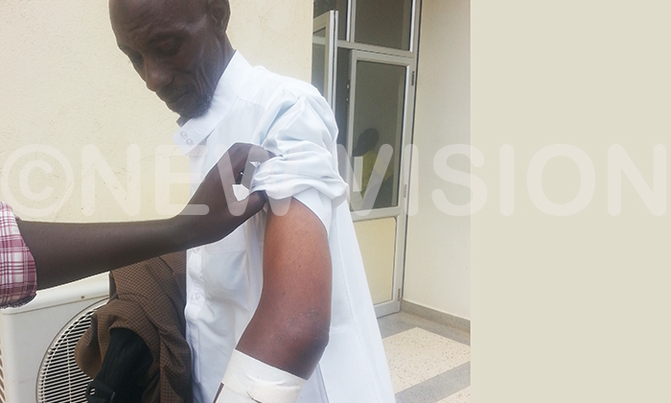 Self-proclaimed king of Ankole, Umar Asiimwe Lubambansi Ntare VI has been accused of of assaulting his father

MBARARA - Idrisa Kaweesa, the father to self-proclaimed king of Ankole, Umar Asiimwe Lubambansi Ntare VI has accused son and his team of assault, causing injuries on his right arm during the fracas that ensued during the New Year's Eve at Itaaba Kyabanyoro in Rwampara, Mbarara district.

Kaweesi, whom we found at Mbarara referral hospital on Friday, told the New Vision that on the fateful night of 31st last month at around 11: 45pm, Asiimwe and other men came to his home in Itaab driving a car at a terrific speed in an attempt to knock down whoever had gathered to welcome the new year.

Kaweesa also known as Igumira Kitobobo added that Asiimwe came out escorted by four men and started beating his (Asiimwe) siblings.

"When I came to inquire what the problem was, one man called Ngabirano who works with one of the local radio station hit me with a big stick on my arm and the right eye, then my son (Asiimwe) asked me why we are holding functions at Itaaba yet government stopped all activities, I told them this is my land and that we are just waiting for the new year," Kaweesa narrated.

He said, his other sons came and grabbed Asiimwe before they tied him with ropes thinking he had run mad until the police came and contained the situation.

"None of my sons has ever done this to me, but of recent Asiimwe started abusing me, he would not listen to whatever I tell him, and neither did he listen to his siblings. I no longer want to see him on my land," said Kaweesa.

On why his son calls himself the 'king' of Ankole, Kaweesa commented that since they come from the lineage of former kings of Ankole like Ntare V, "I told all my sons that he is a prince and asked him to go and fight for the restoration of Ankole kingdom but I did not tell him to go and call himself the king of Ankole."

On the Museven's money, he opined that his family has never received any money from State House.

Samson Kasasira, the Rwizi region police spokesperson confirmed that Kaweesa, 60, reported to police a case under file no. SD Ref; 10/01/01/2019 accusing son and others of causing him harm.

Kasasira also noted that Asiimwe was summoned after being discharged on Thursday from Mayanja Memorial hospital to record a statement in regards to the accusations.

Asiimwe also opened up a case against his father and others still at large on file no. CRB 05/2019.

Kasasira said, so far no suspect has been arrested in connection to the assaults but on Thursday police directed Kaweesa to bring all his sons who were involved in the fracas.

Asiimwe enthroned himself as the king of defunct kingdom of Ankole and named his cabinet in October 2017.

He went ahead to denounce the leadership of defunct Ankole kingdom accusing them of frustrating the efforts to have their kingdom restored like other kingdoms such as Buganda and Tooro.

This did not go down well with the Omugabe w'Ankole Prince Charles Rwebishengye and his prime minister George William Katatumba, which prompted Katatumba to petition the then IGP Gen Kale Kayihura to have Asiimwe and his team prosecuted.

In 2017, Minister of Gender, Labour and Social Development, Hajat Janat Mukwaya ordered for the arrest of Asiimwe and be prosecuted over his illegal activities.

However, Asiimwe called a press conference at Itaaba and responded to Mukwaya saying she has no authority to get involved in resolving Ankole issues because she is not a Munyankore by tribe.

In February 2018, Asiimwe and his team were summoned at Rwizi region police offices and grilled for over four hours before they were taken to Mbarara police station from where they were taken to court and remanded to Kyamugorani on charges of attacking the person of the minister and promoting tribalism plus carrying out illegal activities as self-enthroned kings.

He spent several weeks in Kyamugorani prison before being released on bail on conditions that he never calls himself king of Ankole because he is not legitimate.

The case is still in court pending hearing.

RELATED TO THE STORY
Ankole 'king' beaten over Museveni money