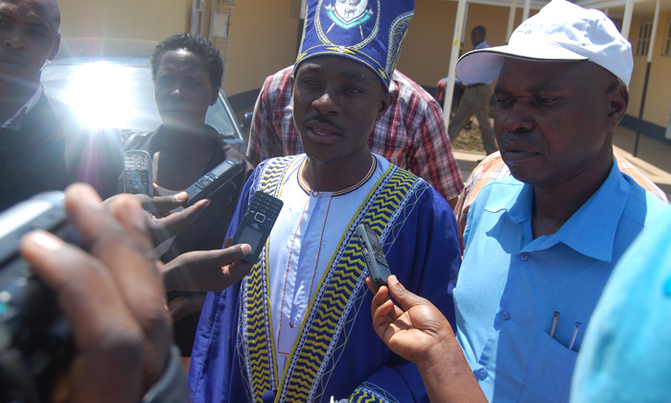 Kasasira said the Police was called in to contain the situation. They picked Asimwe and rushed him to Mayanja Memorial Hospital where he is receiving treatment.
Umar Asimwe speaking to journalists
KINGDOM FAMILY MONEY
The self-enthroned king of Ankole Kingdom Umar Asimwe is nursing injuries after he was assaulted during a family meeting that turned violent at Itaaba in Rwampara, Mbarara district.

Samson Kasasira, the Rwizi region Police spokesperson, told New Vision that during the family meeting on 31st December 2018, Asimwe was allegedly assaulted badly and got severe injuries on his body.

He said the Police was called in to contain the situation. They picked Asimwe and rushed him to Mayanja Memorial Hospital where he is receiving treatment.

Kasasira said preliminary findings show that Asimwe had issued a directive to sack his head of communication and publicity Max Muhumuza. However, sources have revealed that the fight emanated from the disagreements in the sharing of the money Asimwe had received from President Yoweri Museveni on behalf of the family.
Umar and his cabinet members being taken to a Police station
A hospitalized Asimwe told New Vision on phone that his family members accuse him of taking a lion's share of the money received from Museveni, but he declined to disclose the amount of money he received from the President.

However, Kasisira confirmed that no case has been reported at the Police regarding Asimwe's assault.

In October 2017, while at Itaaba Kyabanyoro in Rwampara, Mbarara district, Umar Asimwe enthroned himself as the 'King' of Ankole Kingdom and named his cabinet. Among the names of the list of cabinet were, Prof. Venansius Baryamureba as the prime Minister, speaker Max Muhumuza, Cabinet secretary Kankiriho Muteguya, vice-secretary Agababyoona Collins, Minister ICT Mukora Henry, his deputy Nasa Tushabe, Minsiter of Heritage and Culture Eldard Karukiiko, Attorney General Mike Bingana, Minister of Finance Planning Mrs. Edinah Bagarukayo, Minister of youth Nangumya Hebert, among the county chiefs are Bright Muhumuza, former Mbarara Municipality aspirant for Mbarara and Benson Muntu who contested in Sheema.

The group challenged the legality of the leadership of Prime Minister Geroge William Katatumba and his team accusing him of working with government to frustrate the efforts towards restoration of Ankole kingdom.

Since then, various groups from Ankole such as Ankole Cultural Trust, and Engabo za Ankole have been on the fore front to see their kingdom restored, but the efforts have hit a dead end.
L-R Umar Asimwe, Max Muhumuza and others in the dock during the court case last year

In 2017, Minister for Gender labour and social development Hajat Janat Mukwaya ordered for the arrest of Asimwe over his illegal activities. Thereafter he (Umar) also called a press conference at Itaaba and responded to Minister Mukwaya, saying she has no authority to get involved in resolving Ankole issues.

In February 2018, Umar Asimwe and his team were summoned at Rwizi region police offices, grilled for over four hours before they were ordered to remove their shoes and taken to Mbarara police station cells, from where they were taken to court and remanded to Kyamugorani on charges of attacking the person of the minister and promoting tribalism, plus carrying out illegal activities as self-enthroned kings.

He spent some weeks in Kyamugorani Prison before him and members of his cabinet such as Max Muhumuza were released on bail under the conditions that he should never call himself king of Ankole. The case is still in the chief magistrate court pending hearing.