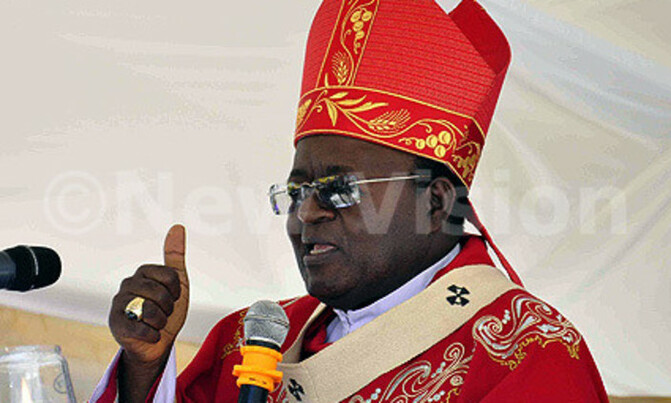 In the Church, nobody is forced to pay his or her tithe, it is not the Church's policy to force anyone to contribute to the needs of the Church and its mission.
TITHE CORRUPTION LWANGA
The Kampala archbishop and chairman of Uganda Joint Christian Council, Dr. Cyprian Kizito Lwanga, has regretted that some weeks back, his remarks on how Christians should support their Church were completely misquoted in the various media and misunderstood.

"When I talked about involving government, I did not mean Central Government introducing a tax and collecting it under its institutes like URA, but I was referring to all those in position of governance who are in charge of paying people's salaries to assist those who would like to support the Church, have their tithe deducted from their salaries and forwarded to the Church," he explained.

He gave the example of countries like Germany and Italy where similar systems are put in place to support the Church mission. In the Church, nobody is forced to pay his or her tithe, it is not the Church's policy to force anyone to contribute to the needs of the Church and its mission.

He appealed to each faithful's conscience to be fair and just, in supporting the activities of local church via contributions.

"The Bible makes the purpose of tithing very clear!" he warns.
In his 2019 New Year's statement, Dr. Cyprian Kizito Lwanga has also cautioned the state against the famous "Not Caught Guilty" Syndrome in the fight against corruption.

"The famous "Not Caught Guilty" Syndrome is quite common! People who get away with corruption because they have not been caught. When this crime has become an open secret, the case is adjourned several times until it is forgotten or hung-up! The result of all this is that commissions of inquiry that we read about and hear about yield no results!" he warned.

Lwanga thanked President Museveni for launching the State House Anti-Corruption Unit in addition to the already existing policy tools to stem out corruption.

He, however, noted that given the system build-up of the vice of corruption in Uganda since the 1970's coupled with the political ploy of weakening institutions, Ugandans need to work very hard to fight the vice everywhere.

He further asked the different state organs to promote human rights.

"As we begin the coming New Year of 2019, I call upon all those responsible in governing people at all levels to re-examine our understanding and practice on the issue of Human Rights!"

"Throughout this year, we have witnessed untold suffering and brutality meted out to hundreds of people by security organs during political rallies and demonstrations. So many are grieving the tragic loss of loved ones who have been killed. Many have fled their homes due to land grabbing," he regretted.

Lwanga said that just as Christ operates with the word of God and aims at the deepening and broadening of the Christian faith in people, all the States also should operate under their respective Constitution.

"For Uganda, we should all respect the Constitution of the Republic of Uganda which our Leaders swear to abide by. This will surely assist us all in promoting human Rights and the Rule of Law in our Country," he said.

He also conveyed his condolences to the people who lost their beloved ones this year especially those who perished in a number of accidents such as the capsized boats, road accidents, water floods and guns.