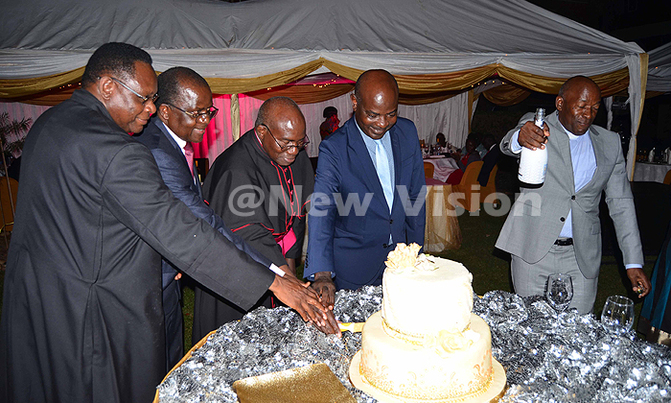 "Maintaining this historic Cathedral is sometimes so costly that the parishioners cannot fund it alone."
PIC: Fr. Bbuye, Dr. Kasozi Mulindwa, Msgr. Charles Kasibante and Bwenvu cutting a Christmas cake. (Credit: Mathias Mazinga)

RELIGION

KAMPALA - "Rubaga Cathedral is the mother Church and ancestry of the Catholic faith in Uganda."

This remark was made by Rubaga's parish priest Fr. Joseph Mary Bbuye.

"Maintaining this historic cathedral is sometimes so costly that the parishioners cannot fund it alone," he added.

"This is why we request all Catholics and people of good will to always make generous contributions towards the welfare of the cathedral, so that it reflects its due dignity."

Bbuye was speaking during the Christmas Carols and Dinner function at the residence of Archbishop Cyprian Kizito Lwanga, at Rubaga last Saturday.

The function was organized by Rubaga Cathedral National Foundation, an organisation that brings together all Catholics to support the Church, particularly the maintenance of Rubaga Cathedral.

The function was graced by Catholics from all walks of life.


The Good News Choir singing Christmas carols during the function


Further to enjoying the sumptuous Christmas dinner and soothing melodies by the Good News Choir, the guests also made financial contributions towards the refurbishment of the cathedral.

In his message, which was delivered by his Vicar-General, Msgr. Charles Kasibante, Archbishop Cyprian Kizito Lwanga congratulated members of Rubaga Cathedral National Foundation for all the achievements they have accomplished in 2018.

He later encouraged Christians from other diocese to form similar foundations to maintain their respective cathedrals. He also called for partnership between the diocesan foundations.

Dr. Saturninus Kasozi Mulindwa, the foundation's chair, thanked partner institutions such as Uganda Management Institute, Nsambya Hospital and Rubaga Hospital for supporting them and in particular, for sponsoring this year's Christmas Carols and Dinner function.

The chilly evening function climaxed with the lighting of the Christmas tree and the cutting of a cake.