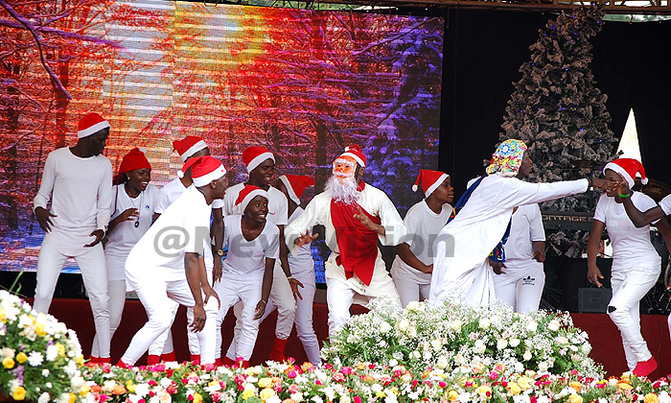 A look at how Christians celebrated the birth of Jesus Christ with prayer, praise and worship.
CHRISTMAS DAY SPECIAL

Presented by Joseph Kizza
@joekizza


___________________________

That's it - call it a wrap here!



5:10pm

Christmas Day has zoomed past in a flash, I must say. Couldn't get you all the stuff that has been happening around, but stick on this website for related stories.

Enjoy the rest of the festive season and wish you a smooth entry into the year 2019.

Cheers!
___________________________
In Fort Portal

5:05pm

Meanwhile, the Bishop of Rwenzori diocese, Reuben Kisembo, voiced his condemnation of what he called rising cases of corruption in the country.

Leading Christmas Day prayers at St. John's Cathedral, he said the vice is hindering delivery of services to the local people.


Jonah Lwanga calls for holistic transformation

5:00pm

New Vision's Mathias Mazinga attended the prayers in Namungoona and took some notes.

He reports that His Eminence Archbishop Jonah Lwanga asked Orthodox Christians and all Ugandans to turn from their evil ways and lead a fully Christian lifestyle that reflects the virtues of truth, justice, peace and holiness.

He also urged Christians to allow the new-born child, Jesus Christ, to enter their hearts and change their lives.

"We have many problems in Uganda and Africa because we have not allowed Jesus to take control of our lives and transform us. This is why we see irregularities in every aspect of our life - social, economic, political and spiritual.

"Let Christmas be an occasion for us to transform our lives and walk in the ways of God."



During the Liturgy, Metropolitan Lwanga was assisted by his Vicar-General, Fr. Paul Mutaasa, Fr. Stereos Kasule, Fr. Emmanuel Kiwanuka and Deacon Cornelius Gulere.


___________________________

At Namungoona Orthodox Cathedral


4:40pm

As earlier mentioned (see 10:40am), the Orthodox Metropolitan Archbishop of the Holy Metropolis of Kampala and All Uganda, Jonah Lwanga led the prayers at Namungoona Orthodox Cathedral.

He delivered the Christmas message of the Pope and Patriarch of Alexandria and All Africa, Theodoros II.


Orthodox Deacon Cornelius Gulere took a liturgical chant.


The Choir of Saint Nicholas Orthodox Cathedral led the singing.


Rev. Fr. Stereos Kasule gave the young Christians Holy Communion.


___________________________

Tight security at Rubaga Cathedral


4:23pm

At Rubaga hilltop, faithful had to line up to go through security detail before accessing the church.


Among the congregration was former Uganda People's Congress (UPC) president Olara Otunnu.

And another man with a distinctive beard was Eddie Ssebuufu, known to be Kyadondo East MP Robert Kyagulanyi's bodyguard.


Buganda Kingdom prime minister Charles Peter Mayiga (receiving Holy Communion) and former Buganda premier Joseph Mulwanyamuli Ssemwogerere (in the left of the picture below) attended the Christmas Day Mass.


Outside, Christians lined up to receive the symbolic body of Christ.
MP Kyagulanyi, better known as Bobi Wine, was in attendance with his family.


___________________________

The energy at Victory Church


4:00pm

In Apostle Joseph Sserwada's church in Ndeeba, the spiritual energy as Christians gathered to celebrate the birth of Christ was revealing.



___________________________

At Namugongo


3:30pm


___________________________

At Miracle Centre Cathedral - Christ 'homeboy of home town'


3:10pm

Such was the mood at Pastor Robert Kayanja's church in Rubaga.

The interactive service started at 9am with praising and worshipping from the two resident choirs. Other visiting choirs would also later perform.

Members of the worship team led the large congregation through praise and worship.


At 10am, the man himself, Pastor Robert Kayanja, took to the pulpit and delivered a sermon that lasted for over 30 minutes. Here, he told Christians that Christmas is all about the "homeboy of the home town".

He proclaimed that just like when Jesus was born and Bethlehem, a small town became famous, Christians will also prosper next year by lifting up the statuses of their villages.


The service was graced by hundreds of worshippers.


The Miracle Centre team presented a skit on the birth of Jesus Christ.


___________________________

At St. Paul's Cathedral Namirembe


2:45pm

The Bishop of Namirembe, Wilberforce Kityo Luwalira led the service at Namirembe.

Former Deputy Chief Justice Steven Kavuma, seen here receiving Holy Communion, attended the prayers at the grand chapel.
After the service, Bishop Luwalira posed for a group photo former Prime Minister Apolo Nsibambi, Kavuma and others.


Here are some of the Chinese Christians who attended the Christmas Day service.


Outside, Bishop Luwalira was kind enough to pose for photos with Christian.


___________________________

At All Saints Cathedral Nakasero


2:15pm

It was all praise and worship as Christians convened to rejoice Christ's birth.

Former ethics and integrity minister Miria Matembe (second from left in the picture below) was part of the congregation.


The Archbishop of the Church of Uganda, Most Rev. Stanley Ntagali, preached the gospel during the Christmas Day service.


The All Saints choir did well to add flavour to the singing and praising.


Several high-profile people attended the service, including former Chief Justice Benjamin Odoki (second left), Makerere University Chancellor Ezra Suruma (third left) and Beatrice Ntagali.


Foreign Affairs Minister Sam Kutesa (right) also attended the prayers with his wife.


____________________________

'Christ is born for us!'


1:43pm


Christ is born for us! Come, all of you who are seeking the face of God. Here He is, the Child lying in the manger.

— Pope Francis (@Pontifex) December 25, 2018
____________________________

Prayers at Christ the King


1:25pm

A Christian reads the Christmas Day Mass program outside the church.


Christians prayed at the crib during Christmas Day Mass . . .


Time for offertory . . .


___________________________
Prayers at Christ the King

1:05pm

A little while ago, Rev. Fr. John Bosco Ssembatya led hundreds of faithful through one of two Masses of Christmas Day morning.

He urged Christians to push themselves in whatever they do - just like the scene inside a delivery room.


___________________________
What happened to the good-old Christmas card?

12:40pm

Digitalised by this ever-transforming Digital Era, I should say.

What do you think, anyways? Still receiving 'em cards these days?

You see, I just took a photo of these Christmas cards pinned on our office notice board and it immediately dawned on me that these conventional pieces of creativity have been swallowed up by the times.

The creativity has since moved to the (smart)phones. So far, I have received quite a number of digital Christmas cards today :)


___________________________
Get in touch with us


12:17pm

Enjoying your day so far? Where does this sweltering day (by the way, it's a Tuesday) find you?

Having a treat with family? Returning home from church?

Or have you started to dig into that sumptuous Christmas lunch?

Let us know by sending an email to digital@newvision.co.ug

And if you are the social media enthusiast, tweet us or DM us on Facebook via the links below:


___________________________

'Jesus is the light of the world'


12:05pm

Have you set up a Christmas tree at home or at your work place?

The head of the world's Catholic Church, Pope Francis, is telling you that those lights twinkling on your tree are a reminder of Christ's ubiquitous shine.


The lights of the Christmas tree remind us that Jesus is the light of the world, the light of our souls that drives away the darkness of hatred and makes room for forgiveness. #Christmas

— Pope Francis (@Pontifex) December 23, 2018
___________________________
The spirit of giving and receiving

11:50am

Oh yes, that's what the festive season is all about - giving. And how gratifying it is!

In Nakawa Division, Pneuma Word Ministries of Kyanja led by Prophet Brian Kagyezi gave out Christmas packages to 1,000 needy families from nine zones - Lulambiro, Walufumbe, Nazareth, Kisaasi, Tuuba, Kandogolo, Kasana, Kyanja Central and Katumba.

The "Feed a Thousand" initiative was meant to demonstrate the love of God with those in need in their neighbourhood and also give thanks to the Lord as a church.


___________________________

More Christmas bundles of joy


11:40am

China-Uganda Friendship Hospital in Naguru registered Christmas Day babies.

One of the Christmas mums is Daphine Twinomugisha (seen below), a resident of Kitintale.


Sister Nyeringol Magdalene was keen to give a hand to Immaculate Nansukusa, a Kiwatule resident who had just delivered a baby.
Betty Nankwanga and her husband John Bosco Kaahwa named their baby boy Emmanuel.


Dr Pricillar Apolot examined Jane Wadembe's newly-born baby. Wadembe is a resident of Nsambya.


___________________________

Born with Christ - here are the Christmas babies

11:30am

New Vision's Badru Katumba went to check out the babies born on the same day as Christ the Lord. He sis find some.

From St. Francis Hospital Nsambya, six babies have so far been born today - five girls and a boy.

And according to Susan Dyabe, the deputy ward manager in charge at Nsambya, all of the newborns were delivered normally.

One happy mother is Safra Nasiima, from Najjera, who was the first to give birth at the facility - at 12:30am.

"Im so grateful to God for giving me my baby on this day. This is my second child born on the same day of December 25. I cant thank Him enough," she says.


___________________________
Let's meet up for some meat

11:17am

Shall we?

As prayers are taking place in various places of worship, resident chefs of homes across the country are readying the good stuff for the hungry stomachs that will be returning soon.

Mchomo . . . anyone?


___________________________


Prayers under way across the land

10:58am

Rev. Henry Katumba Tamale is leading prayers at St. Paul's Cathedral, Kako.


Morning prayers at St. Matthew, Bbira, led by Rev James Nsonga Ssendawula.


___________________________

The festive spirit is in the air!



Vision Group is wishing you merry-making!


SEASON GREETINGS - May this festive season bring you joy and usher in a fabulous New Year!#MerryChristmas and Happy New Year 2019.#VisionGroup
Cc. @CarolNatukunda @EtukuriCharles @nkatende @edward_muhumuza @DenzelUG @Iam_Humphrey @willisDaily #ChristmasDay @newvisionwire pic.twitter.com/YcYG5XssTo

— Vision Group Uganda (@VisionGrp) December 25, 2018
___________________________
Prayers going on across the country

10:40am

Christians started off Christmas Day by slapping on their 'Sunday best' [outfits] and heading to their respective places of worship to celebrate the birth of Jesus Christ.

Uganda Orthodox Church leader, His Eminence Metropolitan Jonah Lwanga, is leading prayers in Namungoona.


___________________________
'Celebrate responsibly'

Meanwhile, President Yoweri Museveni has wished Ugandans a Merry Christmas and a happy 2019.

But the head-of-state has cautioned bazukulu (youths) to "beware of alcoholism and promiscuity".


Wishing you all a merry Christmas and happy new year. God bless you. pic.twitter.com/lNC3NxIDiX

— Yoweri K Museveni (@KagutaMuseveni) December 24, 2018
___________________________
Last-minute shopping

10:20am

Are you somewhere doing last-day shopping for Christmas?

While many city dwellers have made the long journeys back to their ancestral homes to celebrate the festive season with their folk, at Nakawa Market, it's a busy Christmas Day morning as sellers and buyers are engaged in transaction.


___________________________
A day to feast - but do so with moderation

10:05am

We all associate Christmas Day with travelling, praying and feasting - and plenty of the latter!

But hey, exercise caution while at the dining table. I watched on the news yesterday experts warning people to eat with moderation. The consequences are many.

The last thing you want is to have your night's sleep interrupted by a sprinting tummy. Right?


___________________________
Ghost streets

9:45am

So the few cars that were on Jinja Road were cruising at speeds that are a preserve of the Grand Prix.

I saw only five zoom past.


This vehicle on Third Street Industrial Area appeared like it was driving through a scene of the movie Ghost Town.


___________________________
Empty streets

9:30am

The usually heavily-trafficked Market Street offered a ghostly presence.


Today, the sun woke up to ghost city. Parliament Avenue was no much different.
___________________________
Forlorn streets

9:25am

So this morning, I decided to take a walk along some streets of the city.

I must say, what I found was this eerily atmosphere - a few walkers here and there and in one corner of the street, a bored bodaboda rider musing on his phone at a stage. The birds high up sounded louder than usual - well, what with not much traffic around.

So, armed with my phone, I started off at the traffic lights at Shoprite Ben Kiwanuka Street.


Then I walked up to where Entebbe Road starts. Spooky is the word.


On my way up, I took a peek at the street leading to the Old Taxi Park.

Not sure what its name is.


Up and up I went.

The turn to Nkrumah Road was no different as the morning sun broke out of its cloudy shell.
___________________________
Where did everyone go?

9:15am



So it's Christmas Day and if you chance on a stroll around the city today, be sure to see some architecture you never really get to have a chance to see on any other ordinary day.

And why is that, you may ask?

Typically, the streets of Kampala are one giant maze of twists and turns, laden with vehicles and people alike. You are so busy trying to squeeze your way through two walkers in front of you or you are honking behind the wheels at the bodaboda guy blocking your way in some gut-wrenching traffic.

You are too occupied on finding your way around to even notice that beautiful structure along the street. Or you even walk right past a friend or relative without noticing.

But not today.
___________________________
Good morning! Merry Christmas!



9:10am

Hello everyone, a warm welcome to this live page, on which I will attempt to update you with anything Christmas Day-related from across the land.

Stick with us.