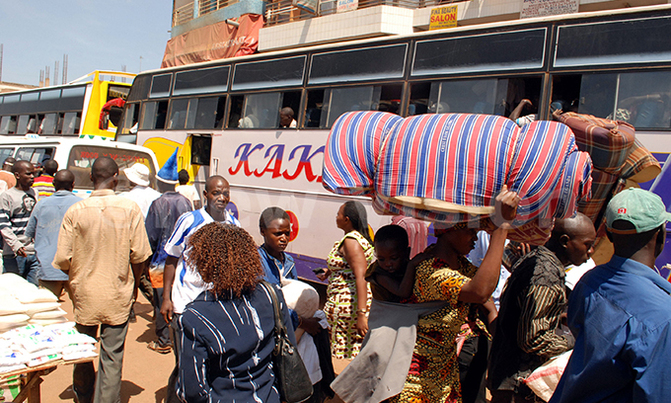 In the past two weeks bus and taxi parks have been jammed with hundreds of passengers travelling to different districts both for school and festive holidays.
PIC: It is important that you take care of your property as you travel this festive season
FESTIVE SEASON

Transport operators have advised users of public transport to be more vigilant when travelling to avoid getting problems like property loss this festive season.

In the past two weeks bus and taxi parks have been jammed with hundreds of passengers travelling to different districts both for school and festive holidays.

In interviews with different transport operators in Kampala, they all agreed that most of the passengers neglect the safety of their property, leaving it to transport operators only.

Namayiba and Kisenyi bus terminals head of security, Saturday Paul Muhwezi said the huge numbers of travellers during the festive season always attract crime especially on long routes.

"Criminals dress smartly and enter bus terminals and taxi parks with an aim of stealing property. Some get tickets and follow-up passengers to steal their property in the course of transit," he explained.

Safety tips when travelling

Muhwezi urged passengers not to trust anyone at the bus terminals unless they are in uniform, clear identification numbers and company names.

"Some travellers have a tendency of leaving their luggage with whoever claims to be staff of any bus company.
Others make short time friends with whom they leave luggage. This is dangerous as it is difficult to follow up the luggage in case it is stolen," Muhwezi said.

He further told parents to always be cautious when leaving children to travel alone to villages to avoid cases of abductions.

"Parents should note vehicles registration numbers on which their children are travelling. Children should have their parents phone numbers for help in case they get lost," he added.

Muhwezi asked people to stop eating food offered by strangers on public vehicles, adding that some people chloroform fellow passengers to take their property.

Transport companies especially the buses were advised to have security personnel equipped with metal detectors to check those entering the bus during transit.

Link bus terminal customer service manager, Tom Aliinde advised passengers to always check their luggage whenever people are getting off, adding that some travellers take out other people's property.

Fares shoot up

When New Vision team investigated the transport charges to different districts in the country, they found out that an increment of between sh5000 and 15000 had been added onto the fares.


Fares in bus terminals

By press time transport fares from Kampala to Arua, had shoot up from sh35000 to sh50000 depending on the bus company one uses. Kampala to Kabale fares had been hiked from sh40000 to 50000. Tickets to Juba from Kampala cost between sh70000 and sh80000 depending on the bus company one uses.

Transport fares to Fort-Portal have increased from sh25000 to sh30000. Bus tickets to Kasese go for sh35000 unlike previously where they would go for sh30000. Bus tickets to Lira and Gulu go for sh30000 and 35000 depending on the company one is using.

Fares in taxi parks

Fares for Malaba via Tororo have shoot up from 18000 to 25000, Masindi 14000 to 20000, Jinja 7000 to 10000 while Fort portal fares have gone up from 25000 to 35000.

Those of Masaka have risen from 12000 to 15000, Iganga 10000 to 13000, Kamuli 12000 to 15000, Kiryandongo 14000 to 20000, Kyotera 15000 to 18000, Busia 17000 to 25000 while charges for Mbarara are up from 20000 to 30000.

Causes of fares' escalation

In an interview with New Vision, Kampala Operational Taxi Stages Association (KOTSA) spokesperson Moses Mawejje Birungi said prices may hike due to different circumstances that arise as result of the festive season.

Birungi said they decided and agreed on the taxi fare increments, adding that they suspended some of their colleagues that swindled passengers as they made passengers pay more than the fees that were agreed upon.

Birungi also commented on fluctuating prices of fuel which he says to an extent is also contributing to the hiking prices of transport.

Business

Hawkers were seen in both bus terminals and taxi parks minting quick cash as they sold goods to passengers and transport operators.

Among the things that were being sold are drinks, bakery products like bread, handkerchiefs, shades, perfumes among others.

Passengers speak out

Mauricia Nakankaka, a passenger in old taxi park said it was unfair for the prices to hike saying that extra fares are always a burden to their small budgets.

"I have been given money by my children to visit relatives in the village. I have been forced to add money meant for shopping onto the transport," Nakankaka said.

Tony Asiimwe, a passenger who was found at Global bus terminal said it's high time people started preparing extra money for fares during the festive season adding that raising it is always a must.


Also related to this story
Museveni's festive season message on security

Having a hustle free Christmas travel

How to survive the festive season

How to prepare for a Ugandan broke Christmas