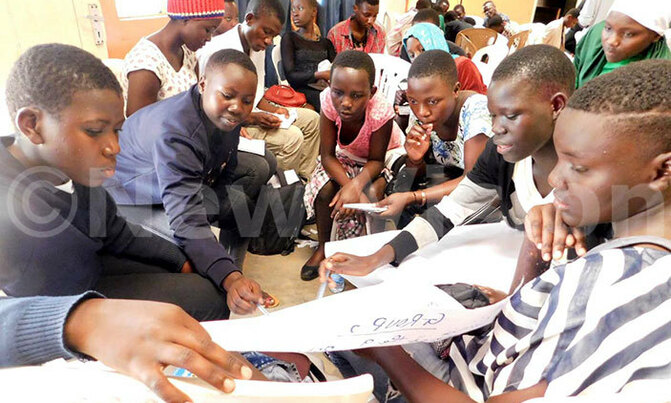 Instead of Father Christmas giving them wrapped biscuits, sweets or soda this time round they were equipped with reading skills and morals.
Last weekend youths in Central Uganda were given a rare Christmas gift at Ntinda School for the deaf.

Instead of Father Christmas giving them wrapped biscuits, sweets or soda this time round they were equipped with reading skills and morals.

"Consider your selves lucky to be among the chosen 130 youths in this camp," stated Annett Babirye, a facilitator. "It is time you approached life aggressively because there are no miracles in real life."

"Look at my physical state," Babirye raised eyebrows shoving a pair of palm less arms at the audience. "I was born with all my limbs but lost them after suffering from measles at 18 months of age. As if that was not enough…

Babirye paused as sighs of awe were sucked in by the visually shocked youth and other facilitators.

"As if that was not enough, my mother abandoned me and I was taken to stay with my grandmother," recounts Babirye looking. "My real life is stranger than fiction. Because that is when I learned to always challenge the challenger."
Babirye encouraging the youth to be achievers. (Photo by Titus kakembo)


Taking a second glance at youth with different impairments, Babirye tipped them to be ready to be called derogative names like: Kasiru or Bubu (deaf) and Kiwuduwudu (limbless) but stay focused.

"Do you know that it is not only palms I am missing but a foot too?" confided Babirye. "Fortunately these conditions are no hindrance to my academic achievement, social interaction and life in general."

Talking about her marital status Babirye cautioned the youth against emulating lifestyles that are glamourized by social media, movies and society pages in tabloids.

"It was after I finished my education that I got married and gave birth to four children," said Babirye.
"Do you know that there are thousands out there wishing they had the opportunities you have? So use every second of your school life preciously. Mind the people you interact with."

Do not let those bodaboda or Sugar Daddies entice you with a free ride, fancy gifts and Rolex in exchange for sex.

"You might end up with HIV, an unwanted pregnancy and a checkered future," said Babirye.

The Cheshire Uganda Communications and advocacy manager, Josephine Namirimu surprised the youths with a pageantry of ladies on wheel chairs and showcased others dancing ballet.

"The trick is to first appreciate and accept what you are," stressed Namirimu. "Because there is nobody out there, who is going to do it for you."

Namirimu reminded the participants that like everyoneelse, they too have a right to: education, healthcare, parents, food, an identity and love.

"By the way being disabled can be a blessing in disguise in Uganda," revealed Namirimu. "If you are a girl the education ministry adds you some points to get to university unlike other counterparts vying for the same institutions and being disabled adds you another."

The Ministry of Education has a provision for enabling people with disabilities get to university which requires you to score ten points at Higher Certificate of Education and get two principal passes.

"This makes it easier especially for girls who have another point as a result of affirmative action," said Namirimu. "Let being a girl or disabled become a blessing by exploiting the available opportunities. Let there be no barriers in life. Lean to voice what is stressing you."

Team work can enable everyone achieve their goal, the disabled inclusive, stressed Namirimu.

"What is needed is self-esteem," suggested Namirimu. "You have several opportunities out there waiting to be utilised."