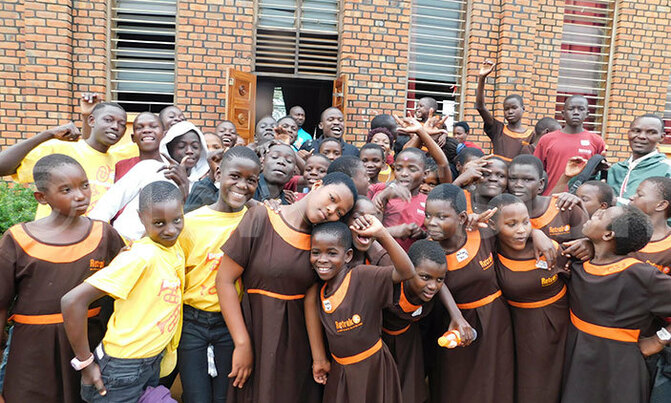 Brass for Africa as a registered charity is currently partnering with over 20 national and international organisations.
CHARITY FESTIVE SEASON
Some people would argue you don't need music just like food or water but the good fellows at Brass for Africa disagree with that because life is about flourishing as a human being, not just surviving.

On Tuesday this week, Brass for Africa, a charitable organisation based in Nsambya organised their annual Christmas party at Nsambya youth sharing centre here in Kampala, entertained over a thousand disadvantaged children from all over Uganda and awarded those who have excelled in their music programme this year.

Brass for Africa as a registered charity is currently partnering with over 20 national and international organisations.
These include Plan International, Elton John AIDS foundation, Gals Forum International among others and together they reach more than 1000 participants each week.

Their participants are majorly disadvantaged children and young people who include slum dwellers, ex-street children, children living in orphanages and rehabilitation centres, some with physical and mental disabilities and some living with or affected by HIV/AIDS.

Angrew Agassi, the country director for Brass for Africa says children are such innocent souls and what you show or teach them in their young age is most likely what they will be or behave like in future. Not only do these children learn musical skills but also life skills through music.

"In the process of monitoring and evaluating the impact of our work, we identified eight key attributes associated with learning music; self-confidence, leadership skills, resilience, grit and perseverance, problem solving, concentration, team work and communication skills.

]These attributes are integrated into each music lesson, resulting into transferable life skills which can be applied to the participant's everyday lives" Agassi said.

By the looks of things, every child seemed happy to be part of this programme and yes the future of these children looks very bright as they ululated after every performance and every award that was given to any one from the respective outreach programmes.

You could tell that these children love being part of this music programme and according to the organisers, this Christmas party will happen every year to bring the different outreach programmes together to compete and forget about the negative energy that comes with being disadvantaged.

From 9: 00am to 5:00pm, the Nsambya sharing youth centre was abuzz with so many happy children (who didn't look disadvantaged at all by the way), most of whom were school goers and the happiness on their innocent faces was priceless.

Kudos to Brass for Africa for caring for the children's needs. If you didn't know music was a need, now you know.