Nanfuka, a resident of Katuba Buziranjovu in Mukono district had battled with itchy eyes and partial blindness in her left eye for the last two years because she could not afford treatment.
CHARITY

MUKONO - Free eye checkup and treatment was a dream come true for Nanfuka Teddy, 71.

Nanfuka, a resident of Katuba Buziranjovu in Mukono district had battled with itchy eyes and partial blindness in her left eye for the last two years because she could not afford treatment.

Another, Ibrahim Lubega, 85, a resident of Kityabule village in Mukono district was diagnosed with a cataract which had caused him blindness.





Lubega who had grappled with visual impairment for the last three years was happy to get the right diagnosis as he did not know the cause of his blindness.

Nanfuka and Lubega are among the 73 elderly people who received free eye checkup and treatment as part of the Christmas get-together activities at Reach One Touch One Ministries (ROTOM) in Mukono district on Friday.

The Christmas get-together that was organised by ROTOM attracted over 500 older persons from Mukono district. The function was officiated by Dave Meyer the ROTOM USA board Chair, Dave Reed from ROTOM USA, Tim Fowler from ROTOM UK, Dr Susan Elliott Chair ROTOM Canada and Hawi Belete from ROTOM Ethiopia.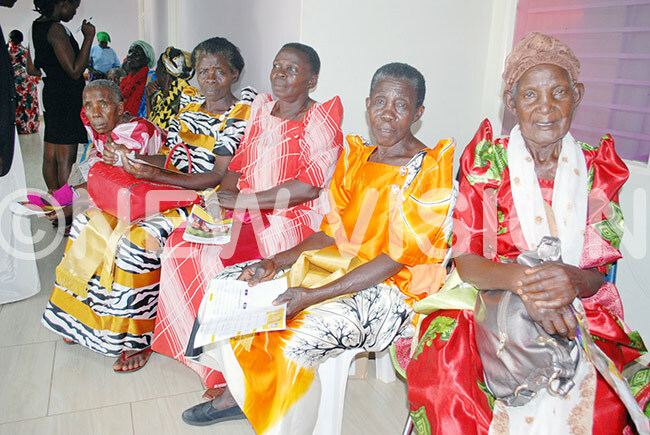 Old women queue for free eye check and treatment

Kenneth Mugayehwenkyi, the founder and executive director of ROTOM said they included free eye checkup and treatment in the Christmas package because eye problems are among the common illnesses that elderly people grapple with.

Yet, Mugayehwenkyi said, majority cannot afford eye treatment. Consequently, the elderly have to rely on their children or good Samaritans to access treatment or trek long distances to health facilities, he noted.

Christine Laker, the ophthalmic clinical officer at ASG Eye hospital based in Kampala that offered the treatment said, of the 73 people who were screened, about 10 people were diagnosed with cataracts and 30 had reading problems. The other conditions included retinal generation, eye allergies and bacterial infections.

Laker said people who presented with allergies and infections were given medication. She said arrangements are being made to deliver glasses to those who presented with reading difficulties. "Those requiring surgery to correct the cataracts will be operated upon in January 2019," she said.

A cataract is a clouding of the eye's natural lens, which lies behind the iris and the pupil. A cataract happens when the natural lens becomes opaque or it stops being transparent. We have natural lenses which bend (refract) light rays that come into the eye to help us see. In this case, the lens should be clear. But if someone has a cataract, the lens becomes cloudy.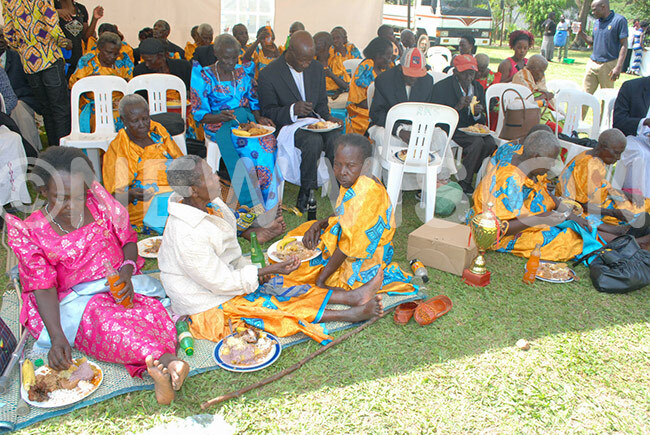 The elderly enjoying a meal during the party at ROTOM


During the celebration, the elderly took part in a music dance and drama competition, their grandchildren also entertained guests. The elderly later cut cake, were served lunch and each received a radio as a Christmas gift.

Reach One Touch One Ministries (ROTOM) is a non-government organisation based in Mukono district. Edith Kazimba, the country director, said ROTOM is a member organisation of the Grandmothers consortium; an umbrella organisation that brings together about six Ugandan grassroots civil society organisations to advocate and lobby for the rights of the elderly.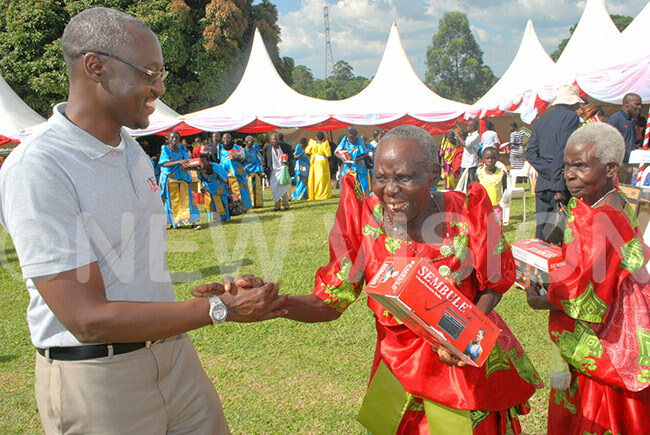 Kenneth Mugayehwenkyi interacts with the elderly


Kazimba said, currently a total of 367 children and over 1,000 elder persons in Mukono and Rukiga district are benefiting from ROTOM.

She added that each elder person is attached to a sponsor who provides their medical care, food and other basic needs. Every Thursday, the elder persons meet to sing, dance and pray together to boost their spiritual nourishment. Additionally, ROTOM eases the burden of older persons by caring for orphans through paying school fees and proving scholastic materials.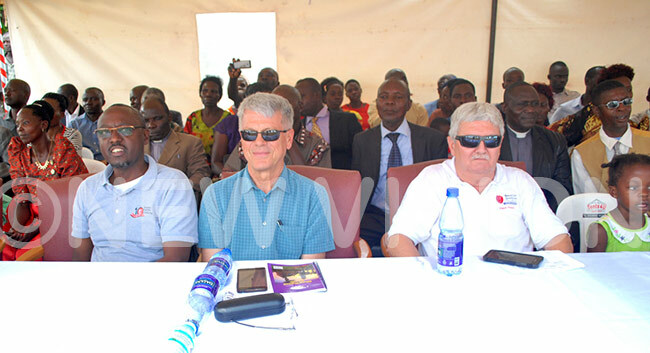 Mugayehwenkyi with Dave Meyer the ROTOM USA board chair (center) and Dave Reed, the ROTOM-USA chief executive officer (left) during the Christmas party