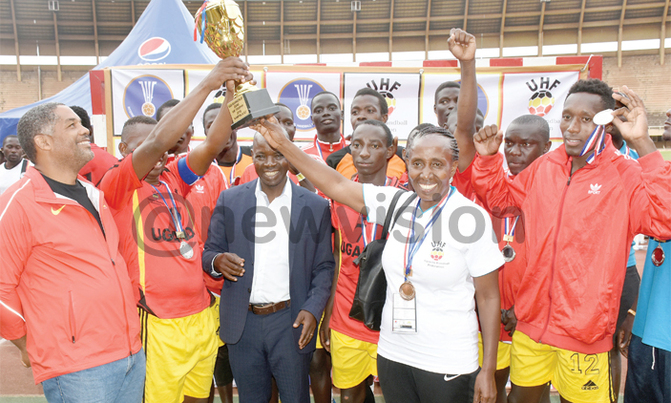 Uganda Handball Federation (UHF) successfully conducted many of the activities on their calendar
The handball season ended last month with Ndejje University teams lifting the men's and women's national league titles.

The men's team defended the trophy they won with an unbeaten streak last year while the women dethroned Prisons Lady Spears who withdraw from the event citing malice by the league management committee.

Uganda Handball Federation (UHF) successfully conducted many of the activities on their calendar- the Harriet Apako Memorial tournament, Schools Championship, Zone 5 Africa Youth Championship for men and the President's Cup.

Moru-apesur High school and Madera Girls schools won the Harriet Apako Memorial tournament in the boy's and girl's categories respectively.

UHF hosted the Zone V Africa boy's youth handball tournament at Lugogo and Namboole stadium.

Kenya won the U-18 crown and Rwanda defended the U-20 title. The winners beat Uganda in the finals.

Achievements

Despite the challenges, UHF held a number of activities in the season.

"We are motivated to prepare for next year because this season we completed all activities on our calendar," UHF secretary Saudha Babirye said.

"We had capacity building workshops where coaches, referees and games teachers, in Soroti, Gulu, Mbale and Kasese were trained and the benefit of this was visible with a number of teams participating in Apako tournament increasing," Babirye explained.

On the international stage, UHF successfully hosted the Zone V Youth Championship.

As a result, Uganda will compete in the Zone V Girl's Youth Championship in March.

Local referees got training and received certificates and are able to officiate on the international stage.

However, Babirye said that as an executive, they failed to resolve the concerns of the clubs which led to the withdrawal of Prisons and Police from the national league.

Whereas UHF would like to conduct many activities, the lack of funds has been a big challenge.

"I must admit that we did not receive assistance from National Council of Sports in regard to funding and that halted some of the training programmes we had lined up," she noted.

Challenges
Clubs pulling out of the league is a reflection of a weakness in UHF. It shows that the clubs' concerns were not fully addressed.

This year, two top clubs Police and Prisons did not participate in the league because of reasons that could have been ironed out.

The league management is still wanting and is an area that should be sorted out.

"The player base is reducing and this is just because of poor management of the league leading to teams withdrawing from the league. But if this issues is addressed, handball has a bright future," Makerere University Club manager Hannington Musoke said.

The federation has also failed to convince universities to join the sport.

Nkumba University and Uganda Christian University no longer participate in handball activities yet they could play a big role in the growth of the sport. The fan base would also increase.

Musoke went on to say that plans are on to have a stakeholders' workshop to address the grievances of clubs and concerns of other parties.
At the same time, UHF plans to spread the sport to schools countrywide in a bid to tap new players and fans.

Capacity development

This can only be achieved through training of more games teachers who would in turn pass over the skills to their pupils and students in their schools.

There is also need for UHF to take advantage of the president Sheila Agonzibwa being head of the Africa Zone V.

UHF should lobby to host more international competitions at regional and continental level.

This would help in efforts to improve the sports around the country.

There should be an independent league management committee to run the league professionally and leave the executive to manage the national teams and take care of other administration matters.