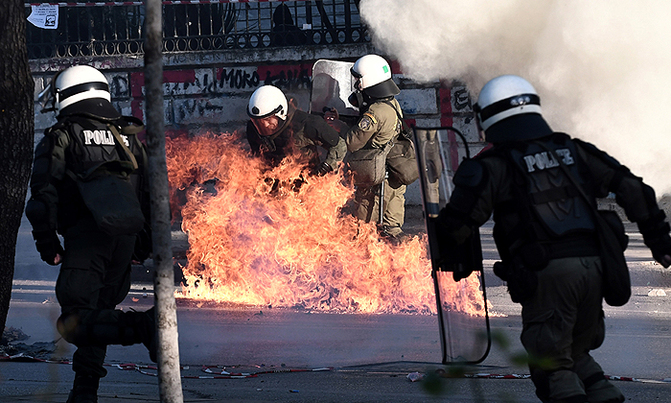 From demonstrations on the streets of Toulouse to confrontations between policemen and supporters of an arrested opposition leader in Lahore, here is what has been happening around the globe.
AROUND THE GLOBE


@newvisionwire | #VisionUpdates


Picture this . . .


________________________

On Thursday, these young men gestured as they faced the police near the Pont Neuf, in Toulouse, southern France.

This was part of the fourth day of mobilization of high school students in the wake of the movement of "yellow vests".

That day, protesters set on fire several things on the roads.

About 200 high schools and colleges were blocked or disrupted again in France and several incidents were identified, leading in particular to mass arrests in the Paris region.

A demonstration of high school students protesting against French government education reforms became so intense that protesters doused cars with liquid fuel and set them on fire.

It was the same intensity several miles away, in the Greek capital Athens.

Also on Thursday, police clashed with protesters during a demonstration to commemorate the 10th anniversary of fatal shooting of a teenager which sparked major riots in Greece, in 2008.

During the demonstration, petrol bombs exploded next to riot police officers as the running battles intensified.

Elsewhere, in Spain, there was similar confrontation.

One protester came face to face with a riot policeman during a demonstration against a far-right demonstration entitled "United for the Constitution" in Girona on the 40th anniversary of the Spanish Constitution.

In Pakistan, supporters of arrested opposition leader Shahbaz Sharif scuffled with policemen on his arrival at a corruption court in Lahore on Thursday.

An accountability court in Lahore sent PML-N President and opposition leader Shahbaz Sharif to jail on a judicial remand. Pakistan opposition leader Shahbaz Sharif was arrested on October 5 for graft, officials said, the latest corruption allegation against the Sharif political dynasty that was ousted from power by ex-cricketer Imran Khan in elections this summer.

The mood eased a bit as we focus on a different scene.

In Syria, this muddied boy carried a sack on his shoulder while walking inside a camp for the displaced near the village of Shamarin, near the border with Turkey in the northern Aleppo province.

On Wednesday, thousands of miles away, the ground was also brown.

Here, a Myanmar woman was seen working in a brick factory in Naypyidaw.

It was time to clean up. Not in Myanmar, though.

This time, we panned the camera to India, where this man bathed inside a workshop in the old quarters of New Delhi.

It was another wet affair the same day - but in a different location.

This Central American migrant man carried a girl on his back, as they took cover from the rain, near a closed temporary shelter a few meters from the US-Mexico border in Tijuana, Baja California state, Mexico, on December.

Thousands of Central American migrants, mostly Hondurans, have trekked for over a month in the hopes of reaching the United States.

The following day, on Thursday, in China's capital Beijing, this woman wearing a mask walked past a billboard praising Chinese patriotism on a street.

In eastern Europe, Ukrainian paratroopers boarded an IL-76 plane in Ozerne air base, prior to their dispatch to the east of the country, Zhytomyr region in northern Ukraine.

The camera lens got us to this continent - Africa.

Here, this van with former Ivorian President Felix Houphouet-Boigny painted on the back rumbled through a street in Yamassoukro, Ivory Coast.

Still idealised by many twenty five years after his death, Felix Houphouet-Boigny, who was born on October 18, 1905, led his country, a former French colony, to independence in 1960, created the Democratic Party of the Ivory Coast (PDCI, the former single party) in 1946, and led the country as president for the next 33 years.

And finally, these Nepali Hindu devotees lit oil lamps in memory of deceased family members during the Bala Chaturdashi festival at the Pashupatinath Temple in Kathmandu on Thursday.

Typically, Nepali Hindu devotees light oil lamps and sow seven kinds of seeds around temple premises in the name of departed family members in observance of the festival.
Also related to this

Striking news pictures around the world