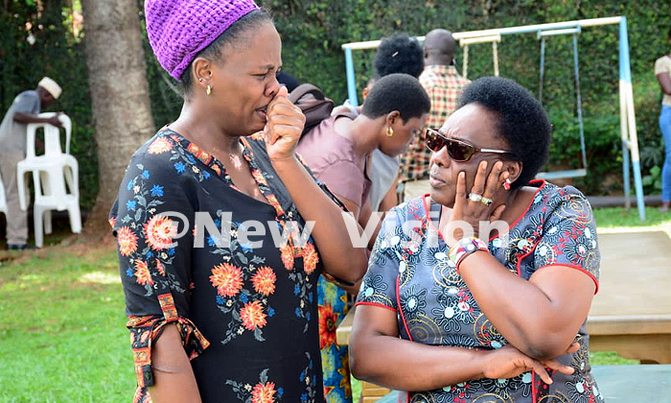 The fallen businessman was found lying dead in his bed Thursday morning.
DEATH

KAMPALA - City business tycoon and former rally champion Charles Muhangi was found dead in his home Thursday morning, with the cause of his death not immediately known.

He was 62.

Vincent Sekatte, the public relations officer for CID and Interpol, confirmed the development to New Vision Thursday morning.

Police sent a team to the home of the Horizon Coaches proprieter, who had a string of businesses in both Kampala and Mbarara.

People began flocking to his home in Lower Mawanga in Buziga Parish along Munyonyo Road after receiving the news. There is a huge security and media presence at the residence.

Several politicians and colleagues also convened at Muhangi's home as the news spread. A funeral van was packed at the compound.


At the home of Charles Muhangi Thursday morning
New Vision talked to the chairman of the area, Robert Bwire, who said that he received a call from Muhangi's children at around 8:50am local time Thursday.

Their father was "not feeling well", they told him on phone.

At the time, Muhangi's wife was away. She had reportedly gone to school to pick one of her children, who were breaking off for holidays. When contacted over the development, she called a neighbour, who in turn called a one Dr. Kaggwa, also in the same neighbourhood.

According to Bwire, when the medic arrived at the house, he found Muhangi lying in bed, already dead. After, Bwire also entered the house and found him lifeless.

Apparently, the doctor said there were no physical signs on the dead man to suggest any immediate cause of death.

But according to Bwire, Muhangi was known to have been suffering from diabetes.


Muhangi (right) was a former rally champion


Muhangi had recently been in the news following a wrangle with businessmen Drake Lubega and Hajji Mansoor Matovu, also known as Yanga, over ownership of properties in Kampala.

Meanwhile, area chairman Bwire said Muhangi has been a "good man" and co-operative in issues to do with security in the area.

While he could not readily establish how long the former rally champion has been living in the area, Bwire said Muhangi has been residing there for "quite some time".

Former East African Community (EAC) secretary general Amanya Mushega arrived at the home of his colleague after learning of his passing.

Brig. Stephen Kwiringira, the director of operations and registration at National Identification and Registration Authority (NIRA), also made his way to Muhangi's home. He is a neighbour.


There was a security presence at the home of Muhangi on Thursday
The businessman's body was still at his home by 11am

Whole nation is at loss - minister

"It is so sad, so terrible. The whole nation has lost," said Mary Karooro Okurut, the minister in charge of general duties.

She was seen comforting Muhangi's daughter, Sarah.


Okurut (pictured above, right) said she and Muhangi were close neighbours in Bushenyi district and that he has been a strong "supporter of the Movement" (NRM).

One of Muhangi's friends, Salim Uhuru, said the revered rally driver became famous for his Ekitaagururo rally car and that he was a social man.

He said the family had requested to get their private doctor to work alongside that of the Police to carry out a post mortem examination to ascertain the actual cause of death.


Raw emotions


Some were inconsolable
News of Muhangi's death brought together family and friends
It was difficult to hold back tears at such a trying moment
Others, weak from learning of the sad news, needed support
Detectives get down to work

Amid the sombre atmosphere, Police detectives checked some of the medicines picked from Muhangi's bedroom.

Earlier, the area chairman Bwire had said the fallen businessman had been known to be a diabetes sufferer.
Joint examination

City businessman Hassan Basajjabalaba is said to have summoned his doctor from his Bushenyi Medical School to work with the Police in the examination. He said Muhangi's body would as such remain in the house until the doctor arrived.
Body taken to Mulago

Just before 1pm local time, Muhangi's body was placed in an awaiting funeral van and transfered to Mulago for autopsy.


Patience Muhangi, the widow, had five children with the late
She was comforted by family and friends
Muhangi's body was later taken out of the house and loaded into a funeral van