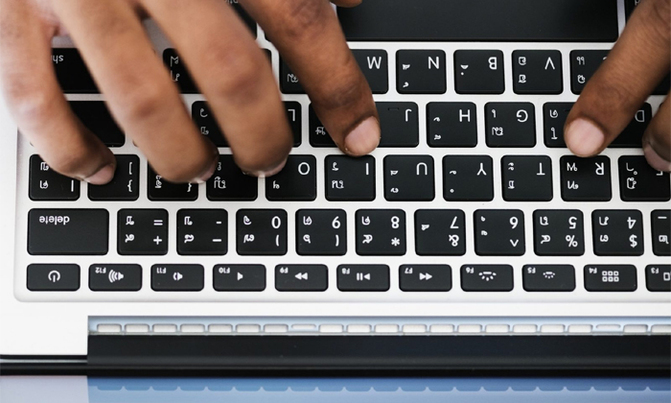 Proponents say the idea is making learners understand and conceptualize the different subjects in a simple and visualized manner.
EDUCATION | TECHNOLOGY

A big ray of light is projected on the wall. A student, with the guidance of a teacher, shows the rest of the class the results of chemical combinations. But different from the usual traditional laboratory, the practicals here are being handled using cyber technology - a computer, projector and software.

It is e-learning, when the syllabus for all students' practicals is just fed into software, and by the click of a button on a computer, the chemical combinations or any other practical is relayed on the wall.

Cyber laboratories are an e-learning model which according to proponents is making learners understand and conceptualize the different subjects in a simple and visualized manner.

Unlike the traditional laboratories where chemicals are expensive to procure, can expire or where schools struggle with the disposal of expired chemicals, in cyber school laboratories learning is easier and cheaper in the long run.

The education ministry started cyber laboratories in schools since 2012. The project, which covered about 800 schools, of the available 1,200 government aided secondary schools, cost the Government almost sh361bn. To make sure it is extended in schools, the education ministry together with the Cyber schools solutions ill next week, on Wednesday holds an introductory workshop on this technology in Kampala.

Through the ministry of Information and Communication Technology, the education ministry has undertaken an aggressive initiative to introduce virtual learning in schools especially for science subjects.

This was premised on the fact that most schools especially in rural areas have failed to attract or maintain science teachers. But also as seen from the national examinations results, sciences continue to challenge many learners.|

The project funded under the Rural Communication Development Fund has since seen the distribution of 40 custom-made computers to the beneficiary schools. But are these cyber laboratories worth the cost?

Worth the cost?

Generally, the cyber labs have been found to be safer compared to traditional laboratories since no chemicals are involved physically.

Jasper Ogwang of St. Edwards Bukuumi, one of the seasoned science teachers with about 30 years teaching experience, says, "These cyber laboratories are safe. Students do not need tighter monitoring during practicals because they are not hazardous. More so, you do not have wastes to treat before disposal." Bukuumi is one of the cyber lab beneficiary schools.

The wastes of traditional laboratories, if not treated and disposed in the environment, they can easily cause heart, kidney and cancer ailments.

Ogwang says, "Unlike traditional laboratories, chemicals do expire. The gadgets, if well used, can last for decades."

He also notes that teaching in a cyber-laboratory, encourages students to take sciences. "Students easily understand what you are teaching, and they enjoy these kinds of practicals."

Another beneficiary school, Makerere College School, the school head Martin Muyingo, says, "The laboratories have made the teaching of sciences cheaper. You are never worried that students will finish the chemicals."

He notes that, much as these cyber laboratories cannot fully replace the traditional laboratories, they are of great value to the teaching of sciences.

A student at Makerere College, Alice Ankunda says, "We now find sciences easier to do than ever before, thanks to the cyber laboratories."

The same view is expressed by John Baptist Mugume, a student at Uganda Martyrs SS, in Kibaale. "I partly did sciences at A'level because of these laboratories. It is a good initiative, much as it can never replace the value of the traditional laboratories. We still need traditional laboratories and more science teachers."

But some teachers say there is need to develop traditional laboratories first, before Government can invest in such technologies.

Ahmed Kijjambu, the dean of studies at Kibuli Secondary School, one of the beneficiary schools says, "When you go out of school, you will be expected to mix the different chemicals and come up with a product. You can't just click all the time."

According to the director of the Fund, Nyombi Thembo, the argument as presented by the education ministry was that with the with limited science teachers especially for rural schools, we need cyber labs.

The education ministry's 2016 annual sector review report shows that there is shortage of of over 4,000 science teachers. The teachers, studies show, are available, but the ministry has no wage bill to recruit more teachers.

In the medium term, the education ministry is requesting for an additional wage budget of sh18bn to recruit at least 2,000 science teachers at an entry level of sh750, 000 per term to address the crisis of inadequate science teachers in a phased manner.

Apart from inadequate teachers, with the looming danger of the poor disposal of chemical, not forgetting the cost implication of procuring reagents and laboratory equipment, cyber labs seem to come in handy.

The offline software enables learners and teachers to take practical lessons on the computer other than the traditional laboratories.

The education ministry's Patrick Muinda, who is also the coordinator of the project, explained that with this software, schools will have to spend less on the usually costly science chemicals but also reduce on the 'pollution that comes with poor waste disposal.'

Installation, according to Nyombi costs about $6000 (about sh21.5m) per school, the software is aligned to the national curriculum and uses both 2D and 3D animations and quizzes to explain the otherwise complex topics.

"Other than doing the real practicals with chemicals three times a term, you can have students practice several times on the computer and then do at least two practicals in the traditional laboratory. That is cost effective," argues Nyombi.

Science teachers seem upbeat about the programme. Apparently, it helps capture the interest of the learners. This creates a conducive ground for learning to take place.

Banana Andrew Epila, the head of science department at Dr. Obote College in Lira district described the software as 'the assistant science teacher'.

Are cyber labs sufficient?

But, since this is a solution reaches only 20% of the secondary schools, and seems to still be on trial, this means there are several other secondary schools solely depending on the traditional laboratories.

There are over 4,000 secondary schools, including the privately owned ones.

More so, the cyber labs are just supplementary as virtual labs, and schools still have to rely on traditional laboratories. So, the question still lingers- How can we make traditional laboratories usage safer to the environment.

Moses Mugulire, an A'level science teacher at Jinja SS suggests that Government needs to come up with systems that schools must follow to dispose of waste in an appropriate manner which is currently nonexistent.

"These should be clearly spelt out guidelines, and a prerequisite for opening up a school. A chemical waste disposal system should be one of the benchmarks for licensing a school," he said.

Kamese, recommends that since some of this waste is too complex to dispose locally, Government should have a recalling system of all chemicals that have not been used in schools. This can either be taken back to the manufacturer or a well-established facility.

Available legislation

Though the responsible stakeholders seem unaware or are incapacitated, there is already legislation to this effect.

The Public Health Act, 2000 provides for prevention of diseases to the public arising from sewage, poor sanitation and pollution of the environment. It regulates the use of chemicals for public health and sets up the Health Inspectorate to ensure compliance.

"Section 105 of the Public Health Act imposes a duty on the local authority to take measures to prevent any pollution dangerous to health of any water supply which the public has a right to use for drinking or domestic purposes."

The National Environment Act, cap 153 also prohibits the discharge of hazardous substances into any into any part of the environment except with the guidelines of the National Environment Management.


PROPER DISPOSAL OF CHEMICALS

Maria Makuba Otaremwa, the Managing Director of Swift Waste Masters argues that though they are licensed to handle waste, they have a challenge getting clients.

"No one is interested in paying for waste. To them it's just waste and why pay for it. It will take action from agencies like NEMA, KCCA and the Ministry of Education to come up with strict measures on waste management." She says.

On average according to Otaremwa, a school can part with just sh100,000 per month to have their waste properly disposed and issued with a destruction certificate.

"The waste that goes to soak pits is not treated. I think this is why we have all these strange diseases like cancer on the rise. All such waste should first be treated before disposal. But maybe we are waiting for disaster," she added.

Some schools she says because of the big chunks of land they own opt to just dispose of waste into the environment disregarding the environmental and human implication.

"Hazardous waste is supposed to be treated from plants in gazette places devoid of human settlement. This should not be happening in schools." She said.


All laboratories that use chemicals inevitably produce chemical waste that must be properly disposed of. It is crucial to minimize both the toxicity and the amount of chemical waste that is generated.
Purchase chemicals in the smallest quantity needed.
Use safer chemical substitutes/alternatives such as chemicals which have been determined to be less harmful or toxic (Table 1 contains examples).
Use microscale experiments.
Chemical experiments using smaller quantities of chemicals
Recycle chemicals by performing cyclic experiments where one product of a reaction becomes the starting material of the following experiment.
Consider detoxification or waste neutralization steps.
Use interactive teaching software and demonstration videos in lieu of ex­periments that generate large amounts of chemical waste.
Perform classroom demonstrations.
Use preweighed or premeasured chemical packets such as chemcapsules that reduce bulk chemical disposal problems (no excess chemicals re­main).
Proper Disposal of Chemical Waste

The EPA has written a comprehensive set of regulations that govern the man­agement of hazardous waste from the point of generation to ultimate disposal.

Generators of hazardous waste are responsible for ensuring proper disposal of their hazardous waste and can incur liability for improper disposal of their haz­ardous waste.

Disposal Procedure
Do not pour chemicals down the drain (unless authorized by local sewer authority).
Do not treat hazardous waste on-site.
Contact professional, licensed hazardous waste haulers/transporters that will ensure appropriate disposal.

SOURCE: School laboratory safety guide. (Centre for Diseases Control and Prevention)