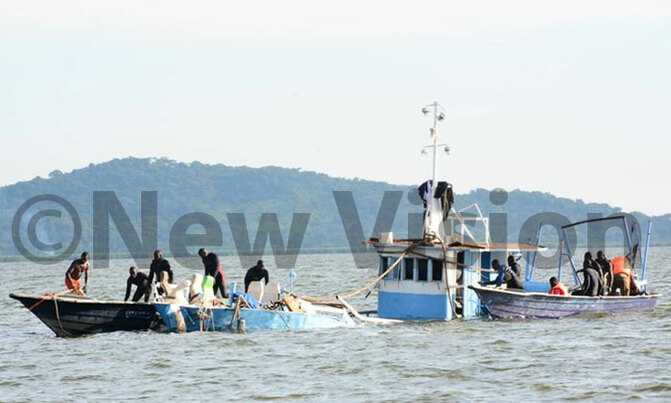 I am the former captain of the ill-fated MV Templar boat that capsized on Saturday night, killing 33 revelers.
MV Templar boat that capsized on Saturday night, killing 33 revelers (Pic by Eddie Ssejjoba)

DEATH

MUKONO - David Mukwaya, the former Coxswain (captain) of the ill-fated MV Templar boat that capsized on Saturday night, killing 33 revelers, has finally spoken out.

He says he refused to steer the boat after several complaints he made to the owner, Michael Templar Bisase, about the condition of the boat went unheeded. Below is his narration.

I am the former captain of the ill-fated MV Templar boat that capsized on Saturday night, killing 33 revelers.

On the morning of the fateful day, I was at the beach when my bosses, Michael Templar Bisase and his wife Sheila Bisase, told me the boat would be sailing.

I told them I would not steer the boat on that day because they had not heeded my warning about the need for repair and maintenance of the boat.

It was in a worrying condition. I had informed Bisase and his wife that the boat was leaking, but they did not take my advice seriously.
Michael Bisase A.KA. Templar and Sheila Bisase, owners of the capsized boat

I had earlier on anticipated danger and informed Templar. We had agreed to ground the boat after its last journey on October 8 for Olga's Caribbean bikini birthday party.

On Tuesday November 20, four days before the incident, repair works started on this same boat.

I could see they were in a hurry and the person they had brought, a local welder, did not even seem to know what he was doing.

He did not have the necessary expertise to repair a boat and the steel sheet they purchased to seal the leaking part was of a low gauge. I tried to guide them, but my advice was ignored.

I had worked for the boat owner's for the last eight years and knew them quite well. Having worked with them, they were like family to me.

This boat had made several trips with different groups of people to several islands despite its dilapidated condition

PREPARATIONS FOR CRUISE

On that fateful day, the boat was supposed to set off at exactly midday. Unfortunately, it had been pulled out of the water and was still undergoing repair.

It had not even been tested, yet the revellers were already at KK beach waiting to travel.

A city businessman, Freeman Kiyimba, had sponsored the trip and there was a lot of alcohol and food. As the revellers waited for the boat to arrive, they drunk themselves silly.
A video of #LakeVictoraBoatAccident shoot by survivor @irynnamubiru moments before the boat capsized. The singer says many of these people died. RIP pic.twitter.com/ePkDfBOVWz

— MUNEZA (@stephenkmuneza) November 28, 2018


At around 12:00pm, a van brought girls, who I think were campus students to offer company to the men on the boat.

These girls started drinking immediately and even before 5:00pm, some of them could no longer stand.

Towards 5:00pm, the boat, which was being repaired near KK Beach, was pushed into the water using a tractor.

I suspect that during the process of pushing the boat back into the water, the machine might have accidentally created a separation in the welded parts and allowed water to flow into the deck.

I knew it was almost impossible for the boat to float on the water once water seeped through. It makes it easy to capsize, especially when a big wave hits it.

In most cases, it is advised that one puts sand or stones in the boat bases to protect it from being swung left and right by the waves.

After I refused to steer the boat, the responsibility was passed onto my junior, Joel Eguma, who had sailed with me for over four years. He has since been reported missing.

Eguma steered the boat towards KK beach landing site and the revellers were picked by Templar's smaller motorboat and taken to board the boat, which was still in the water.

I saw the marine police speak to the owners of the boat, but since I was far, I did not get what the conversation was about.

The boat left at around6:00pm and sailed towards K-palm resort. Some revellers, who had been left behind, were placed on motorboat which followed the boat and they boarded.

However, shortly after setting off, the boat stopped in what appeared to have a mechanical problem.

A motorboat was called from KK beach to go and pick some of the revellers who were uncomfortable with the journey.
Around 15 of them were brought back. The engines which were being serviced got back to life and the boat resumed its journey.


BOAT CAPSIZES

I was still at KK beach at around 7:30pm when the calls for help came just before the boat capsized.
Locals camped at Mutima landing site in Mukono photo by David Sekayombya

Most speed boats around the area were mobilised to rush to Mutima beach, where the boat had capsized, but the place was quite far and I knew from the description given that by the time the rescue team reached, the boat would already have sunk.
A video of #LakeVictoraBoatAccident shoot by survivor @irynnamubiru moments before the boat capsized. The singer says many of these people died. RIP pic.twitter.com/ePkDfBOVWz

— MUNEZA (@stephenkmuneza) November 28, 2018


I did not accompany the rescue team. I left the place immediately out of fear. I became especially afraid after photos of the deceased started appearing on social media.

I had known and driven most of these revellers on the Lake and I was frozen. I am still in shock.

I know I am being hunted now, but I can offer help to security agencies who are investigating this matter.

BOAT HAD DEFECTS
The boat capsized on Saturday evening near Mutima beach in Mpatta sub-county, Mukono district, a few hours after leaving KK beach in Ggaba.

There were several people on board. The wreckage was finally retrieved on Thursday. New Vision has seen a November 5 notice by K-palm resort management announcing that they had halted all boat services from November 5-14, to enable them renovate and revamp the boat at KK Beach.

The beach management noted that the halting had come at a time when several events had been planned and apologised to its customers.

Some of the events that were postponed included Penny's birthday, all white cruise, N.B.B.C and City Girls' Cruise.
The owners, however, continued organising trips using their smaller boats and also occasionally hired out other bigger boats from other beaches.

New Vision has, however, learnt from one of the survivors and organisers of the event that they approached Templar on November 3 together with several businessmen, a Prince and some members of the Buganda royal family, who wanted to have a boat ride in what appeared to be a deal too good to forego.


New Vision has learnt that in the deal, a city businessman offered to buy all types of drinks, foods and also paid for the boat.

Local musician Iryn Namubiru, who is one of the few survivors, explained what happened as they waited for the boat in her post on social media. "People were asking about the situation of the boat.

The boat was not coming, but booze was flowing. There was every kind of alcohol. People were downing double Black Labels and other whiskeys and Cognac like it was their last day.

And anything you asked for, you were served by the bottle, it was always a full bottle for one person. I did not know who was financing it, but they told me it was a gentleman called Freeman.

I did not know him,but they were telling me there is a Freeman who paid for everything, so everything was free," she recounted.

Even though a figure of sh35,000 had been set as payment before one would board, New Vision has learnt that a city businessman, who organised the event, paid the entire amount, on terms that every "beautiful woman" on shore should be left to board.

This partly explains why there were more female victims than males.

Earlier reports indicated that although there were attempts to stop the boat from leaving KK beach, the police officer on duty was either overwhelmed or bribed to allow the revellers board it.
Other details emerging indicate that the organisers and owners of the boat knew of its defects even before it set off as best caught in a conversation between Namubiru and Freeman.

"Then Freeman tried to explain to me, you know, we were scheduled to leave around midday, but then the boat got issues, but eventually, he has managed.
He has come. Now it is here. We can go. You know, the boat had a few hiccups," Namubiru notes.
The boat set off from Gabba at around 6:30pm and some of the revellers who had failed to board it, like Namubiru and Freeman, were brought on board using a smaller boat.
However, 20 minutes into the journey, the boat developed complications and some of those uncomfortable with the journey were allowed to leave.
Some of the relatives of the people who perished in a boat accident. Photos by Henry Nsubuga

At around 7:20pm, the skipper fated boat — captain realized that they would not make it to K-Palm Beach Resort and opted to divert to Mutima Beach, which was the nearest.

Unfortunately, MV Templar capsized 200 metres to Mutima Beach Resort and, according to official figures, 27 revellers were rescued, while others remain missing.


History of the boat
According to security sources, the MV Templar is among the five fishing trawlers that were brought into the country in early 2007 to act as fishing vessels by a Chinese businessman.

However, when he was denied a licence, some businessmen purchased them. It is then that Templar purchased his boat and left it at beach house near Ggaba University.

A fishing trawler is a commercial fishing vessel designed to operate fishing trawls. A source familiar with maritime revealed that such boats were a disaster-in-waiting on the Uganda's lakes.

"A trawler is built to carry its load under board or under deck, but here, we use it to carry weight overboard or on deck, moreover merrymaking live weight, making its stability very unreliable," the source revealed.

Evelyn Natukunda, a resident of Ggaba, says she started seeing the blue boat around 2010 and it looked neglected.
"Later, it was shifted to KK beach," she says. It was during this time that it was refurbished.

Why the organisers opted for Templar's boat

Nelly Salvatore, who was among the first people to use the MV Templar, revealed that Templar's boat was among the cheapest option for boat cruise organisers, but still, the most dangerous.

"Boat cruise organisers are always trying to minimise costs, hence opting for risky options. I am sure that Templar and the organisers knew about the risk, but decided to take the money and take the risk," he said.

One of the founders of boat cruises, Bobiwinez Rasta Gyal, says they had experienced delays and several hiccups while on the same boat and would spend hours on the water, but the good thing is that they did not care.

"They once said that a fish net was stuck in the engine, so we should stay put until a canoe comes with fuel in a jerrycan, but then, all we cared about was partying," he said.


WHERE ARE THE MISSING PEOPLE?

Shortly after the accident on Saturday night, the police tweeted that up to 40 people had been rescued, but on Sunday, the figure was revised to 26.
One of the survivors, Arnold Simbwa, who posted through a friend, Ruben Luyombo, on social media, however, revealed that when they were rescued, they were brought to the mainland and found some lady who had called for a taxi that came to pick her up.
"I had lost my phones and could not communicate to any one that I was safe, save for those that had seen me at the shore.
Eight of us boarded the taxi headed for Mukono. Halfway through the journey, the driver flipped and started demanding sh50,000 each.
We almost beat him up, but later negotiated for sh20,000. He dropped us somewhere in Nakifuma and we boarded another taxi to Kampala."
Most of the fishermen, who responded to the revellers first, told New Vision that they saved a big number of people from the ill-fated boat, but that many of the survivors refused to have their names recorded.
A woman sheds tears at the rescue site of capsized cruise boat on Lake Victoria at Mutima village, about 50km south of capital Kampala. PHOTO: Isaac Kasamani/AFP
"Some of them were still in shock, while others wanted to hide their identity. Actually, some had lied to their loved ones that they were attending conferences or had travelled to the village and did not want to appear on the list of those rescued," a security source revealed.