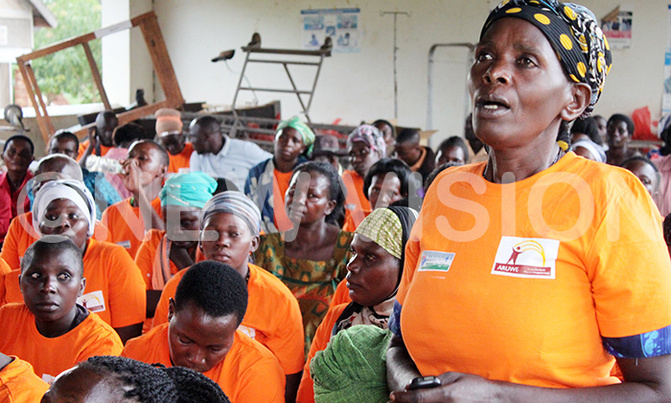 Over 200 grandmothers in the villages of Gayaza and Ntwetwe-Kitabona sub-counties, have since formed small groups to pool collectivity and support to intensify the fight against the AIDS epidemic.
Grandmothers tip women on HIV/AIDS fight in Gayaza sub-county in Kyankwanzi district. Photo by Nelson Kiva

Despite old age and its subsequent special effects, Kyankwanzi grandmothers have declined to let go the fight against HIV/AIDS.

Over 200 grandmothers in the villages of Gayaza and Ntwetwe-Kitabona sub-counties, have since formed small groups to pool collectivity and support to intensify the fight against the AIDS epidemic.

Notwithstanding the enormous role played by grandparents, grandmothers in particular, including care for children orphaned by AIDS, their contribution remain less effectively highlighted and supported by anti-AIDS policy strategies.

Sylvia Nalubega, a programs manager at Action for Rural Women Empowerment (ARUWE), noted that in the run up to the World AIDS Day 2018, the great role played by grandparents is not noticeably underlined.

"They have since stepped in to raise orphans and other susceptible children when their parents fall sick and die among other interventions, which should be recognized and supported by policy makers," she said.

The research done by UNICEF on the role played by grandparents in the fight against AIDS in Sub-Saharan Africa between 2003-2005, exposed heavy affliction that orphaning was exerting on the grandparents, grandmothers in particular.

USAID's response point out that in the 30 years of global HIV epidemic, an estimated 17 million children lost one or both parents due to AIDS and Sub-Saharan Africa contributes 99%.

Additionally, 3.4 million children who are under the age of 15 years are living with HIV despite decline in HIV adult prevalence worldwide and increased access to treatment.

The Kyankwanzi grandmothers have not stopped at looking after orphaned children, but extended support to positive mothers, children and families in accessing treatment, safe deliveries in health facilities and economic support.

Margaret Namuli, a group leader of Abassa ekimu special women's group at Kisutwa village Gayaza, one aim of their formation a few years back, was to save and pool resources to support widows, children and other families affected by AIDS and to achieve this, they have since formed different village saving and credit groups.

"We recognised that widows, mothers and children orphaned by HIV/AIDS in this area faced peculiar problems and we offered to play a role in addressing some of challenges.

People move long distances to access treatment to Ntwetwe (4Km), Hoima (40Km), Kiboga (30Km) and Kiyuuni Health Center III in Gayaza (3Km)," she said.

Namuli added: "Sometimes as a group, from our well fare fund, we contribute towards their transport to go for treatment and to buy some of the medicine, which may not be readily available in the public health facilities.

Some of them sleep badly; their husbands died and left them in old houses and children lack proper beddings and all these call for support."

Namuli noted that health workers with support from Kiyuni and ARUWE, tested and counseled all grandmothers, widows, children and women together with their partners.

"Those who were found HIV positive and were not on treatment, were counseled and enrolled," she noted

60-year-old, Rovinah Najjuma, a former member of the village health team (VHT), has since turned into an outspoken village activist against mothers delivering babies at the hands of traditional birth attendants and VHTs at Gayaza West village after she was sensitized about the dangers in the practice.

"It is our role to identify and reach out to any pregnant woman to persuade her to go for antenatal services and to make sure that she delivers in health facilities. We go an extra-mile to convince the husbands to escort their wives for antenatal and to seek HIV/AIDS and counseling services together although this is still a challenge.

However, we have since encountered problems with the traditional birth attendants and VHTs who accuse us of interfering with their business.

They ask for sh40, 000 a bunch of Matooke, meat, sugar among other items from any mother they aid to deliver and a man is supposed to take the items before picking the delivered wife and the baby," Najjuma noted.

She explained: "Most of these women deliver mothers without gloves, which also puts their life on line because they need sh40, 000.

But because of the grandmothers intervention, they have resorted to delivering mothers in hiding and immediately after birth, they chase them a way before we learn of it."

ARUWE in partnership with Stephen Lewis Foundation Canada, started working with these grandmothers in order to bridge the gap ,which is neglected by the policy framework in the fight against AIDS.

She pledges that similar support will soon be rolled to other sub-counties and villages of the district.

On top of provision of vocational skills to AIDS orphaned children and other at risk children, ARUWE has empowered sanitation and hygiene responses in the homes of very old grandmothers through the construction of water tanks and latrines.

Deo Kasumba, the Kyankwanzi deputy chief administrative officer, admits that the district lacks a specific policy arrangement to support grandparents looking after children orphaned by AIDS and all other efforts against the AIDS menace they are engaged in.

"We are broadly dealing with HIV/AIDS, looking at vulnerable groups, children, child headed families, grandmothers, people with disability and the youth who are the risk target.

With support from development partners such as ARUWE, we encourage counseling and treatment, do outreaches among others, all embedded in the district's HIV/AIDS strategic plan," he added.