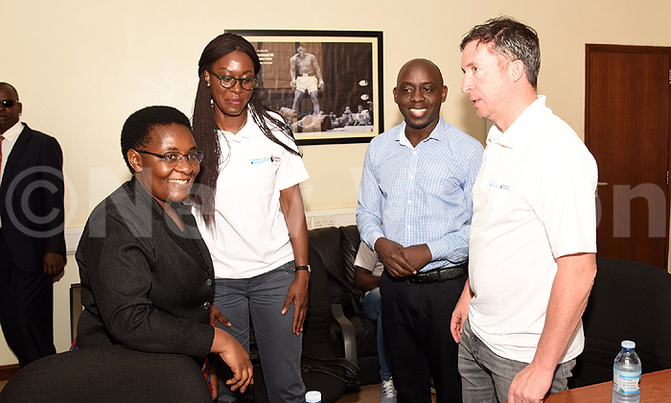 As part of his visit, Robbie Fowler will share his football career experience and conduct a football clinic with young underprivileged footballers.
(Photo credit: Richard Sanya)

TOUR OF A GREAT

KAMPALA - Former England and Liverpool legend Robbie Fowler is in Uganda, and part of his trip here has been a tour of Vision Group.

The 43-year-old, renowned for his striking prowess while on professional duty for both club and country from 1993 to 2012, jetted into the country Thursday.

Hours later, on Friday, Fowler was at the Vision Group head offices in Industrial Area, Kampala.

During his visit, he addressed a press conference before enthusiastic and excited reporters, editors and managers.
Known for being a natural scorer with an instinctiveness to poach for goals, Fowler has said he is in Uganda "only here for a short time, but hopefully there is much to do".


Did you know that he is the sixth-highest goalscorer in the history of the Premier League?


Oh yes.

Fowler netted 183 goals in total for Liverpool. He scored as many as 128 of these in the Premier League.


Since he also played for such clubs as Leeds United and Manchester City, Fowler scored a total of 162 Premier League goals.

New Vision's sports editor Fred Kaweesi enjoyed a photo moment with the England great during his visit.
Vision Group's Editor-in-Chief Barbara Kaija (left) was delighted to interact with Fowler.


For his ruthlessness in front of goal, Fowler earned himself the nickname of "God" from the Anfield supporters.

He inspired many young players both near and far.

Vision Group's Ronald Opira, one of his admirers, could not squander an opportunity with a man revered in many parts of the footballing world.

Opira beamed in delight as he watched Fowler autograph his Liverpool jersey. Priceless!


And Opira did not stop at the autograph. He milked the opportunity more by having a photo with the famous visitor.

Frame this picture, Ron!


Who wouldn't want a selfie with a legend?


Ahead of his visit, Vision Group platforms covered the build-up extensively. When Fowler walked down to the Bukedde offices, he was shown a full page on him.

Nice!


Fowler said one of his proudest moments in his career was when he joined Liverpool and was full of praise for African players who he said bring a different dimension in the dressing room and on the pitch.

He is looking forward to venturing into managing teams because he has his Pro Licence and is just waiting for the opportune time.
New Vision's photojournalist and photo editor Roderick Ahimbazwe is an outspoken Liverpool fan. So being in the presence of a club great such as Fowler will be something he might dream about for days to come.

He used to read about Fowler and the closest he had ever been to him was on TV and newspapers.

Everything changed on Friday.


No Roderick, you are not dreaming. It's for real :)


Fowler is in the country for a Super fan United campaign three-day visit courtesy of Barclays Bank of Uganda.

On Saturday, he will interact with fans at the Super fans Club Dome Lugogo, before watching a Premier League match with them in the evening.


As part of his visit, Fowler will share his football career experience, interact with Barclays' customers and conduct a football clinic with young underprivileged footballers of the Brian Umony academy at KCCA stadium on Sunday before he leaves.