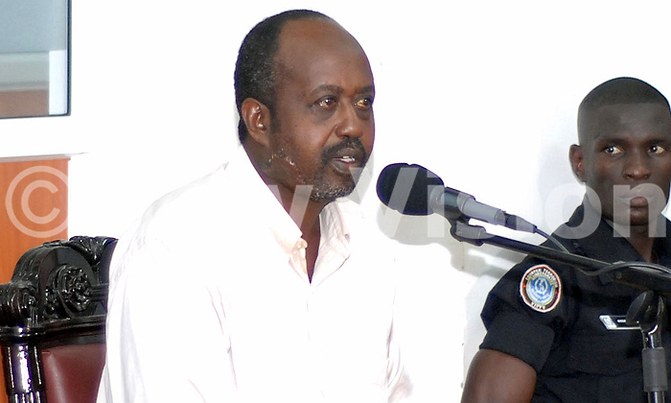 Steven Nsekanabo testifies at a public hearing​ in the ongoing inquiry.
PIC: Njeru municipal council accountant Stephen Nsekanabo appearing before the land probe commission. (Credit: Denis Dibele)

INVESTIGATION

The land probe commission has accused Njeru municipal senior accountant, Steven Nsekanabo, of grabbing 20 acres of the government-owned Njeru Stock Farm in Buikwe district.

On Monday, Nsekanabo testified at the public hearing, in the ongoing inquiry. Proceedings are conducted at the National Records Centre in Kampala.

Tasked by assistant lead counsel Andrew Odiit with explaining his ownership, Nsekanabo responded that he bought it from a one Kato Lukwajju (now deceased).

"I have a title for the land, and paid for it in bits. I first bought eight acres at sh14m, and later 12 acres at sh30m," responded Nsekanabo.

Asked to produce the land title, he replied it was in custody of his lawyer. He also emphasised that he had the sale agreement.

But Odiit disagreed, saying Nsekanabo was part of a cartel in the land bonanza.

"I put it to you that you did not purchase the land. It was gifted to you," pressed Odiit.

In response, the accountant said: "It pains me when I hear people making such allegations. I bought this land over a period of time."


Nsekanabo escorted by a police officer at the land probe commission. (Credit: Denis Dibele)


Odiit cited a letter dated October 10, 2013. In the dispatch, Lukwajju gave his wife Harriet Nambaziira powers of attorney and instructions to distribute land to
several individuals, including Nsekanabo.

The assistant lead counsel also noted that the contents of the letter was prompted by Lukwajju's court victory in a case where he defeated the Ham Mukasa family.

The commission purports Nsekanabo was the actual financier of the case and footed the court fees.

"That was what he (Lukwajju) wrote. For me, I bought that land. I do not know why he used that language!"

But Odiit concluded, "We saw your invisible hand in the illegal fraudulent acquisition of the land."

Commission chairperson Justice Catherine Bamugemereire directed Nsekanabo to produce the land title. He was accompanied by detectives to retrieve the document.

Background

Initially, in the 1950s, the colonial government obtained a lease for 1,066 acres of land from the Ham Mukasa family.

But after independence in 1962, Njeru Town Council inherited the 99-year lease. Subsequently, in June 1967, the town council subleased to Uganda Land Commission, which expires in 2027.

The user department is Ministry of Agriculture, Animal Industries and Fisheries.

The council obtained a lease from the Ham Mukasa family. The council also subleased land to the agriculture ministry.

The ministry and the council are locked in dispute over a sh800m ground rent debt accumulated from 2002.The farm currently has only 562 acres, with the rest in the hands of private developers and individuals.