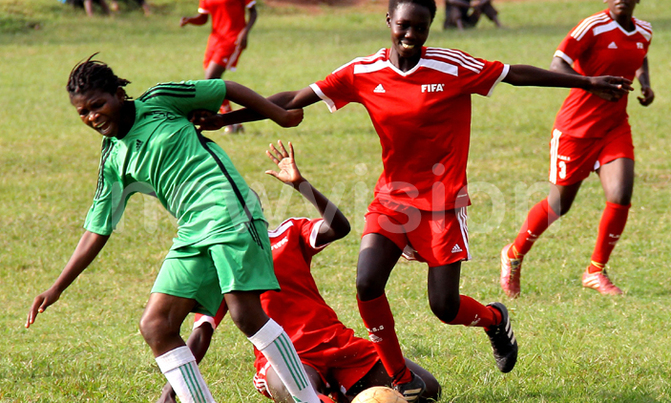 The defending champions thumped rivals Gaford Ladies 4-0
FOOTBALL
FUFA Women Elite League
Results
Kampala Queens 2 Lango Queens 0
Israh 1 Uganda Martyrs 0
Dynamic 0 Rines 1
Gafford Ladies 0 Kawempe Muslim 4
UCU 3 Olila 1
She Corporates 1 Ajax 0
Town View 1 Makerere University 3
KAMPALA - Kawempe Muslim opened up a four point gap in the Victoria Group of the FUFA Women Elite League.
The defending champions thumped rivals Gaford Ladies 4-0 away in Kanyanya to move to 13 points, four above second placed new league entrants Lady Doves.
Juliet Nalukenge who has so far netted six goals from five games this season scored a brace before Tracy Jones Akiror and Anita Namata added the other goals for Kawempe Muslim who are seeking to win their fifth league title.
Elsewhere, Hasifa Nassuna, Jackline Nakasi and Moureen Kinavudori each had a goal as UCU Lady Cardinals defeated Olila High School 3-1 in Mukono to extend their lead in the Elizabeth Group to 12 points. Eunice Ariokot was on target for Olila.
Sarah Namulindwa's only goal saw She Corporates beat Ajax Queens 1-0 while Makerere University beat Town View SS 3-1.
Samalie Nakamatte notched a brace before Josephine Asara added the other goal for Makerere while Quinta Auma scored a consolation for Town View.