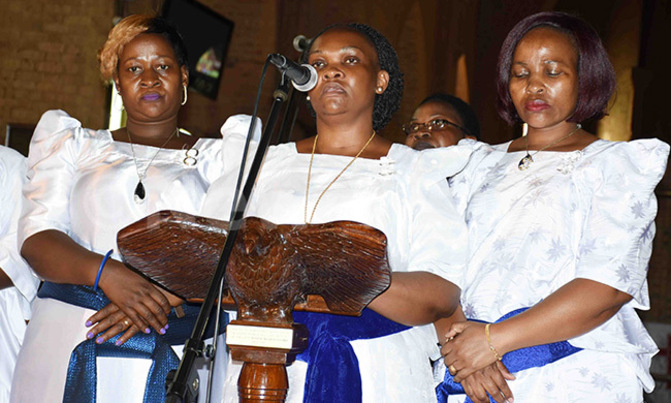 "I know Mrs. Musumba will get many advisers, but try to sieve because many are just interested in the deceased's property," said Mazzi.
The widows of a renowned Kampala tycoon, Yoweri Musumba have been warned against fighting for his property and instead reserve for the benefit of the children.

The Member of Parliament (MP) for Mukono County South, Johnson Ssenyonga Muyanja advised Emerida Musumba, one of the widows to be cautious as many self-seekers might lure them into fighting against one another with an intention to steal their property.
Mukono County South MP Johnson Ssenyonga Muyanja (R)

Muyanja said this while addressing mourners during the funeral service for boat accident victims at Namirembe Cathedral in Kampala on Monday.

The late Musumba was one of the 32 people who lost their lives in a boat accident on Saturday night.

"I advise the Government to improve the standards of water transport because even though the youth have witnessed the death of their colleagues, they will continue to risk their lives in order to have fun. Even today, there are some having fun in a similar manner," said Muyanja.

Princess Sylvia Mazzi advised Musumba's family members to work in unity and prevent fighting for property because the deceased worked so hard for their sake and if they take care the property, they will continue to live a good life.

"I know Mrs. Musumba will get many advisers, but try to sieve because many are just interested in the deceased's property," said Mazzi.

However, Bishop Samuel Kazimba of Mityana Diocese, where the late Musumba was born advised the rich to write their wills and distribute their property while still alive to prevent fighting among family members when they die. "For example, I made my will and portioned my property 10 years ago," said Kazimba.

He cautioned people against blaming the deceased for travelling along the lake without life jackets, noting that God is the life jacket that prevents deaths.

Rachael Namugenyi, one of Musumba's daughters said their father recently told them that they should stay strong when he dies. "We need to be strong and stay in unity for the sake of our many very young siblings that dad has left behind," said Namugenyi.

The widow, Emerida Musumba advised the Government to beef up the water transport laws and check boat owners in order to control preventable accidents similar to the one that claimed her husband's life.

" Sincerely this accident has hurt us so much together with other women whose husbands died in that boat accident, yet it was preventable only if there were laws concerning checking the boats before they embark on the journey on lakes," said Mrs Musumba.

She added that she last talked to her husband Musumba on Saturday at 4:00pm when she called him and he told her that they were about to set off for the boat cruise from KK Beach at Ggaba and she wished him a safe journey.

"I then heard that the boat they were travelling in had capsized and later confirmed that my children's father had lost his life," noted Mrs. Musumba.