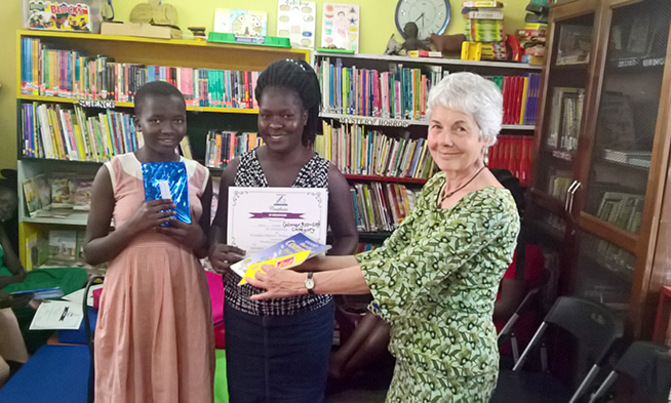 From the 10 finalists, two were named winners of the annual Wandiika Children's Writing Prize at an event held at the KCCA Children's Library in Kampala recently courtesy of Gustro Book Centre and Enjuba.
EDUCATION

From June-August, over 30 pupils from six schools across Kampala wrote imaginative stories under the theme 'Road Safety'.

From the 10 finalists, two were named winners of the annual Wandiika Children's Writing Prize at an event held at the KCCA Children's Library in Kampala recently courtesy of Gustro Book Centre and Enjuba.

These included; Edgar Aruho 11, (P4, Makerere West Valley Primary School) and Phoebe Amala 13, a primary six pupil of Masanafu Church of Uganda Primary School.

The stories ranged from nasty road accidents, learning to use a Zebra crossing, good Samaritans and first aiders. Others wrote about reckless drivers and fractured limbs.

"The tales are reflective of the life, situations and challenges of the everyday Ugandan child," says Paul Kisakye, an experienced writer and author.

He adds that winners showed adherence to rules, theme interpretation, upholding and fostering of good moral values, coherency, good language usage, originality and creativity.

Meanwhile, the event was graced by Annette Islei, an accomplished scholar who has carried out research in Early Literacy in Kabarole District since 2010.

Islei has also taught English Language and Language Arts in Nigeria, the UK and at Mountains of the Moon University in Fortportal.

Away from that, Aruho's story 'A KIND MAN' won in the 100-300-word story category, while Amala's 'THE TERRIBLE ACCIDENT' took the 300-500-word story category.

Their stories were overwhelmingly voted by readers in several primary schools around Kampala.

The participants came from schools including; Bwaise Parents School, Perussiah Nursery and Primary School, Makerere Primary School, Masanafu Primary School and Makerere West Valley Nursery and Primary School.

Wandiika competition unveils talents

Simpson Muhwezi, Creative Director of Wandiika Literacy Initiative said, Wandiika was born to develop skills of creativity, which are crucial in fostering quality literacy among children.

"Many studies have proved that despite the high primary school enrolment levels in Uganda, many pupils still lack basic skills such as problem solving, fact finding, critical thinking, reading comprehension and organisation, a gap Wandiika seek to fill," he explains.

The teachers from various schools observed the need to have more books to promote creativity and stretch the learners' thinking capacity.

"Imaginative books open doors for children to discover new things. They make interpretation easier for them. I believe we need more of such books," said Doreen Mugisha, the director of studies at Masanafu Primary School.

Pamela Mujuni, the head teacher of Bwaise Parents School, is of a view to direct efforts at making quality books affordable and accessible to all.

"The issue of inaccessibility of reading materials to teachers, could be ably countered by the invention of more platforms, which give children an opportunity to create stories," she added.

Prossy Namuli, a teacher from Perussiah Nursery and Primary School urged the participants to use their holidays creatively, writing stories and reading a lot of books.

"I strongly believe storytelling can be a tool teachers can use regularly in classrooms," she emphasised adding that writing stories should be a continuous activity, not just for writing competitions.

She called upon the teachers, parents and government to support creative writing initiatives targeting children.

Winners speak out

"I was inspired to write after I got involved in a terrible accident, which greatly affected my life. I hope my readers will learn to be responsible while driving," Amala said.

Aruho's story is about a kind man who helps a schoolboy after being knocked down by a speeding boda-boda. He is inspired by kind people who, to him, are less often talked about.

"By not talking about people's kind deeds, I fear they might change and stop having that kindness in them," he noted.