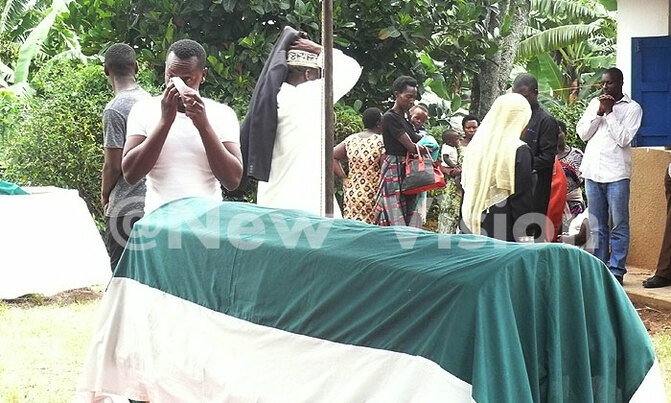 "Don't think that she was just having fun as most people say. She died trying to go out and get money.
(All photos by Caleb Bahikaho)


LAKE VICTORIA BOAT TRAGEDY

Rehma Ashaba, 32, who died in Saturday's boat accident on Lake Victoria, was laid to rest at her father's home in Rukungiri district at a burial attended by thousands of mourners.

Her parents described her as a hardworking girl. Saleh Turyamureeba, the father, said Ashaba was good at hunting for money.

"Don't think that she was just having fun as most people say. She died trying to go out and get money. She was good at making project proposals and used to be hired to do the same within and outside the country," he said of the Economics student of Makerere University.

Ashaba was among the scores of people who died on a boat during the weekend, moments after leaving the shore in Mpatta County, Mukono district, central Uganda.


A joint operation of Police and UPDF marines managed to rescue 26 people, including Prince David Wasajja of Buganda and musician Iryn Namubiru.

It is not known how many people were on the vessel, but witnesses say there could have been more than 100 people on board.

While 32 bodies have been retrieved from the waters, many are believed to be still missing. Ashaba's body was among those retrieved by the marines.

At her burial on Monday, her mother, Amiina Turyamureeba, said the 4th-born in a family of four girls and three boys "has died before giving me a grandchild".

"But what hurts me most is that she had promised me that before this year's end, she would bring home something that would make me happy forever," she told mourners.

Amiina said her daughter adored children, yet she did not have her own.


Receiving the news
On fateful day, Amiina spent the whole day restless. In the evening, she watched news on Bukkedde TV's 10:00pm news segment Agataliiko Nfuufu and learnt of a boat accident that had claimed the lives of some people.

She didn't know Ashaba was on the same boat. Just to check, she called all her children. All, but Asaba, responded. Her phone was off.

Apparently, her siblings had known the fate of their sister.

"They did not want to tell me what happened immediately, but when I called Rehma and her phone was off, I knew something had happened to her," Amina said.


On behalf of government, Rukungiri resident district commissioner Dan Kaguta said President Yoweri Museveni was not in the country, but would visit all the families of the boat victims.

In the meantime, Government contributed sh2m towards the burial arrangements.

The Police said the main cause of the accident was overloading of the vessel, yet it was not in a good working condition.


#LakeVictoriaBoatAccident the main cause of the accident was over loading yet the boat was in a poor mechanical shape

— Uganda Police Force (@PoliceUg) November 25, 2018

The RDC urged Ashaba' family to stick together more than ever in this trying moment.

Her sister, Joweria, said Ashaba was a good swimmer, but could not overcome the waters on the fateful day.

"One of the survivors told us that she (Ashaba) was swimming with her, but could not tell how she failed."


Joweria described her sister as a principled person who spoke her mind and advised both the old and young.

In his sermon, Sheikh Asuman Kaggwa of Kihihi Mosque, said among seven ways a person can die through and go direct to heaven is to die in water.

"There is no doubt Rehma is in Jana because she died while trying to save her life," he told mourners.

The other ways is a when woman dies while giving birth, a person dies in fire, a person is killed innocently, a person is killed by an animal and a person is hit and killed by a tree.