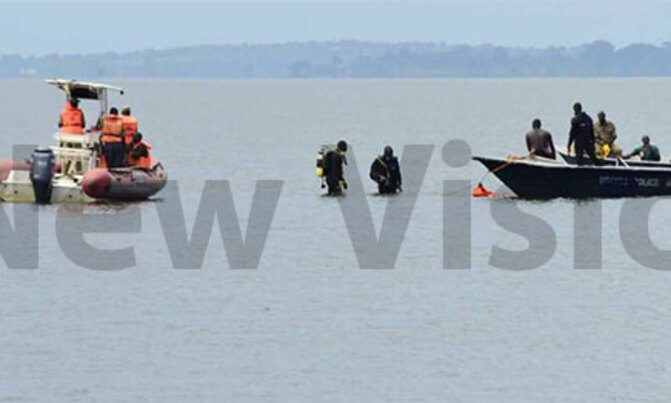 Senkeezi says the boat was ram shackled and that it looked abandoned. However, this did not stop the revelers from boarding the Templa.
Police and UPDF plan on how to remove a boat that capsized at Mutima country Haven (Picture by Kennedy Oryema)
TRAGEDY
MUKONO - It was fun on Saturday evening for many people, including Francis Senkeezi, as they boarded 'the Templa Boat' from KK Beach at Ggaba near Kampala to K-Palm Beach in Mukono.

Senkeezi, a resident of Lubowa, in Makindye Ssabagabo municipality in Wakiso district, is among the survivors of the Lake Victoria boat cruise accident that occurred on Saturday night.

Senkeezi says he, together with friends, had prepared for the event for about two weeks, to have fun, which turned into a catastrophe.
In addition, Senkeezi says, they had booked MV Amani boat for the cruise. The management of MV Amani boat, however, refunded the money as they had scheduled it for maintenance.

MV Amani has been operational since her launch in 2012 and, it traverses routes, mainly around Kampala, from Port Bell in Luzira. "Most people had paid on time, and the organisers had to look for an alternative ship.

This is how the capsized boat (Templa Boat) came about," Senkeezi said. However, he says, little is known how the Templa Boat was acquired. What he recalls is that everyone was ready to have fun.
Francis Senkeezi, survivor

According to Senkeezi, they were meant to set off from KK Beach, Ggaba, a city suburb, much earlier, but because of delays, they set off at about 6:00pm. He adds that the number of revelers was high (unknown) and that many people did not have life jackets.

Senkeezi says the boat was ram shackled and that it looked abandoned. However, this did not stop the revelers from boarding the Templa.
Senkeezi made the remarks on Sunday in an interview with our reports at the MTN Arena- Lugogo in Kampala.
He was in company of Michael Kaddu, a renowned socialite, who was among the survivors, but declined to be interviewed.

As they approached their final destination near Mutima Beach Senkeezi says, the boat overturned at once. It was around 7:30pm.
A diver searching for bodies at Mutima Country Haven (Picture by Kennedy Oryema)

Mutima Beach is located at the Mukono shoreline of Lake Victoria.

"Music was playing so loud and everyone was happy. I just saw the boat overturning and all of us were in the middle of the lake," he said.
How he survived

Senkeezi says he was lucky. He was among the revellers who had life jackets. This, coupled with his swimming skills, Senkeezi and 10 others were able to get back on the top of the capsized boat.

It is from this point that the group shouted for help, which attracted several rescuers from the shores. "Our mobile phones couldn't work anymore.
This meant we had to use our little energy to call for help by shouting," Senkeezi said. As he witnessed other people drown in the lake, Senkeezi says, he decided to offer his lifejacket to a certain man who was about to drown.

"I have not been able to identify him, but all I know, he was rescued to the mainland," he added. About 15 minutes after the boat had capsized, the first rescue boat arrived, but it also capsized, as it was overwhelmed by the survivors, who tried getting into it.

Several other boats and canoes joined the rescue mission and this is how Senkeezi, with several others, survived. "I feel sad that I couldn't rescue a number of people with whom we were having fun. They drowned and I couldn't help," he said.

A survivor, Stella Nakimuli, said they boarded the ill-fated boat at KK Beach. The rest was normal, until they heard very strong waves hit across the boat.
The waves were so strong that the boat started to sway, then water started to pour inside of the vessel. "There was a stampede.
Some persons who had been partying were gripped by fear; some saying the boat was sinking," Nakimuli said. "We did not know what to do," Nakimuli said.
"I resolved to hold onto the railings, so whatever would happen, I would stay gripped to the vessel. The boat capsized, but I would not let go.

I went down with it and returned up with it. Thereafter, I lost consciousness." She said when she regained her senses, a Good Samaritan was pressing her stomach to resuscitate her.

She requested to use her phone to call her father. The girl's father said he drove to Katosi, but got to the beach towards midnight. "I found a pile of bodies, their bellies swollen. They were all young men and women," Nakimuli's father said.

Upon finding her daughter, of about 25 years, he rushed her to a health facility at Mukono, and, thereafter, to the International Hospital Kampala. "I thank God Stella will be fine. But I'm so sorry for the other parents who lost their children," he said in the hospital corridors.

Aldrine Nsubuga on wife
My wife, Tash, was on the ill-fated boat with her sister, Esther. She had just been delivered home after a traumatic night, where she looked death in the face as she swarm her way to safety, along with her sister.

Obed Fred
I have lost two sisters. I was driving from Hoima, then my sister, Prisca, called and told me that the boat had capsized and the two had died. We searched for the bodies and found Sheila Natukunda, who was a musician with chilly girls where Leila Kayondo used to sing. Peace was not yet found by press time.

Earlier, before they left for the cruise, Sheila and Peace told me they were among the organisers and that they had only been given two small coolers, yet they wanted big ones. I gave them the bigger ones.

That day, we were supposed to go to Hoima for Brandy's graduation to Primary One, but Sheila told me they have responsibilities on the boat.

She gave me sh5,000 to give to brandy and promised to buy a bigger present. She then went to her vehicle, opened it and picked her bag. We hugged and she left.