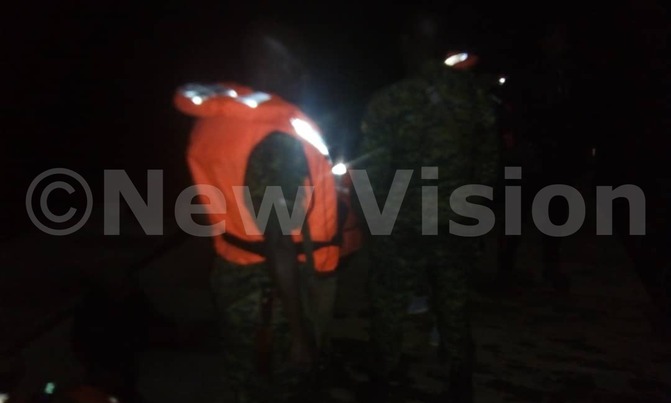 Police marines rescue 40 other people, including Buganda's Prince David Wasajja, from the ill-fated vessel.
ACCIDENT

More than 10 people have been confirmed dead after a luxury boat reportedly capsized on Lake Victoria on Saturday, Police said.

Several others were rescued by marines.

In posts on their Twitter and Facebook pages, the Police said that 40 people had been rescued.

"Our marine unit teams have rescued over 40 people alive. Ten confirmed dead. The rescue mission is still on to find others. Details to follow."

As many as 13 bodies have been recovered from the waters.

It is not known yet how many people were on board at the time of the accident, which reportedly occured in Mpatta sub-county in Mukono district, central Uganda.

But some local media reports put the number of those on the ill-fated boat as having been between 120 and 150.

One of those rescued from the vessel is Prince David Wasajja, the brother of Buganda king, Ronald Muwenda Mutebi II.

The large group are said to have been on the boat for a party.

The fate of the other revellers is not known yet as the rescue operation continues. The marine units of the Uganda Police Force and the Uganda People's Defense Force (UPDF) are carrying out a joint rescue operation.

Under the darkness of the night, several people gathered at the landing site, where the retrieved dead bodies were assembled.

Some of them, who had been with their now missing friends on the vessel, were seen breaking down in tears.

Police spokesperson Emilian Kayima, who was headed for the scene, was expected to address the media on the developments.

Among the prominent people who were on the boat and have been rescued include Prince Wasajja, city tycoon Freeman Kiyimba and musician The Mith (real names Tom Mayanja).

One survivor told a local media reporter that the boat was overloaded before setting off.


Uganda police force marine unit rescues over 40 people alive on lake Victoria. Ten died. Rescue mission still on

— Uganda Police Force (@PoliceUg) November 24, 2018