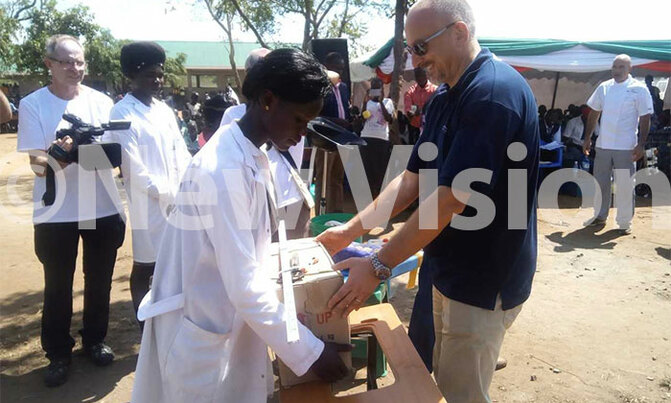 Italian Envoy Launches Multi Million Classrooms in Rhino Camp
Ambassador of Italy to Uganda, Rwanda and Burundi, H.E Domenico Fornara hands over a sewing machine to one of the students (Pictire by Robert Ariaka)
WESTNILE - The Ambassador of Italy to Uganda, Rwanda and Burundi, Domenico Fornara has commissioned five classroom blocks in Ofua zone 4, Rhino Camp refugee settlement and handed over equipment to over 207 teenage refugee girls who successfully completed skills training.

Italian Envoy Launches Multi Million Classrooms in Rhino Camp
Implemented by ACAV, Domenico said his work has become easy because of projects undertaken by the organization in schools, health facilities and supporting teachers.

Italy and Uganda are very close friends. Italians have worked in Uganda for over 100 years mostly in Northern Uganda, the envoy noted.

"We are here, we will be here and continue to support Uganda. Every time we bring a guest to Uganda, they fall in love with the country and always want to come back," said the Ambassador, adding that this is a friendship that has come to last.

On the ongoing Italian cultural week, all the Italians embassies in the world have a task to promote the culture of Italy.

Ambassador of Italy to Uganda, Rwanda and Burundi, H.E Domenico Fornara serving Italian food preared by the Italian Chef (Pictire by Robert Ariaka)
An Italian chef was flown to Uganda and driven to Ofua zone 4 in Rhino Camp to prepare Italian food for the envoy, the refugees and local community as part of the celebrations of the Italian culture in Uganda.

The Italian cultural week has been celebrated in the West Nile in the refugee settlement alongside the inauguration of classrooms constructed by ACAV.

The Italian chef together with the newly trained refugee girls in catering, where they prepared Italian delicacies for the guests who attended the launch of the ACAV schools and skills training as part of the Italian cultural week celebrations.

Bongo Patrick Namisi the head of programs ACAV said the project started in 2017 and will end in 2019.

Last year, 105 girls graduated and this year, 102 South Sudanese girls have graduated. The project worth sh1.5b aims at skilling refugees and nationals.
Meanwhile, ACAV injected sh324m in the construction of 15 classrooms in the school plus latrines for pupils and teachers.

Mawa David, the Refugee Welfare officer 1 for Ofua zone appealed to the implementing partners to construct a secondary school for the refugees, noting that Rhino camp settlement only has three secondary schools that are far apart, making it difficult for those who complete Primary seven to join secondary education.

With only two vocational training schools, Mawa seeks for establishment of more vocational schools in refugee settlements to skill the youth. He raised concern over the failure by ACAV to train male youth arguing they need to be brought on board.

Jonathan Matata, the assistant settlement commandant Rhino Camp tasked the local government officials to implement the education ordinance of 2008 that prohibits children from remaining at home. He noted that, there are more refugees compared to nationals.

John Mawa the instructor who coordinated the skills training for the girls while giving a breakdown of the beneficiaries said 15 girls participated in catering and were each given one dozen of dinner plates, Tea cups, cutleries, one piece of kettle, sugar bowel, one big source pan, water jags water glasses and a frying pan.

18 were trained in hair dressing and each given buckets, towels, jags, hair conditioner, hair shampoo, a sink, hot combs, scissors, needles, hand dryers, and a plastic trolley.
Ambassador of Italy to Uganda, Rwanda and Burundi, H.E Domenico Fornara commissions the class room blocks (Pictire by Robert Ariaka)

12 were trained in Knitting and weaving and each was given a knitting machine and threads with a plastic stool.

One girl decided to train in motorcycle repair and was given a screw driver, plug spanner, keys, ring spanner, a 3 in one spanner, while the 56 who trained in tailoring garments got sewing machines, cutting scissors, sewing needles, tap measures, and straight edges.

Sunday Viola 22, trained in catering said she was blind, but now she can see the future in her life. She appeals to ACAV to identify more girls and train them in skills.
Viola who dropped out of school in S.3 was this year identified to train in Koboko vocational skills. She has managed to get equipment and promised to open a business and teach other girls.

Knight Jessica who dropped out of school in Primary six expressed joy and happiness after successfully completing the training in catering, and is now taking care of her two siblings who are in P.6 and P.5.

She has been employed in a hotel in Koboko and is paid sh90, 000 which she to take care of her siblings.
Ambassador of Italy to Uganda, Rwanda and Burundi, H.E Domenico Fornara plants a tree during the function. (Pictire by Robert Ariaka)

Hassan Ndinya, the LCV chairman Koboko who also doubles as the chairman West Nile Development Association WENDA appealed to the implementing partners to ensure that the locals benefit from projects and skills trainings as part of the Re-hope activities for offering land to settle refugees.

He warned the locals against violence and attacking implementing partners but channel their problems through the local leaders for proper follow-up. West Nile is now home to over a million refugees most of whom are South Sudanese refugees.