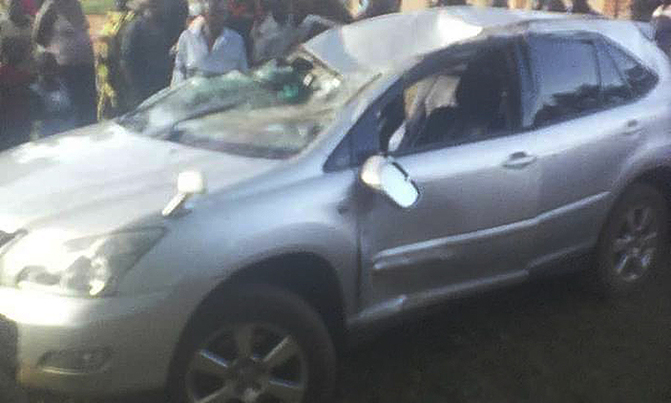 The legislator was on his way to attend a football tournament he had sponsored in Kagulu sub-county when his car hit a pothole and overturned
The Member of Parliament for Budiope East in Buyende district, Geoffrey Dhamuzungu, was involved in a car accident that almost claimed his life, the third time he has cheated death since he took office.
Dhamuzungu is nursing a fractured clavicle bone at Nile International Hospital in Jinja after his car lost control at Gwaase village on Namwendwa-Bugaya Road in his constituency on Monday.
The legislator, according to his political assistant, Sharif Mangaraine, was on his way to attend a football tournament he had sponsored in Irundu town council, Kagulu sub-county, when his Toyota Harrier car hit a pothole and overturned.
The three occupants of the car suffered injuries and bruises, while Dhamuzungu fractured his clavicle bone and was rushed to hospital with back and chest pains.
Poisoned
In March this year, the legislator was allegedly consumed poison while he ate with friends at Nicodemus Bar in Kampala.
Dhamuzungu was poisoned after a person he reportedly knew as a "friend" offered to buy him a meal.
The man allegedly later vanished moments before the MP developed stomach pain and began vomiting.
He was rushed to Case Clinic in Kampala where he spent a week in the intensive care unit.
In 2017, one of the front tyres on Dhamuzungu's car burst and he lost control before the car crashed into a trench on the Jinja-Kampala highway.
Now dubbed Kaawonawo, Dhamuzungu joined politics in 2016 after trouncing incumbent Sulaimani Kirunda Balyejusa in the National Resistance Movement party primaries and in the subsequent general elections.