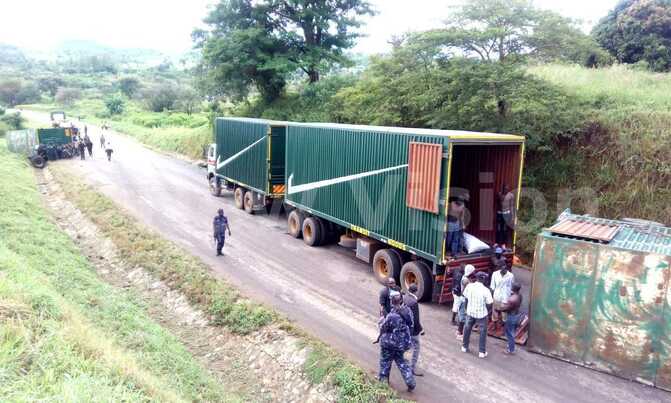 The accident happened a few meters from the scene where KKT Bus was burnt
ACCIDENT-Another tragic accident occurred on Saturday at around 4pm a few meters away from the scene where KKT Bus was burnt along Arua-Nebbi highway near Enzeva sloppy area involving a Toyota Noah.
Two people died on spot (both adults) and eight were rushed to Kuluva mission hospital in critical condition.

The Toyota Noah was coming from Arua heading to Bondo Trading Center at a high speed consequently overturning.

Josephine Angucia, the police spokesperson confirmed the accident, but said she is yet to get details of the deceased and those injured.
On Thursday night, angry residents of Yivu village in Arivu sub county, Arua district set ablaze KKT bus registration number UAU 549P after the bus knocked dead Expedito Bileni, the LC 1 vice-chairperson.
Police have arrested three people in relation to the burning of the bus and are currently detained at Arua central police station.
The suspects have been identified as ; Moses Lika, Patrick Madima and Joseph Candia all residents of Joya village who were returning home and got arrested by the team of security officers deployed at the scene.
The locals have appealed to the authorities to construct humps at the sloppy road to control road accidents.
By press time, the trailer that was involved in the accident on Saturday evening blocked the road linking Arua to Nebbi.