On Wednesday, Okwir again delivered sh500, 000 from Laban Musinguzi who lives in the diaspora, to Akullu at her home in Amuli Cell, Eastern Ward, Dokolo Town Council.
Another New Vision reader has come to the aid of the Dokolo woman who claims to be 130 years old.
Kelementina Akullo's plight came to light after she failed to be registered for the government's Social Assistance Grants for Empowerment (SAGE) program for elderly people.
This comes just after New Vision reader Sarah Odong gave Akullo sh550,000 which was delivered to her by Rupiny newspaper editor Robert Okwir on November 4.
On Wednesday afternoon, Okwir again delivered sh500,000 to Akullo from Laban Mucunguzi who lives in the diaspora, at her home in Amuli Cell, Eastern Ward in Dokolo Town Council.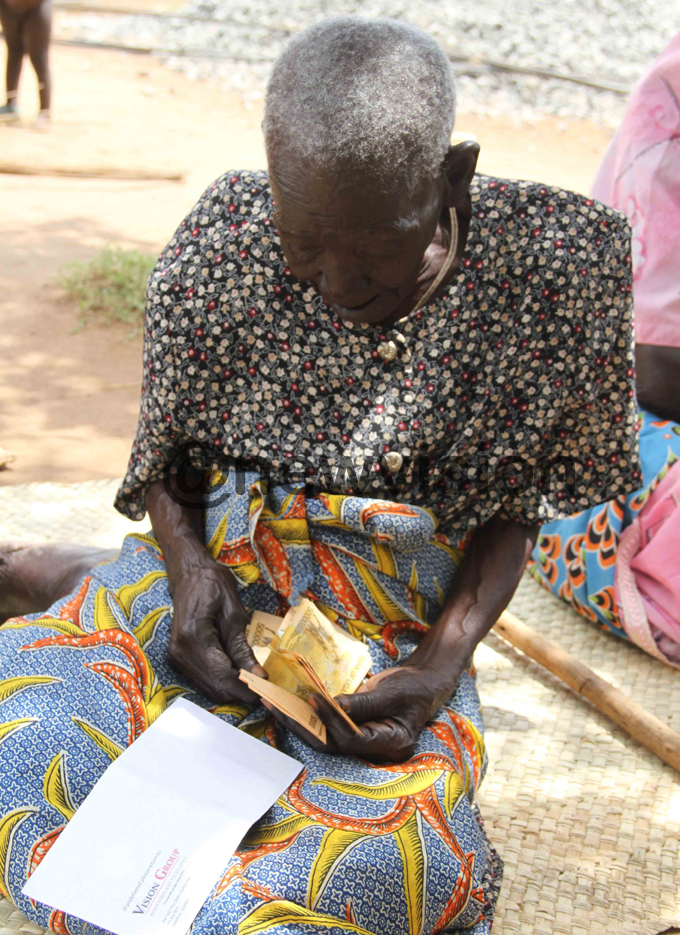 Kelementina Akullu counting the money she received. She is still able to count
While delivering the financial package, Robert Okwir said as Vision Group, they are impressed with the assistance being given to the centenarian by readers.
"We shall continue to serve our people so that the under privileged also enjoy their lives on earth," Okwir said.
Akullo who was surrounded by her children, great grandchildren and some fifth generation relatives was jolly as she received the support and wished the Vision Group members and all those who assisted her, long life on earth.
Her daughter Korina Alwedo, a mother of 12 who had gone to visit her, commended all those who gave assistance to her mother at a time that she needed it most.
Akullo can still walk albeit with a walking stick, and she does her domestic chores including cooking.