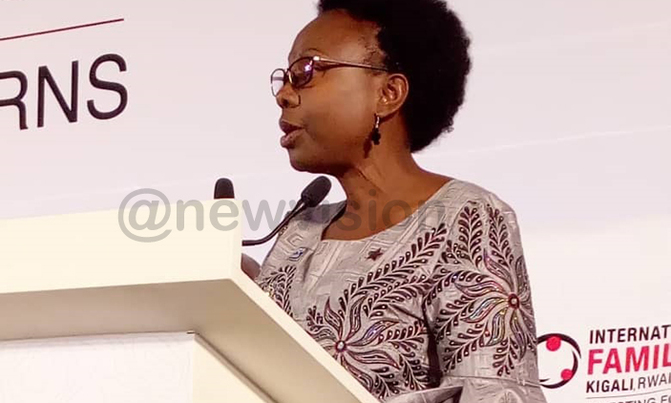 The latest Family Planning 2020 (FP2020) report shows that about 2.8 million Ugandan women aged 15-49 are currently using contraceptives.
Health minister Dr. Jane Ruth Aceng giving an acceptance speech at the conference . PHOTOS/VIDEO: Carol Natukunda
Uganda has scooped the top global award for investing in family planning.

The country was credited for its leadership in ensuring that more women have access to modern contraceptive methods, and thus make informed choices on when to have children.

The latest Family Planning 2020 (FP2020) report shows that about 2.8 million Ugandan women aged 15-49 are currently using contraceptives.

This is at least one million more users compared to the trend five years ago.

As such, the country has averted unsafe abortions that would have occurred as a result of unwanted pregnancies.
The report states that with modern contraceptives, a total of 1,036,000 unintended pregnancies, 228,000 unsafe abortions and 2,500 maternal deaths have been averted due to the use of modern methods of contraception.
Titled: "FP2020: Catalyzing Collaboration", the report was released this week during the International Conference on Family Planning, in Kigali, Rwanda.

It shows that Uganda ranks 15th among the 69 lowest income countries that registers at least a 1 percent rise annually in contraceptive uptake.

While receiving award, the Minister of Health, Dr. Jane Aceng hailed President Yoweri Museveni for making a pledge to devote more resources to improve the reproductive health of women and girls.
"We have come a long way in advancing family planning agenda since the 2012 London summit. Uganda committed and since then, we have moved a big stride because we have the political support from the president," Aceng stated.

According to the FP2010 report, Uganda spends over US$ 2.2 Million annually to procure different contraceptive methods.

Aceng added: "Getting this award would not have been possible without strong partnership with our FP 2020 development partners, parliament arians, civil society, faith based and cultural leaders. It does not come without challenges, but each one of them has only strengthened our work."

FP 2020 is a leading global partnership that supports the rights of women and girls to decide freely and for themselves --whether, when and how many children they want to have .
Details show that women prefer injectable methods of contraception followed by condoms and pills respectively.

The FP2020 analysis shows how better access to family planning can deliver a powerful demographic dividend that can help transfrom economies, as birth rates drop and the ratio of adult to dependent children increases. With fewer dependants to support, a country can invest more in education, infrastructure and other development indicators, it stresses.

Globally, more than 317 million women and girls are now choosing to use a modern methods of contraception, showing a 30 percent rise since 2012. However, with barely two years to 2020, experts have expressed worry that several countries might not achieve their family planning goals.
In uganda, 32.6% of married women have an unmet need of family planning.
Beth Schlachter , the FP2020 executive director observed that women need detailed information about contraceptive options to make an informed choice.

"Women represent half of the world population and there can be no healthy population globally without reproductive health care."
A health official explains to the youth about moon beads, a method of family planning
"Family Planning empowers women and empowered women are economic dynamos: joining the labour force, starting their own businesses and investing in their communities. This sparks a ripple effect for the society, hence driving productivity, properriry and sustainability," Schlachter explained further.

Dr. Natalia Kanem, the executive director of United Nations Population Fund (UNFPA) agreed and said: "For every one US dollar spent on family planning, it brings benefits worth 120 dollars."