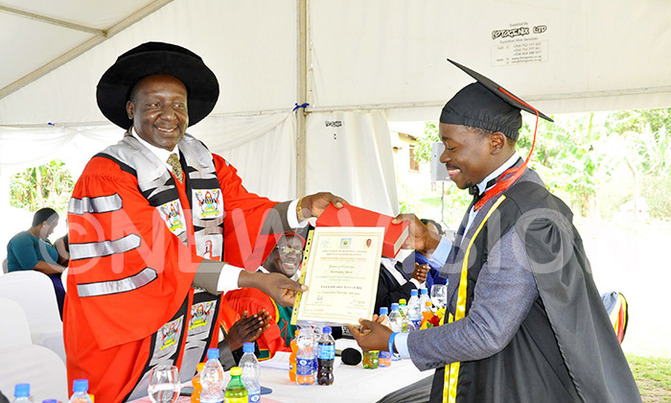 Okumu disclosed that some training institutions do not deliver training commensurate to the required standards and few students access the training.
In the face of rapidly changing technology, workers need to incessantly upgrade their skills to remain relevant, Michael Okumu, the deputy director Directorate of Industrial Training, Ministry of Education and Sports revealed.

Okumu disclosed that some training institutions do not deliver training commensurate to the required standards and few students access the training.

"Currently, the system does not produce the appropriately skilled workforce that Uganda requires to increase income and employment and to compete internationally," he noted.

Okumu made the revelation at the second graduation ceremony for the National Water and Sewerage Corporation (NWSC) - Vocational Skills Development Facility (VSDF) in Ggaba, a Kampala suburb on Friday.

"Employers should certify and upgrade their employees in order to boost productivity, save money, and improve the working environment," he advised.

Okumu noted that companies and government agencies must take steps to improve the quality of personnel as part of their obligation.

"Employees must have basic professional knowledge and be proficient with necessary skills so as Uganda can strive to move towards a middle-income country by 2040," he said.

Okumu explained that employers have been using different methods to increase their production, but cited training and inspiration as the 'only way forward'.

GIZ portifolio Manager Dr Eckart Bode said, it is made clear repeatedly that Uganda would not be able to reach middle income status if it did not address its water and sanitation challenges properly.

"Like many other urban water utilities in Sub Saharan Africa and other developing countries, NWSC faces some challenges: outdated networks and equipment, poor water quality, but also lack of skills especially vocational level," he said.


He added that the greatest strength of skills upgrade is that it provides the transition between informal and formal qualification levels.

"Vocational experience and skills acquired on the job can now be validated and recognised. For those who are awarded the Worker's PAS, this means that you are more competitive and shall have better earnings potential," he said.

NWSC managing director Eng. Silver Mugisha said, the journey to vocational started after the aging of skilled and experienced workforce.

He added that in collaboration and support with education ministry, NWSC staffs have been eligible and assessed under Workers' Practically Acquired Skills (PAS) category.

"Informally skilled with an accumulated wealth of experience, formally educated staff but practicing a difference trade they did not study, but with accumulated experience and skills and assessment for our trainers and supervisors have been equipped," he explained.

Dr Rose Kaggwa director Business and Scientific Services (BSS) said, the workers PAS provides qualifications to informally skilled technicians with great experience and also helps in assessing skills levels with formally trained technicians.

"Provides insights in technicians' capabilities, reveals skills gaps that require further focus training and motivate technicians and shop floor staff," she explained.

Board Chairman NWSC, Dr. Christopher Ebal told graduates, "you are ready, willing and more than able to take NWSC to another level of excellence since your skills have been validated. You can do this by continuously upgrading your skills since Worker's PAS certification is a lifelong certification document."

A total of 226 technicians graduated with the Workers' PAS in industrial lumbers, electro-mechanical technicians, heavy equipment operators and customer service advisors.

They did both theory and practical hands on examinations.