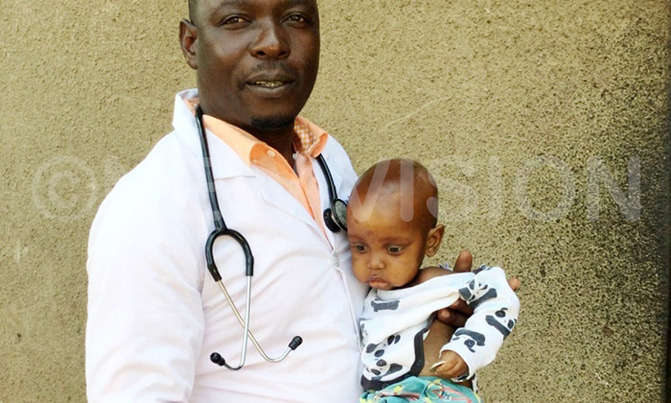 Dr Lugwana explained that malnutrition rate is high especially among poor households that can hardly access healthy diets and nutritious foods.
A special unit has been opened at Bethlehem Health Community hospital in Nabigasa sub-county, Kyotera district to offer free services to children and elderly persons suffering from malnutrition.

The unit has a capacity of 150 beds for the patients and over 50 mattresses for the caretakers.

The initiative by Dr Emmanuel Ssentongo Lugwana, the Hospital director, aims to admit, feed and treat the malnourished patients from the different districts in greater Masaka Region.

Dr Lugwana explained that malnutrition rate is high especially among poor households that can hardly access healthy diets and nutritious foods.

He added that they receive between 20 and 30 out patients every day while 20 are currently admitted.

"At this unit all services are free with the support of our friends from the US. After treating the patients, we make follow-up visits (homecare) for six months and also sensitise parents or caretakers on what to do to prevent the condition," he said.

Lugwana explained that malnutrition is mainly caused by deficiencies in iron, iodine, vitamin A and zinc. In his explanation, the signs and symptoms of malnutrition always depend on the nutritional deficiency.

He said that the common signs range from stunted growth of a child, underweight, dehydrated, pale and rough skin, as well as protruding stomach especially among children.

He added that the most affected are children below five years and elderly people. He explained that malnourished children hardly concentrate in class, which affects their performance in class and childhood survival.

"To combat malnutrition, we are looking at working closely with community Development Officers (CDOs) and probation officers to make pregnant and lactating mothers and caregivers aware of the need for good feeding and childcare practices," Lugwana said.

Silent Killer

Dr Lugwana said, malnourished children are in many ways at high risk of death especially with severe dehydration.

He said that it weakens the body's immune system making the patients easily susceptible to such infections as malaria, tuberculosis, bacterial infection and organ failure.

Dr George William Waggumbulizi, the Kyotera District Health Officer, told the New Vision that there are several cases at different health centres but they are being handled.

He explained that they also established a malnutrition unit at Kalisizo hospital which receives out-patients.

He said, in some case, malnutrition may lead to physical or mental disability.

Treatment

At Bethlehem hospital, the patients are treated with therapeutic foods including energy and protein foods such as flavoured porridge, milk, Irish, fish, cow peas, posho, beans, ground nuts, yams matooke and sweet potatoes.

"The presence of eight fish ponds allows us to give patients fish at least three times a week. We also give enough food to parents and care givers that can take them for some two months. That's the only way to fight malnutrition in the region," Lugwana said.

Probation officer

Suzan Nakawojwa, the Kyotera district probation officer said, poverty is the key driver of malnutrition cases in the district.

She explained that children from poor families that cannot afford enough food and good diets are more likely to be affected by different forms of malnutrition.

In most cases, Nakawojwa added, men neglect their families leaving women the burden of feeding the children. She said they have registered several cases of child abuse including direct and indirect starvation.

She further appealed to parents with malnourished children and elderly people to take them for free treatment at unit.

Parents speak

Grace Naluyima of Ddwaniro sub-county in Rakai district has two children admitted with kwashiorkor. She explained that the unit has relieved her of the burden by offering free services, adding that her children are improving.

Rose Nakyanzi of Betereemu village has three children at the unit. The poor mother said she is the only bread winner but sometimes fails to get what to feed her children.

"I was advised to bring my children to this unit and thank God they are providing meals for us and treatment," she said.

Martha Nabadda welcomed the initiative of the unit saying, it has redeemed several children from poor families.

Barriers

Fighting malnutrition in the region is faced with different challenges. Dr Lugwana said, one of the major barriers is ignorance whereby a parent or guardian has little or no knowledge about causes, prevention and effects of malnutrition.

He added that also cultural beliefs and superstitions whereby parents attribute malnutrition to witchcraft.

"You find parents taking a child to shrines claiming they were bewitched while others claim it is a curse from strong spirits. By the time they realize, the child's condition is too critical," he argued.

Further still, he said, the lack of family planning knowledge, whereby parents produce more children than they can afford to feed is another factor.

Statistics

As of May 2018, United States Agency for International Development's (USAID) nutrition profile indicated 2.2 million children in Uganda below five years (29%) suffer from stunting (low height-for-age).

USAID has since noted that the consequences of malnutrition should be a significant concern for policy makers in Uganda in a bid to mitigate its effect on children