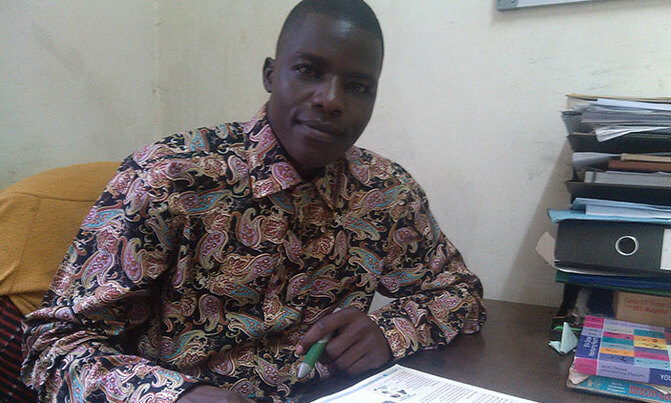 There is hardly any place in this country that is not faced with this nauseating problem: Churches, schools, workplaces, universities to mention but a few.
OPINION
By Enock Kibuuka
It is very unfortunate that Uganda, which had been credited worldwide for intensifying war against HIV/AIDS and bringing down the rate at which the scourge was spreading, is now one of the most affected.
"The 2014 HIV/AIDS situation analysis by Uganda AIDS Commission says that about 570 girls and young women between 15 and 24 years contract the virus every week - New HIV infections among adolescents have remained high…." Alas, this is lugubriously disheartening. Indecent appearance has come to characterise the dress pattern of many our people in our society.
There is hardly any place in this country that is not faced with this nauseating problem: Churches, schools, workplaces, universities to mention but a few. Especially the female ones, the way they dress seductively leaves much to be desired.
What the girls call skirts that they wear is just "one inch" longer than their pants. When they put on such dresses, they struggle to sit down, find difficulty in climbing stairs, cross gutters as well as pick anything from the ground.
Apart from the skimpy and tight fitting nature of these dresses, they are again transparent; revealing certain parts of the bodies that under normal dressing patterns ought to be hidden away from the glare of people.
In the case of boys, their pattern of dress is different. It makes them to look so dirty and very unattractive with unkempt hair and dirty jeans having pockets of holes deliberately created around the knees and the lower part of the trousers allowed to flow on the ground because they go through their heals into their legs as socks.
The waist of their trousers are lowered and fastened tightly at the middle of the two bottom lobes to reveal their boxers (pants).
And when they are walking, they drag their legs and one of their hands particularly, the left one, cupping their invisible scrotum as if they will fall to the ground if not supported. But my concern here is the girls because they are the most vulnerable to sexual harassment, which has seen HIV/AIDS prevalence rates shoot up.
Meaning of indecent dressing: Every culture has its dressing code that may vary according to cultures. Despite this variation, one thing is certain and that is that every culture has an acceptable dress code.
So every dress code that deviates from the one acceptable to the community especially as it affects the set moral standard or judgment of the community is termed indecent.
The terms-decency and indecency-have so much to do with the morality of the individual person and as judged by others. A dress is therefore, said to be indecent when it has provocative or stimulating influence on almost all those that happen to view it on the user.
According to Source Magazine (2011), indecency is any outfit that shows too much skin. Egwim (2010) referred to indecent dressing in a more specific term as the attitude of someone, male or female that dresses to show off parts of the body such as the breasts, buttocks or even the underwear particularly those of the ladies that need to be covered.
This exposure is obviously a deliberate act to look sensuous, tantalising and stimulating so as to draw the attention of the opposite sex. Unfortunately, in Uganda such indecent dressing is not only prevalent among young girls or single women, but also the married women who are actually mothers.
This form of dressing is provocative (Olori, 2003), improper and unacceptable. These dress patterns are morally offensive and reveal the high rate of moral decadence in the society of our time.
But why do these girls dress indecently? This behaviour is of a hydra-headed origin. It is not just a behaviour that developed overnight, but an accumulated behavioural pattern that could be attributed to the home (neglect and or poor parenting), the effect of globalisation arising from wrong values' exportation and importation, a reflection of the high rate of moral decadence in the larger society (corruption and high rate of indiscipline among the leaders and the led), peer pressure and the desire to belong as well as fading values and demonisation or demonic influence.
Such indecent dressing has seen many young girls being lured into sexual activities, including campus prostitution.
The advance in technology is of course, a necessary evil: whatsup, facebook, smart phones, ipads, fashionable clothes and these days the synthetic / artificial hips for women sold in many places in Kampala, arguably to make women look elegant and attractive, plus the high poverty levels yet uncontrolled desires.
Alas, most of the young girls are concerned about not getting pregnant and if the man can offer money even to afford the purchase of pregnant prevention pills openly sold in most pharmacies, then HIV/AIDS concern is just secondary.
Thus, given the limited affordability of these items by most of our people, many girls have found themselves risk sexual activity.
The Skimpy, transparent and or body exposing dresses are known in ancient Africa to be the dress pattern of prostitutes or whores.
Most girls found in such dresses are always negotiated for sex or social intimacy and some engage commercial sex to be able to sponsor and sustain these forms of dresses. Hence the cumulative effect of this is unwanted pregnancies, HIV/AIDS infections.
Fading values: Africa has a very rich culture that she needs to be proud of and preserve for posterity.
But the unfortunate situation is that most cherished African values are fast fading due to non-patronage and modernisation or acculturation. Most of today's youths cannot tell very well what these values are.
For instance, the beautiful hair braiding typical of African ladies are being traded for hair "roasting" in saloons, modern and dignifying dress patterns are giving ways to the skimpy, transparent and provocative dresses found all around today.
Many of these youths that dress immodestly may not even know what is wrong with the way they dress because nothing suggests to them that there is something wrong with their dressing.
Unfortunately, many of their parents applaud them in those dresses; do not even ask how they came about those dresses and when they appear in public, they are cheered by their mates and friends and to make the matters worse, all around them, what they see on people is not reasonably different from what they wear.
You often see mothers and their daughters uncomfortably dressed indecently and then you ask yourself who should guide the other?
Their home videos, televisions and internet providers do not differ either in the contents of what they relay as programs. How can these youths be different when the society has no good moral values as legacies to bequeath to them? It is odd for a vulture to look different in the midst of other vultures.
Therefore, if we must mitigate the vice of escalating HIV/AIDS prevalence among the youth, we must not pretend over it.
Let a spade be called a spade and not just a big spoon. Parents must reassume their parental obligations of instilling cultural norms and values and act exemplary and have family definition of human rights not the American or British human rights; church leaders must go back to teaching the real gospel and Christian values than simply money-making, empower the youth in church activities; politicians must accept to risk their constituencies by making relevant laws to guide society and law enforcement agencies must stand strong and bring the culprits to face the law; schools and teachers must incorporate life skills in their curricula to teach the young ones proper value system and life virtues.
Otherwise, in the current fight against HIV/AIDS prevalence, we seem to be just pretending and buying a pig in a poke.
The writer is a teacher at Gayaza High School.