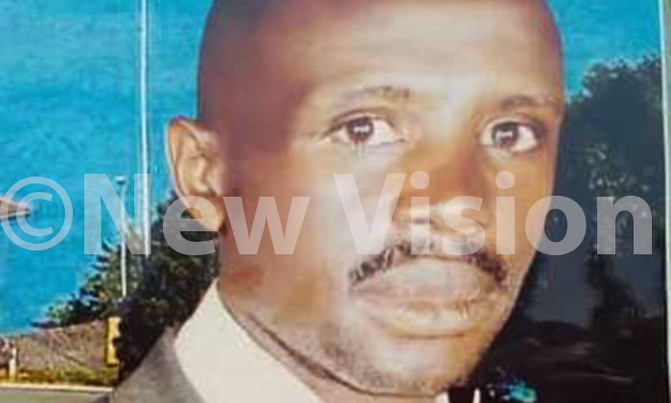 "I heard gun shots as I prepared supper and as I tried to move out of my room, I was ordered to get back inside."
Abdullah Ntambara was murdered by Unknown assailants. (Picture by Ismael Kasooha)
CRIME
KAGADI - Unidentified armed thugs on Friday shot dead a traditional herbalist in his shop at Kasojo trading center in Mpefu sub-county Kagadi district.

Moses Muramuzi, the Criminal investigations Department officer (CID) Kagadi Central Police station identified the deceased as Abdullah Ntambara 51, a renowned business man in Mpefu sub-county Kagadi district and Chairman Kibaale traditional herbalist Association (KITHA).

Muramuzi said, Ntambara was shot thrice in the chest on at around 9:30pm by unidentified masked assailants at his shop in Kasojo trading center, Rwabaranga Parish Mpefu, sub-county.

"We received the news about Ntambara's shooting at around 10:00pm and immediately rushed to the scene and confirmed that he had been shot because we recovered bullet shells at the scene," said Muramuzi.

Ntambara's body was taken to Kagadi hospital for a post-mortem and investigation into are ongoing.

CID officer Muramuzi called on the general public to be vigilant and report any suspects to police so as to expedite investigations.

"I heard gun shots as I prepared supper and as I tried to move out of my room, I was ordered to get back inside. It was after this that I received the news that my husband had been assassinated," said Shamim Kugonza, one of the widows.

Frank Bigonoka an eye witness said the assailant who had masked himself found Ntambara attending to his customers. The assailant then pulled out his gun shooting the deceased thrice in the chest and killing him instantly.

"I survived narrowly because I was inside the same shop where the murder took place, I thought that the assailant would turn to me and also kill me but he fled out of the shop and jumped onto a motorcycle after completing his mission," said Bigonoka.

Bright Mwebeshi, another eye witness and a resident of the area said the assailant was wearing a hood riding on a Bajaj boxer motorcycle whose number plate could not easily be established as it was dark.

Robert Nkwasibwe Birahuri, the Chairperson LCIII Mpefu revealed that the deceased who conceded defeat in the recently hotly contested Local Council I elections, owns two shops, a maize grain milling machine and Kitare nursery & primary school all in Kasojo trading Centre.

Nkwasibwe said the deceased had no serious grudges with people in the area only that he had some minor competitions with his fellow traditional herbalists some years ago which he said could not have led to his brutal murder.

Residents have however expressed fear upon seeing such an incident which has never happened in the area and appealing to security agencies to tighten security and reinforce night patrols in the area.

Andrew Mbuusa, the District councilor for Mpefu sub-county has asked government to improve on its investigative techniques in order to discover the source of the guns that are assassinating people in Kagadi.

He explained that the assassination had been a planned move because the assassins first moved to one of his shop but did not find him there, later proceeding to his second shop, from where the deceased was shot dead.

"The murders we hear happening in Kampala and other parts of Uganda are being experienced in Kagadi district basing on previous records where we have lost about five people in similar circumstances," Mbuusa said.

Richard Turyamwijuka, a relative of the deceased said Ntambara had been the family bread winner from the time he started treating people of their illnesses in 1997 and that he is survived by three wives and ten children.

Previous murder cases in Kagadi district.
In November 2014, Winnie Nakigudde, a mid wife attached to Kagadi Hospital was gunned down by unknown armed men at around 9:00pm while at her clinic in Kagadi central ward Kagadi town council and no arrests were made.

In February 2018, Rebecca Wakisa, a third year Gulu University student was stabbed to death by unknown thugs at around 10:00pm while returning from her supermarket in Kagadi town council.

In December 2017, Fadul Ali Mutatina, a business man from Mubende was decapitated by unknown thugs at around 10:30pm and his body dumped by the road side in Muhorro town council. The decapitated body was buried at Kagadi Hospital cemetery but later exhumed after relatives claimed the body.

In May 2018, Sunday Phillip, a security guard in Kagadi was strangled to death by unknown thugs at around 12:00am using a rope at an MTN Mobile shop out let in Kagadi town council.