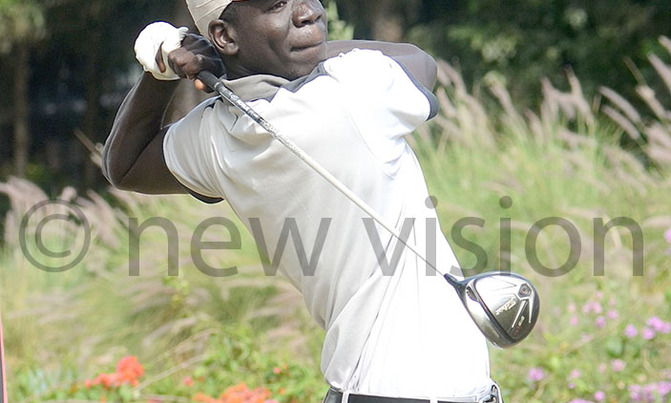 Toolit who attributed his win to his efforts will now fancy his chances in the remaining tournaments
PIC: Brian Toolit is in the lead after the first round of the Tusker Golf Series professionals' competition. (Credit: Michael Nsubuga)
GOLF
FORT PORTAL - Brian Toolit returned one-under-par 69 to win the Tooro Club leg of the Tusker Series professional's competition at Tooro Club on Friday.
Toolit consequently earned himself 20 points to set himself on course of winning the biggest share of sh50m after the 7 tournaments to be played on six different courses.
The participating professionals will earn and accumulate points in each round, with the one with the most taking the biggest chunk of the prize money.
The format is akin to the 'Race to Dubai', spanning 47 tournaments in 30 countries across four continents, is a season-long competition to crown the European Tour's No 1 player.
"The series is a good start up for us because we are going to play back-to-back tournaments which will motivate us to play consistently, which will sharpen our competitive abilities in the tournaments and this is what we have been lacking.
"We have always been slowed down by the few events we have had with long spells in between without playing, so I'm thankful for Tusker for coming up with this idea," Toolit said.
Toolit who attributed his win to his efforts will now fancy his chances in the remaining tournaments and the next one in Mbarara on November 24 and in Jinja on December 10 before the Serena, Entebbe and Kampala legs.
"I want to continue competing with myself and all I felt was I could do better than that. Honestly, the start has been very good and it is a big boost for me in the coming tournaments," Toolit who won his first professional tournament at Toro Club stated.
Vincent Byamukama, Saidi Mawa and Ronald Rugumayo picked 19 and 17.5 points each respectively while Happy Robert, Herman Mutaawe and Dennis Anguyo who returned 72 gross each picked 15 points each.