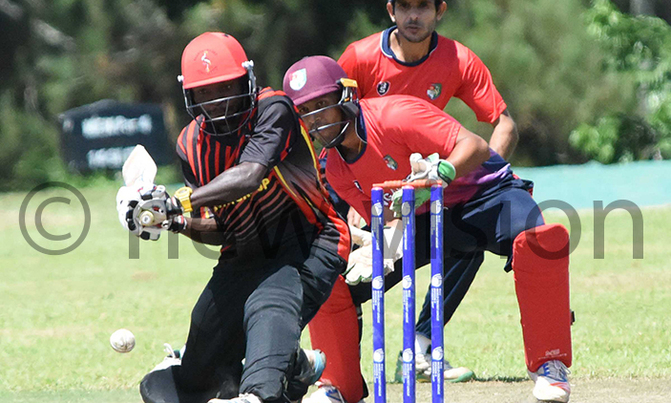 Otwani had the gloves when Uganda restricted Denmark to 165
PIC: Anold Otwani (left) in action in the previous game. (Credit: Mpalanyi Ssentongo)
CRICKET
ICC World Cricket League Division Three
Results
Denmark 165 Uganda 167/5
(Uganda win by 5 wickets)
Kenya 164 Oman 166/5
(Oman win by 5 wickets)
MUSCAT - Who else but the recalled versatile Arnold Otwani and the legendary Charles Waiswa!
The duo impressed with bat and ball respectively as the travelling Cricket Cranes completed a dream start 5 wicket win over Denmark Friday at the Al Amarat oval.
Otwani was favoured ahead of now reserve specialized wicket keeper Fred Achelam because of his all-round abilities. He had the gloves when Uganda restricted Denmark to 165.
Uganda's batsman at number two attacked well in the winner's successful chase with a brutal half century of 88 from 86 balls before he was out caught by Javed Ahmad.
However, his fellow opener and skipper Roger Mukasa was unusually out for a duck.
Youngster Riazat Shah was interestingly unbeaten at 29 from 28 balls with the team maneuvering through the high humid environment.
Important still was Charles Waiswa's scintillating performance in the bowling act. He travelled to Oman with an emotional break down having lost his mother but nonetheless he delivered for his country with an overwhelming 4 wickets.
In the other game the hosts came up big against Kenya with a 5 wicket victory. Uganda entertain USA in their second game Saturday.
It is important to note that Roger Mukasa and Co are seeking promotion to the second division of the ICC World Cricket League.
The second division will be played next year, it forms part of the qualifying cycle for the 2023 ICC World Cup.
EMAIL: kbalikuddembe@newvision.co.ug
TWITTER: @casozi14