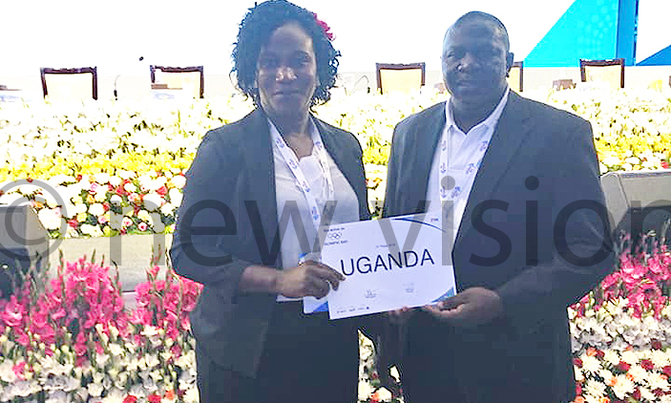 The recognition carries a lot of meaning for Uganda
UHA chairperson Lydia Dhamuzungu (left) at the FIH Awards in India. PHOTO: Kasozi Balikuddembe
HOCKEY
KAMPALA - Uganda Hockey Association's recent international acclaim at this year's FIH 2018 Olympic Day Awards in India was a grand advert that should be exploited fully.
Despite all the many shortcomings, especially in the confines of managing and growing the game, the local body has managed to pick themselves up amidst the storm.
As a mark progress, their efforts were paid inform of an award for the second best federation globally behind India to organise Olympic day celebrations. The Ugandan body conducted their celebrations keeping in mind people with impairments.
The recognition carries a lot of meaning for Uganda and certainly this could be the beginning of something special.
First off the federation will receive grants for their development activities from the world governing body; International Hockey Federation (FIH).
Importantly being in the face of global attention means that there is an extended window of opportunity for Uganda to attract international sponsorships.
A general lack of sponsorship has for the longest time been an Achilles' heel, costing them in the general growth development process.
"This was a hard call to select among a pool of great candidates. Uganda and India were the most impressing ones in their inclusive approach towards the project" said Jon Wyatt FIH Director of Sport and Development.
Conversely, this feat turns out to be the greatest highlight in Lydia Dhamuzungu's term in office as chairperson Uganda Hockey Association.
"Hard work is the bedrock of success. It is fulfilling to see that our efforts have been recognized on a global scale" Dhamuzungu says.
With this leap forward there is hope for greater things as Uganda strives to become a hockey giant in the future.
EMAIL: kbalikuddembe@newvision.co.ug
TWITTER: @ casozi14