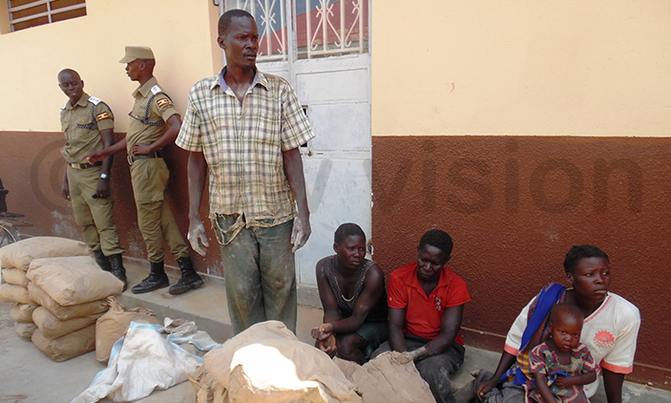 In his defence, the official in whose maize garden at least 25 bags of lime were found buried, claimed they belonged to one of the women he was arrested with
The LCI of Aduodyek village Oyengopere parish Kwera sub county in Dokolo district, Fredrick Opio, has been arrested alongside three other women over allegations of theft of road construction materials worth sh15m.
The four are alleged to have stolen materials that included lime, cement and culverts.
The acting District Police Commander of Dokolo, Jimton Aguta, said the suspects include Opio, Gloria Acili, Harriet Akello and Beatrice Adongo who are all the resident of Aduodyek village.
Aguta said the arrest came after district officials raised suspicion that people in the community could be involved in the theft of 25 bags of lime, 14 metal culverts and 10 bags of cement and other materials meant for tarmacking 1.2km of Acandyang-Oturo Road.
He said the suspects were picked from Kwera sub-county and transferred to Dokolo Central Police station to aid in investigations.
A case of theft with reference number SD 34/07/11/2018 has been opened against the four suspects who were found with the materials at the time of arrest.
Whereas not all the missing items were recovered, it is suspected that the suspects can provide information that can help locate the rest.
In his defence, Opio in whose maize garden at least 25 bags of lime were found buried, claimed they belonging to Adongo.
Adongo on her part said she did not know who buried the items in their garden.
The district engineer of Dokolo, Thomas Codeos Okello, after recording his statement at Dokolo Central Police station, told New Vision that his office checked on 600 bags of lime, 900 culverts and 200 bags of cement that were delivered at the site last month, and realised that a number of items were missing.
The suspects all denied being involved in the theft of the items they were found in their possesion.
Okello however said he wanted Police to do proper investigations and have the culprits face the law so that others can learn a lesson and stop stealing government property.