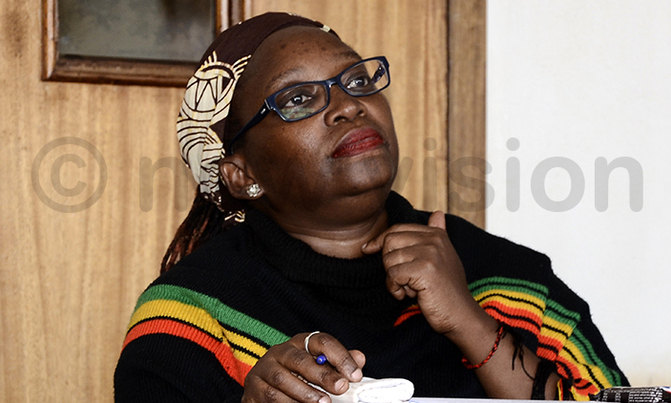 The posts were purportedly relayed over the internet to disturb or attempted to disturb the peace and President Museveni's right of privacy
Dr Stella Nyanzi was on Wednesday remanded to Luzira Prison until Friday when she will reappear at the Buganda Road Chief Magistrate's court to answer charges of purportedly insulting President Yoweri Museveni.
The charges include cyber harassment and offensive communication under section 24, and 25 of the Computer Misuse Act, 2011.
The 44-year-old Makerere University don appeared before Buganda Road grade one magistrate Esther Nahirya.
Prosecution alleges that this year on September 16 in Kampala, Nyanzi used a computer to post vulgar messages on her Facebook wall to the effect that she wished President Yoweri Museveni's mother's birth canal was cursed.
The state prosecutor argued that Nyanzi insinuated that the President's mother should have suffered a still birth. Prosecution says such utterances are obscene, lewd or indecent.
It is also alleged that on September 19, she wilfully and repeatedly used electronic communication to post offensive messages on her Facebook page 'Stella Nyanzi' wherein she made suggestions or proposals, among others, that "she wished his excellency Yoweri Kaguta Museveni's mother Esteri Kokundeka's cursed vaginal canal had burnt up on his unborn foetus"
The posts were purportedly relayed over the internet to disturb or attempted to disturb the peace and President's right of privacy.
"Do you understand the charges?" asked Nahirya, to which Nyanzi responded, "I cannot comprehend both charges in such a short time because I have just received them."
Court was treated to drama when Nyanzi requested for a Luganda language translator. She insisted that she could only comprehend the charges if explained in her mother tongue.
Accordingly, a translator was directed to make an interpretation. But Nyanzi kept interjecting, and claimed the interpreter was deliberately omitting the crucial words.
Her lawyer Isaac Semakadde condemned it as trial by ambush saying she was entitled to seeing these charges immediately or shortly after her arrest, but were instead given to her in court.
Background
Nyanzi was arrested at Makerere University on Friday last week and driven to the Special Investigations Division headquarters at Kireka.
Subsequently, she was transferred to Kira Division Police headquarters where she was detained for over five days.
She argued that the Makerere University management failed to restore her to her office despite a court ruling.
This is the second time Police is arresting Nyanzi on allegations of abusing President Museveni and his family.
In April, 2017, security operatives arrested Nyanzi at Mackinnon Suites in Nakasero where she was speaking to Rotarians about fundraising money for sanitary pads for school girls.
She was charged with cyber harassment and offensive communication, which she still battles to date.
What the law says
Section 25 of the Computer Misuse Act 2011 on offensive communication states that, "Any person who wilfully and repeatedly uses electronic communication to disturb or attempts to disturb the peace, quiet or right of privacy of any person with no purpose of legitimate communication whether or not a conversation ensues commits a misdemeanour and is liable on conviction to a fine not exceeding twenty-four currency points (480,000) or imprisonment not exceeding one year or both."