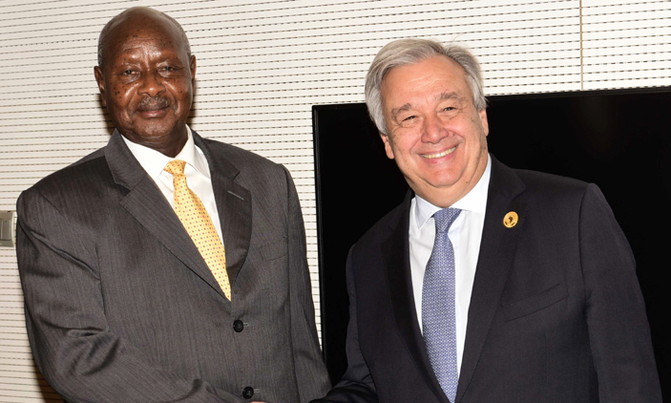 The call comes after a joint investigation by the Government and United Nations agencies this week found 300,000 ghosts in the books.
President Yoweri Museveni shares a light moment with UN Secretary General Antonio Guterres. Photo/File

A coalition of non-government organisations have called upon the international community not to turn its back on Uganda despite the country failing a recent refugee audit due to corruption.

The NGOs said that any cessation of humanitarian help towards the refugee effort in the country would only spell doom not only for the hundreds of refugees, but also the host communities.

The call comes after a joint investigation by the Government and United Nations agencies this week found 300,000 ghosts in the books.

The exercise carried out by Office of the Prime Minister (OPM) and United Nations High Commissioner for Refugees (UNHCR) lasted eight months. It revealed there were only 1.1 million refugees as opposed to the 1.4 million that had been claimed to be existing in Uganda.

"We recognise and echo donor calls for accountability and are committed to measures that prevent and combat all types of wrongful conduct, including fraud, corruption and sexual exploitation and abuse," said a joint communique issued on behalf of 19 NGOs.

"However, continued failure to provide funding will lead to a further decrease in assistance for refugees, more than 60% of whom are children, and host communities."

They NGOs that signed the communique included Action Against Hunger, Adventist Development and Relief Agency (ADRA), BRAC, CARE, Catholic Relief Services, Danish Refugee Council, and Finn Church Aid. Others included Finnish Refugee Council, Food for the Hungry, Humanity & Inclusion, Mercy Corps, and Norwegian Refugee Council. Also represented were Oxfam, Save the Children, Tutapona, Voluntary Service Overseas (VSO), War Child Holland, World Vision, and ZOA.

The NGOs revealed that already the country's refugee effort is facing challenges and Uganda had as of November received just 42% of the required funds.

"In our daily work, we see the impact of this: more than half of children are out of school; sick and pregnant women walk miles to reach health clinics that lack beds and medicine; poverty and need leaves girls vulnerable to sexual exploitation and forced marriage; families queue for hours to try and get water; and frustrated youth have no jobs or hope for the future, as evidenced by a recent increase in suicides in some settlements," the NGOs explained.

Uganda's refugee open-door policy is praised worldwide as a good example for the rest of world and has drawn widespread acclaim from top personalities, including Pope Francis.

As testimony of that approval, the world in June last year gathered in Kampala in solidarity with Uganda, with President Museveni and UN Secretary General Antonio Guterres and raised over $350m in Uganda Solidarity Summit on refugees conference.
RELATED TO THE STORY
Museveni, UN's Guterres discuss refugee crisis