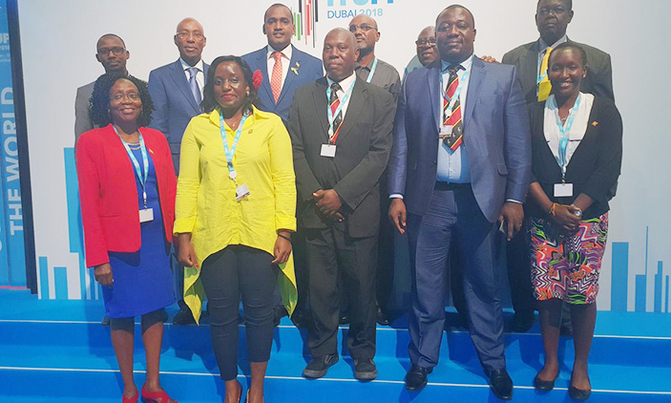 Uganda however lost the RRB candidature because there were several candidates competing against each other
Uganda has been re-elected to the International Telecommunication Union (ITU) governing Council for 2019-22.
"Very elated by the election of Uganda to ITU Council. Out of 177 votes, Uganda got 114 votes to be elected to governing council. I thank the member countries for their support. Together, we shall continue to work for a connected world," information, communication and technology minister Frank Tumwebaze said.
The minister led a delegation to the week-long 10th and final 2018 ITU council session in Dubai. The ICT ministry permanent secretary, Vincent Bagiire, Uganda Communication Commission (UCC) executive director, Godfrey Mutabazi, Bugweri County MP Abdul Kantuntu, Ambassadors Adonia Ayebare, Ahmed Ssenyomo and Christopher Onyanga Aparr as well as entertainment group Ndere Troupe, were on the team.
Tumwebaze said a number of African countries agreed on issues of broadband connectivity, internet governance and were jointly pushing for good regulatory frameworks of the spectrum resources management.
Uganda had fronted Eng. Simon Bugaba, the UCC head of regional operations as RRB candidate. Bugaba is an established credible negotiator and lobbyist and played a key role in Uganda's election to ITU Council for 2014-18.
UCC boss Mutabazi explained that Uganda lost the RRB candidature because there were several candidates competing against each other
What is ITU?
The International Telecommunication Union (ITU) is an agency of the United Nations (UN) whose purpose is to coordinate telecommunication operations and services throughout the world.
Originally founded in 1865, as the International Telegraph Union, the ITU is the oldest existing international organisation. ITU headquarters are in Geneva, Switzerland.
The ITU sets and publishes regulations and standards relevant to electronic communication and broadcasting technologies of all kinds including radio, television, satellite, telephone and the Internet.
The organisation conducts working parties, study groups and meetings to address current and future issues and to resolve disputes. The ITU organizes and holds an exhibition and forum known as the Global Telecom every four years.
Another important aspect of the ITU's mandate is helping emerging countries to establish and develop telecommunication systems of their own. Although the recommendations of the ITU are non-binding, most countries adhere to them in the interest of maintaining an effective international electronic communication environment.