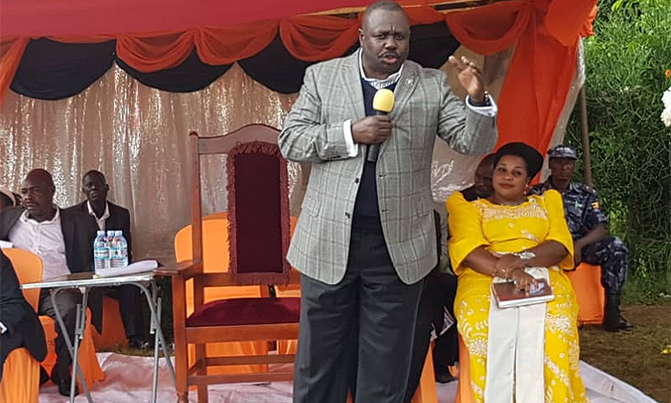 A helping hand from other players, for instance non-governmental organisations (NGOs), is vital, says Jacob Oulanyah.
EDUCATION

SEMBABULE - While the Government has registered significant progress in improving the education sector, penetrating all parts of the country has yet to be realised.

Other actors, however, potentially have a key role in filling the gaps, especially in remote areas.

Much as the Government acknowledges education to be a basic human right and as such strives to provide free education to the unprivileged, Jacob Oulanyah, the deputy Speaker of Parliament, admits that the establishment is short of resources.

A helping hand from other players, for instance non-governmental organisations (NGOs), is vital, he says.

One outcome of such complementary efforts is Bwogero Community Primary School in Sembabule district, built with support from Building Tomorrow Uganda, an international social-profit organisation with school-building operations in Sub-Saharan Africa.

Oulanyah commissioned the school on Tuesday and called on the education ministry to support such actors in developing the sector.

His admission was that it would have taken Government a long time to build a school in Bwogero had it not been for an extra hand.

It is a government seed school started in 2014 with children studying mostly under trees.


Oulanyah commissioned Bwogero Community Primary School by snipping a tape. (Courtesy photo)


President Yoweri Museveni has previously underlined just how important education is to an economy striving for middle-income status such as Uganda.

His government, the National Resistance Movement (NRM), introduced the Universal Primary Education (UPE) programme 21 years ago to improve enrollment and attainment in primary schools.

The initiative has seen more children go through school, albeit cases of school dropouts exist due to a range of factors, including child pregnancy.

According to Oulanyah, growing the education sector should be a "complementary effort" among the education ministry and other stakeholders, but "not a competition".

And his message to parents and guardians: "It is only through education that the sons and daughters of a poor person can become doctors. It is only through education that the son of a local person can become an engineer."

Oulanyah also preached peace in the area if locals are to benefit from the development in the country.

On his part, Mawogola South MP Joseph Ssekabiito Kitayimbwa said education is the weapon that can change the world.

"A man called Malcolm X said that education is the passport to the future," he said.


In a symbolic gesture, the deputy Speaker also planted a tree in the school compound. (Courtesy photo)


Joseph Kaliisa Bagambaki, the country representative of Building Tomorrow Uganda, said supervision in schools is equally important.

"We do not have enough resources, but if schools are supervised well, they will provide the right education to children," he said.

Bwogero Community Primary School headteacher, Mohammad Bukenya, said that much as the enrolment has increased, the institution is short of accommodation for teachers, who currently have to walk long distances to report for duty.

Good enough, so far, the parents have contributed 200 bricks towards construction of teachers' quarters.

"We need more support," appealed the school head.

said that the enrollment of pupils in the school has increased, since it was constructed.

He however cited shortage of accommodation for teachers as one of the biggest challenges faced by the school administration.

"The teachers walk for long distances to teach. The parents have been able to make 200 bricks for construction of their quarters. But we need more support," said Bukenya.